Today, besides choosing to sew wedding dresses, many couples choose to rent custom-designed wedding dresses with the belief and deep meaning of the couple's love story. measurements. Let's refer to all the wedding dress rental services at Nicole Bridal to discover the unique points and notes when choosing these bridesmaid dresses.
Advantages of custom-designed wedding dress rental service
The wedding day is sacred, meaningful and most important in human life. For many couples, it is extremely meaningful to be prepared, thoughtful and complete for the wedding day. That special thing is full of meaning and happiness when the bride is wearing her own design, bold and personality wedding dress.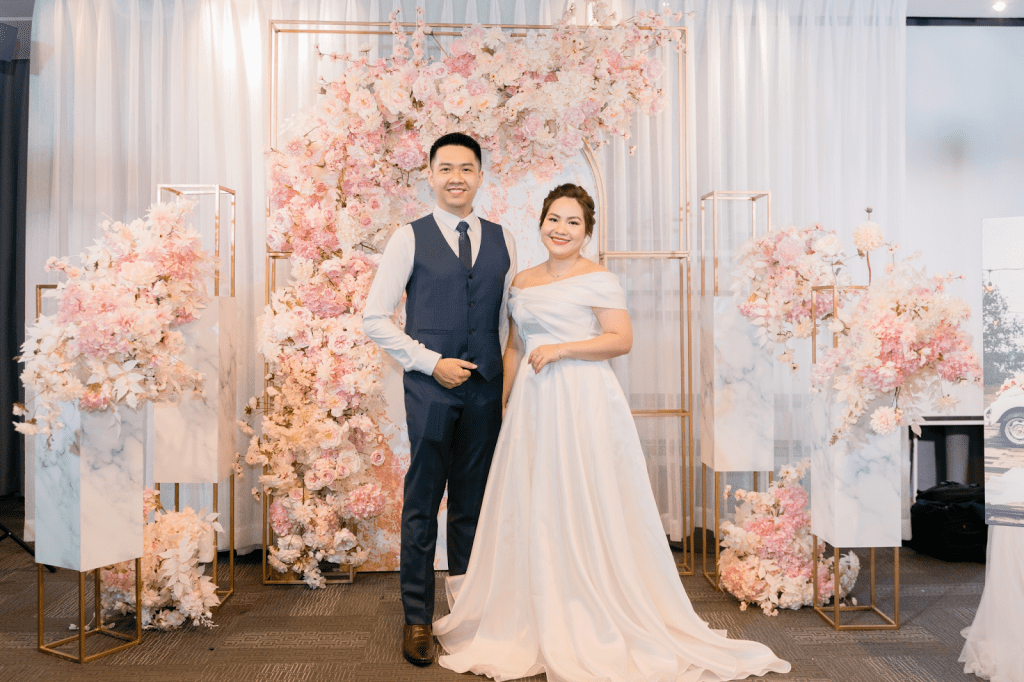 Wedding day comes only once, and every bride wishes to transform into an elegant princess or a lovely muse with designer wedding dresses. But for many brides and grooms, sewing wedding dresses is probably impossible.
Understanding the concerns of many couples on the big day, Nicole Bridal offers more options for the bride to rent a wedding dress designed specifically for the big day.
Ideas for wedding dress design
For many brides, being able to come up with creative ideas for wedding dresses is a dream that has been cherished for many years. With a wedding dress rental service, she can freely share design ideas and also be the first bride to wear a design on the big day. This is what makes the bride satisfied with her own wedding dress, born just for her.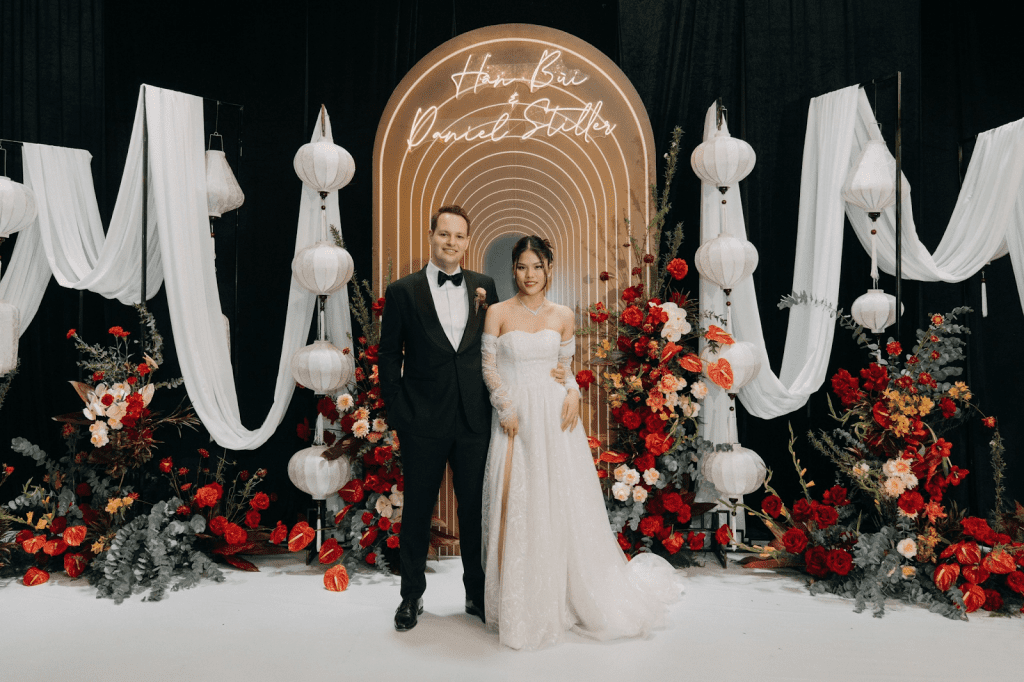 Fit your body well
Instead of choosing ready-to-wear wedding dresses with general measurements, she will be able to wear wedding dresses that are tailored to the wearer's own physique. This helps her "smartly" show off her body lines and advantages, giving her more confidence during the wedding ceremony.
Selected the latest design
If she does not expect too much from a creative, unique wedding dress, the bride can choose the latest design from the Nicole Bridal collection. Every year, Nicole Bridal launches 4-6 trendy new wedding dress collections, keeping up with design trends. When choosing the service of Renting a custom designed wedding dress, she will receive a "privilege" of a design from a new collection that has not even been "released".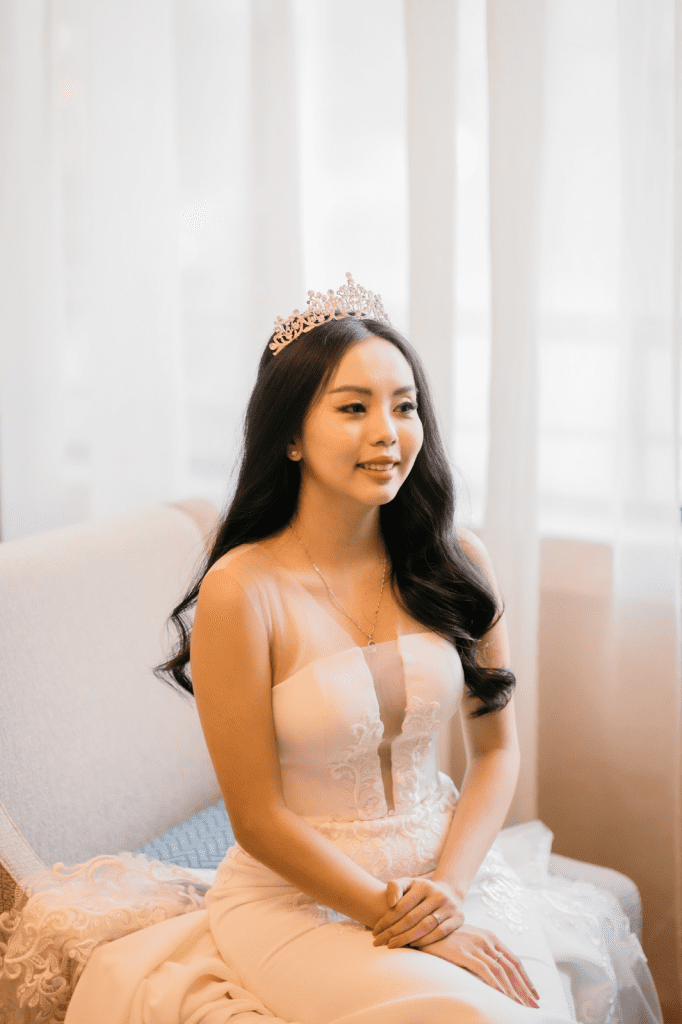 Cost savings
Of course, with the tailor-made wedding dress for the rental service, she has just satisfied her desire to wear a tailor-made design at a cost that is only slightly higher than the rental price. This way, the couple can save a little more money on other items of the wedding day, and help her have a beautiful wedding dress for the happy day.
How to choose to rent a tailor-made wedding dress at Nicole Bridal?
Currently, Nicole Bridal deploys 3 types of tailor-made wedding dress rental services, including renting wedding dresses from the latest collection, tailoring according to available wedding dress designs and ordering and renting wedding dresses according to individual requirements. . Each rental method will have certain advantages that she can consider.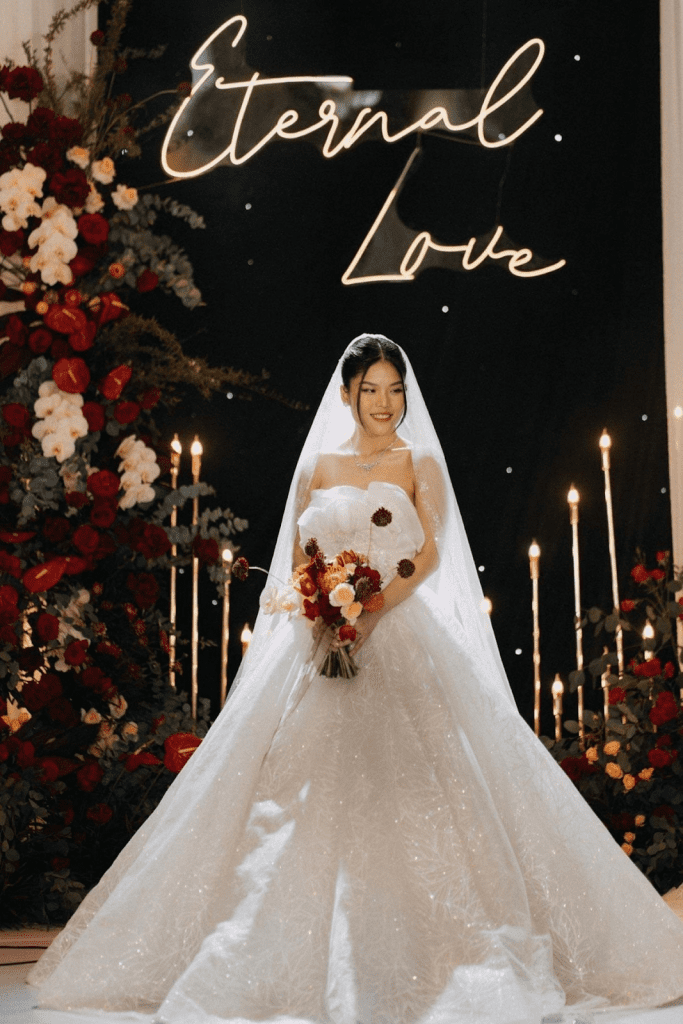 Nicole Bridal regularly brings new wedding dress collections throughout the year, bringing variety and modern styling to the bride on her wedding day. With the custom-designed wedding dress rental service, you will be the first bride to present new designs that are not even on the shelves as well as other brides to try.
With the service of Tailoring and Renting a wedding dress according to the available model, she can choose from the available models in the collections of Nicole Bridal. Accordingly, there are wedding dresses that belong to the old collection, but she fell in love with this model. Do not worry. She can share her preferences about the wedding dress she desires, the Nicole Bridal team will tailor and rent the wedding dress that she likes before.
These designs are sewn entirely based on the wearer's measurements. At the same time, it is possible to tweak and add some small details on the wedding dress to create a unique highlight for the outfit.
With the tailor-made tailoring and wedding dress rental service, the Nicole Bridal team will accompany the bride to come up with ideas, design wedding dresses, choose materials, and elaborate details from design to completion. into a costume.
Nicole Bridal – The leading wedding dress rental and sewing unit in Vietnam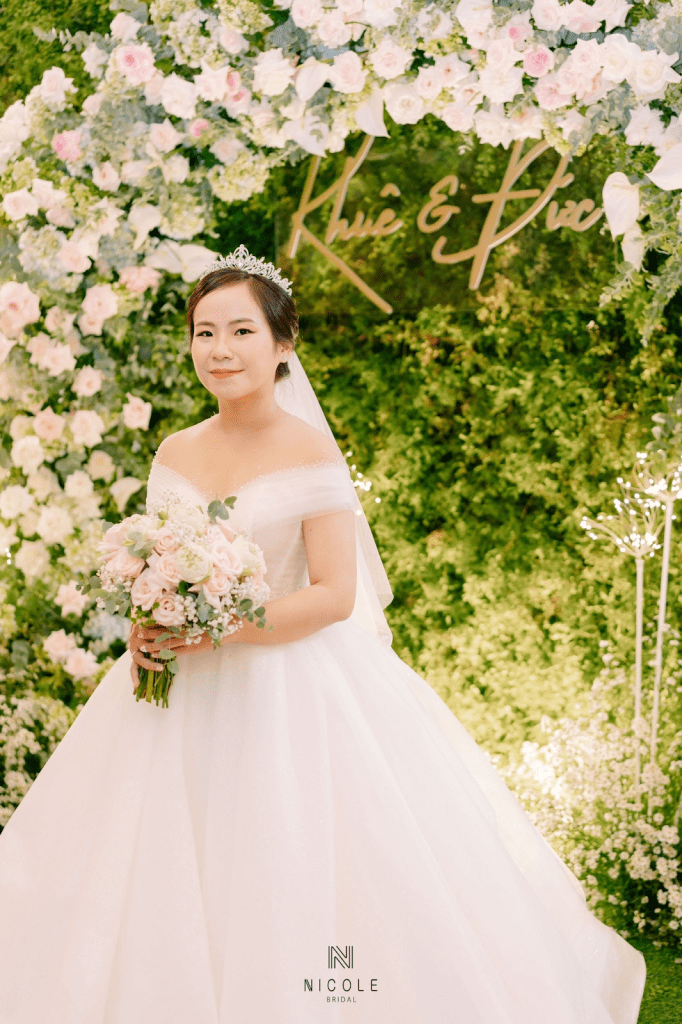 Tailor-made wedding dresses are the happiness of the bride, the wish that Nicole Bridal wants to bring to our "muses". At Nicole Bridal, she is completely assured of wedding dress designs because:
– Wedding studio has 10 years of experience in Tailoring, Wedding dress rental for Vietnamese and overseas brides. We have hand-created beautiful wedding dress designs and have been accompanied by more than 5,000 brides over the past time.
– A team of dedicated professionals, support to advise and introduce to the bride the styles, designs, styles of wedding dresses… suitable for her body shape and catching up with the latest fashion trends.
– Besides Tailoring, Wedding Dress Rental, couples can find all services on the big day such as wedding reportage, house decoration, Pre-Wedding wedding dress rental, etc. to save time and money. expenses for the big day couple.
Nicole Bridal understands that before the sacred wedding day, there is only one, the bride and groom will have certain concerns and considerations. However, we believe that the custom-designed wedding dress rental service is a way to help you turn into the happiest princess in the world when wearing a wedding dress according to her wishes. For more information about wedding services at Nicole Bridal, she can contact us directly via:
Address in HCMC
Địa chỉ: 51 Hồ Văn Huê, phường 9, quận Phú Nhuận, TP Hồ Chí Minh
Hotline: 0902.640.490
Address is Hanoi
Tầng 2 số 137 Yên Lãng, Q. Đống Đa
Hotline: 0984615350 – 0395783269