Design & Tailor Wedding Dresses
A beautiful wedding dress must "satisfy" the standards of seams, form and the combination of attached details to help the bride both standout and highlight curves. Nicole Bridal's wedding dress design & tailoring costume service will help the "new bride" own the best dress for their happy day, let's discover together with Nicole Bridal!
You can custom online wedding dress by video call at an affordable cost at Nicole Bridal.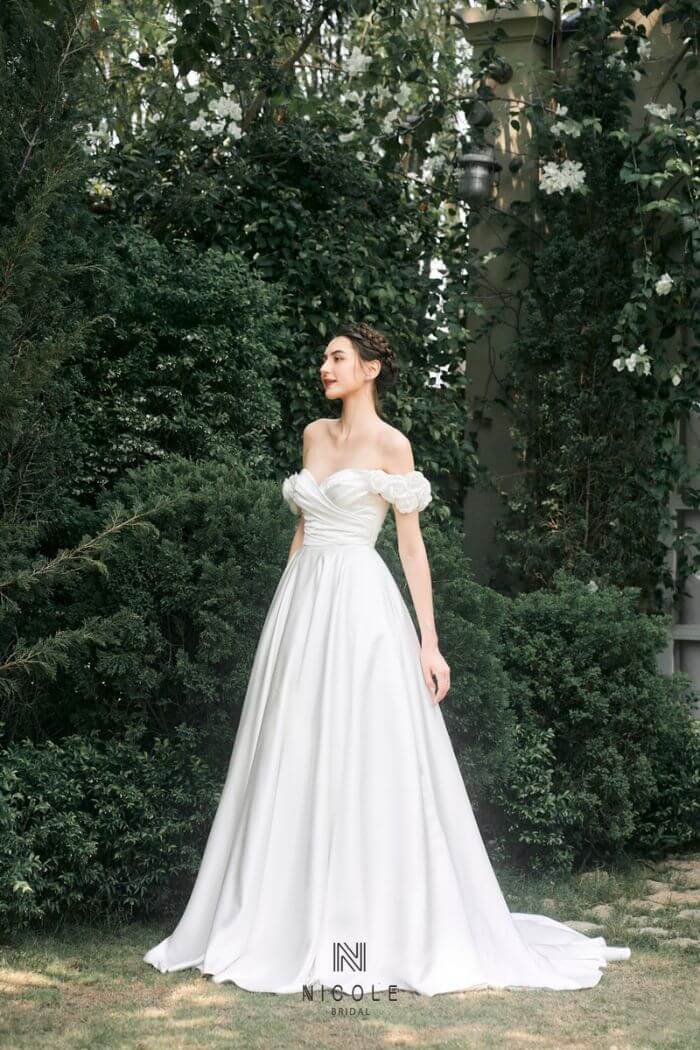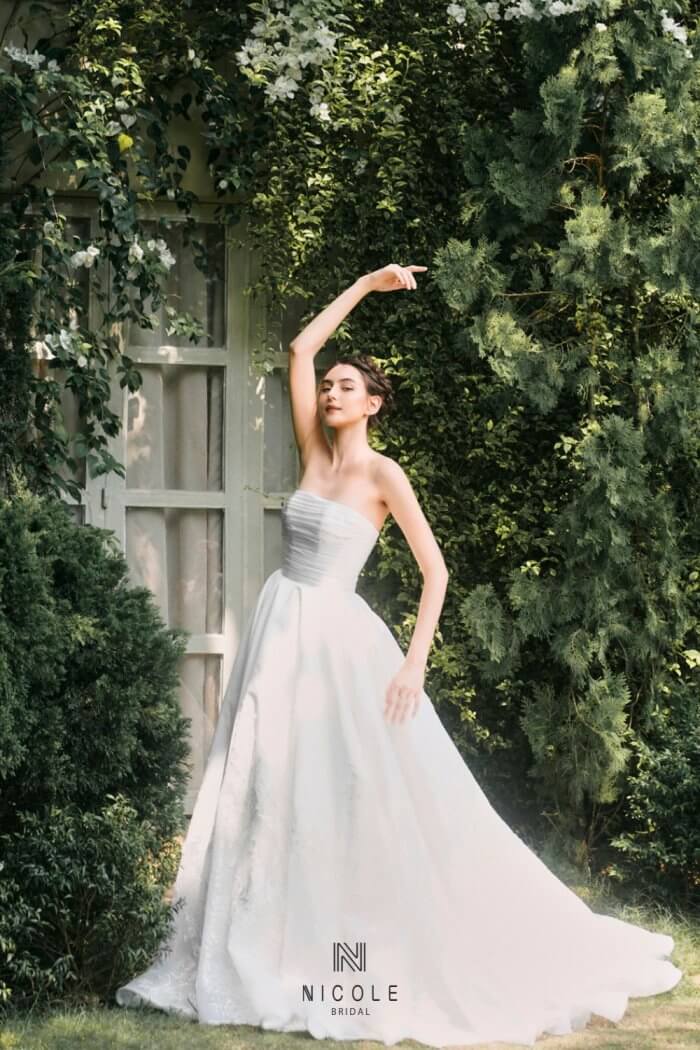 In order to wear a wedding dress that belongs only to you is what any bride wishes. Understanding that, Nicole Bridal has developed wedding dress sewing services to help "new brides" create dresses that are not only beautiful but also suitable for their physique, helping them to become a beautiful and outstanding bride on her happiest day at the affordable cost.
Here is the way Nicole Bridal is working to help brides out with the destined wedding dress.
Designing ideas & Sketching wedding dresses
Before ordering a wedding dress, you will probably worry about what it will look like when finished, isn't it? Is it fit-well? Or what if I don't dress well when I try it? Here is our answer – When choosing the tailoring costume service at Nicole Bridal, you will be consulted by Nicole Ngo and her designed time to find out your dress preferences, define your shape as well as how we proceed. Together with you, we will help to find the one that suits you best.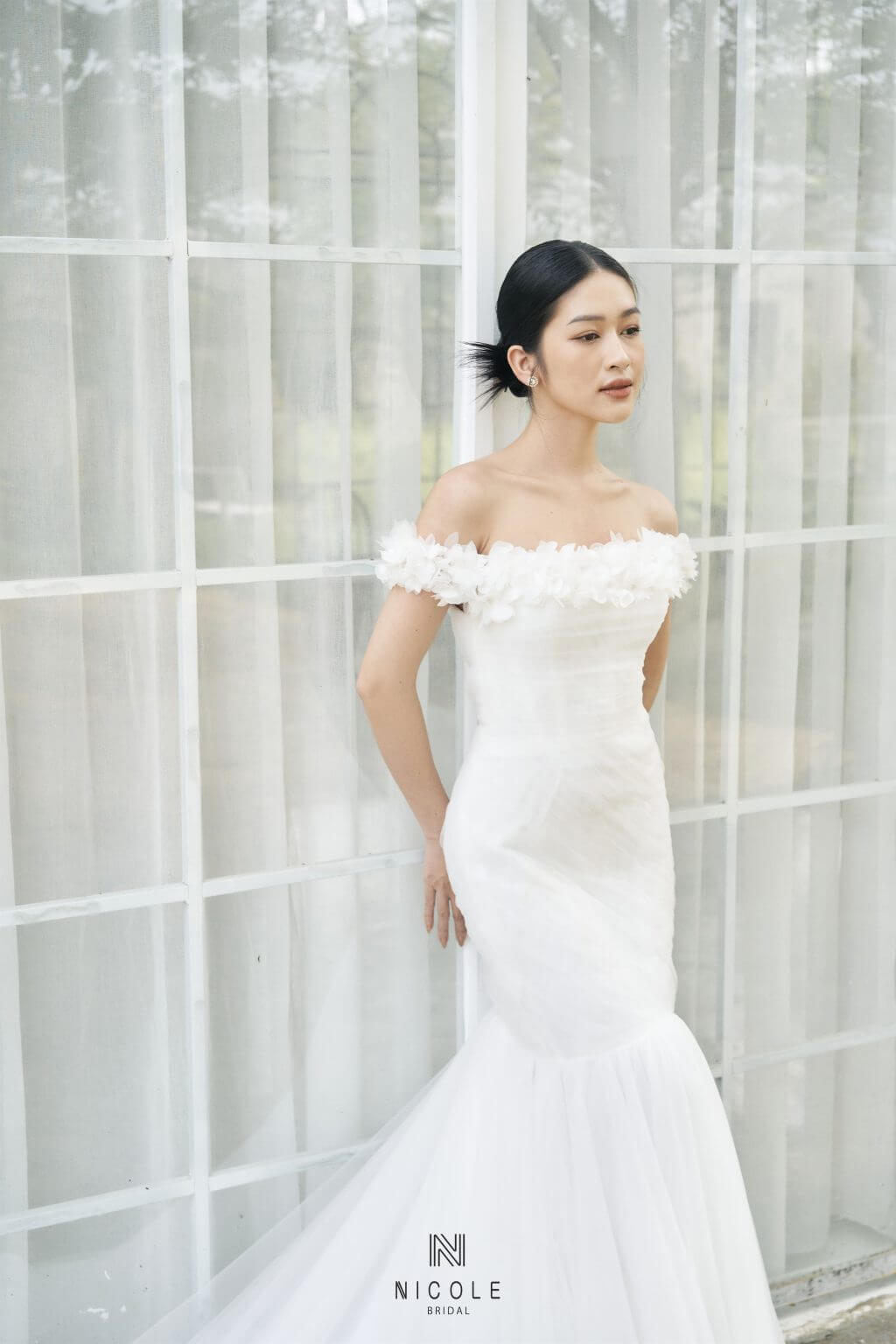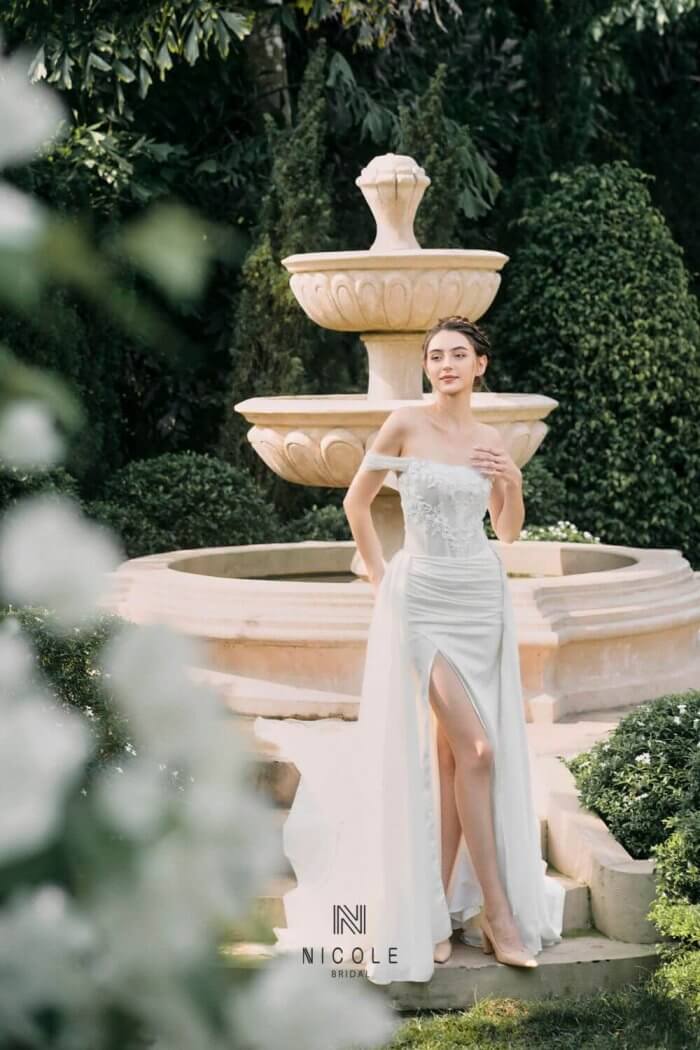 You can order Nicole Bridal's available designs when you actually fall in love at the first seen. Based on consultation and discussion, we are willing to advise you whether or not that design fits you well. You can take a tour of our collection right at this website.
On the other hand, you have a lot of dress ideas that need to be sketched by our designed team for your reference before ordering.  Our talented, creative and professional design team of Nicole Bridal will support the design idea and sketch of the personalized wedding dress after signing the contract.
Proactively choose materials.
When the drawing is completed, the bride will conduct approval of fabric materials as well as materials for bonding and decoration. This stage should be done at least a month before the wedding day, after completion, Nicole Bridal will take measurements and form.
Reviewing and fitting
After the custom-made dress is completed, the bride will try the dress 1-2 times to correct the inconsistent points and be satisfied. The bride will be present in all steps of the wedding dress with Nicole Bridal. Besides, our designers will also send useful advice based on their long experience to help you adjust for the best fit.
You may question about "How exactly is a custom-made affordable wedding dress done @ Nicole Bridal", click HERE for the answer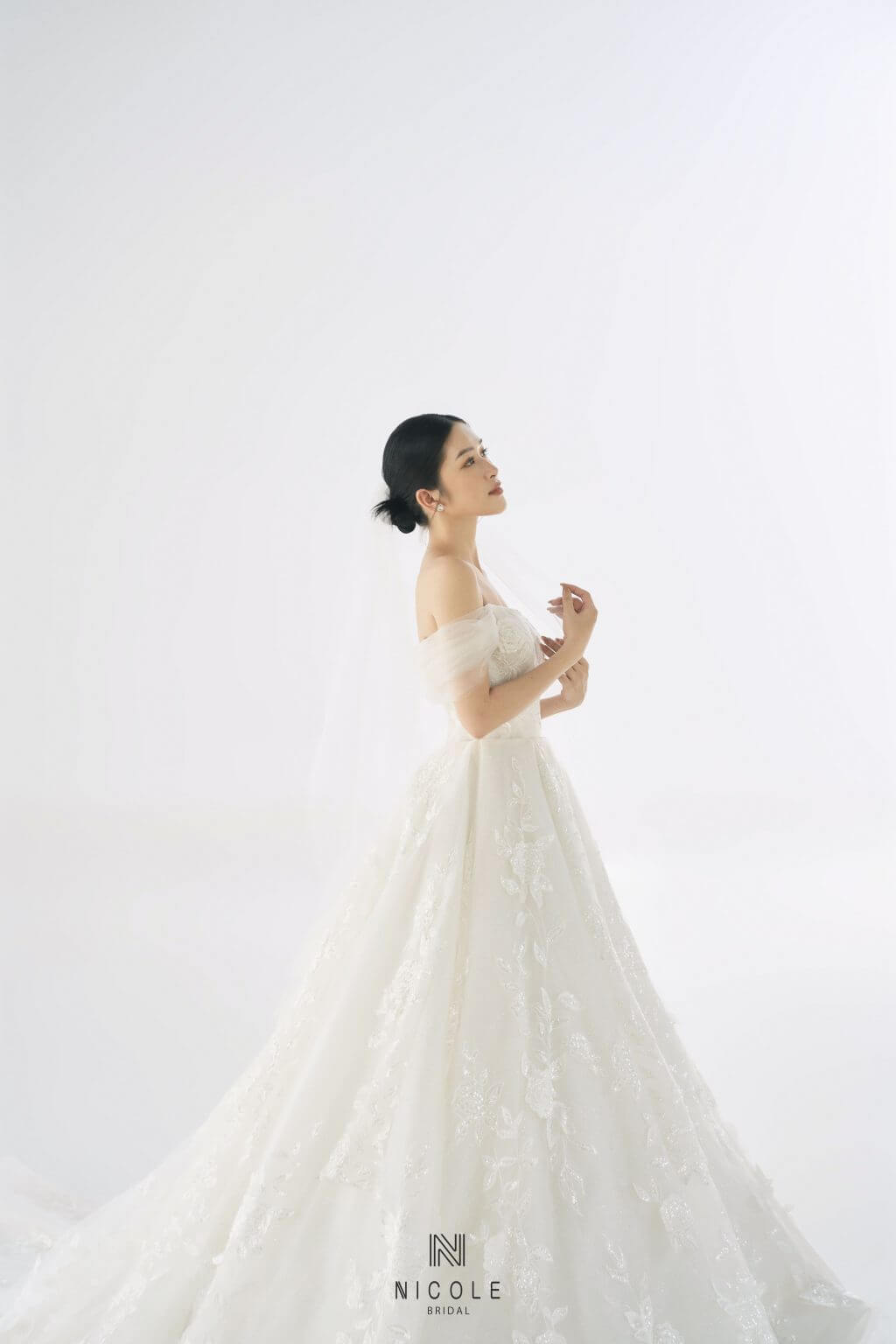 Leadtime and Procedure

At Nicole Bridal, wedding dresses are regulated and the product completion time from the time of ordering to the delivery will range from 6-8 weeks. Therefore, if it is not too urgent, the most reasonable time to order a beautiful wedding dress is about 3 months before the wedding date. Note: it should not be placed too early because the weight and measurements of 3 rounds can change.
In addition, Nicole Bridal can also support brides for an emergent order in 2 weeks to below 4 weeks with extra surcharge from 10% to 20% of the dress value.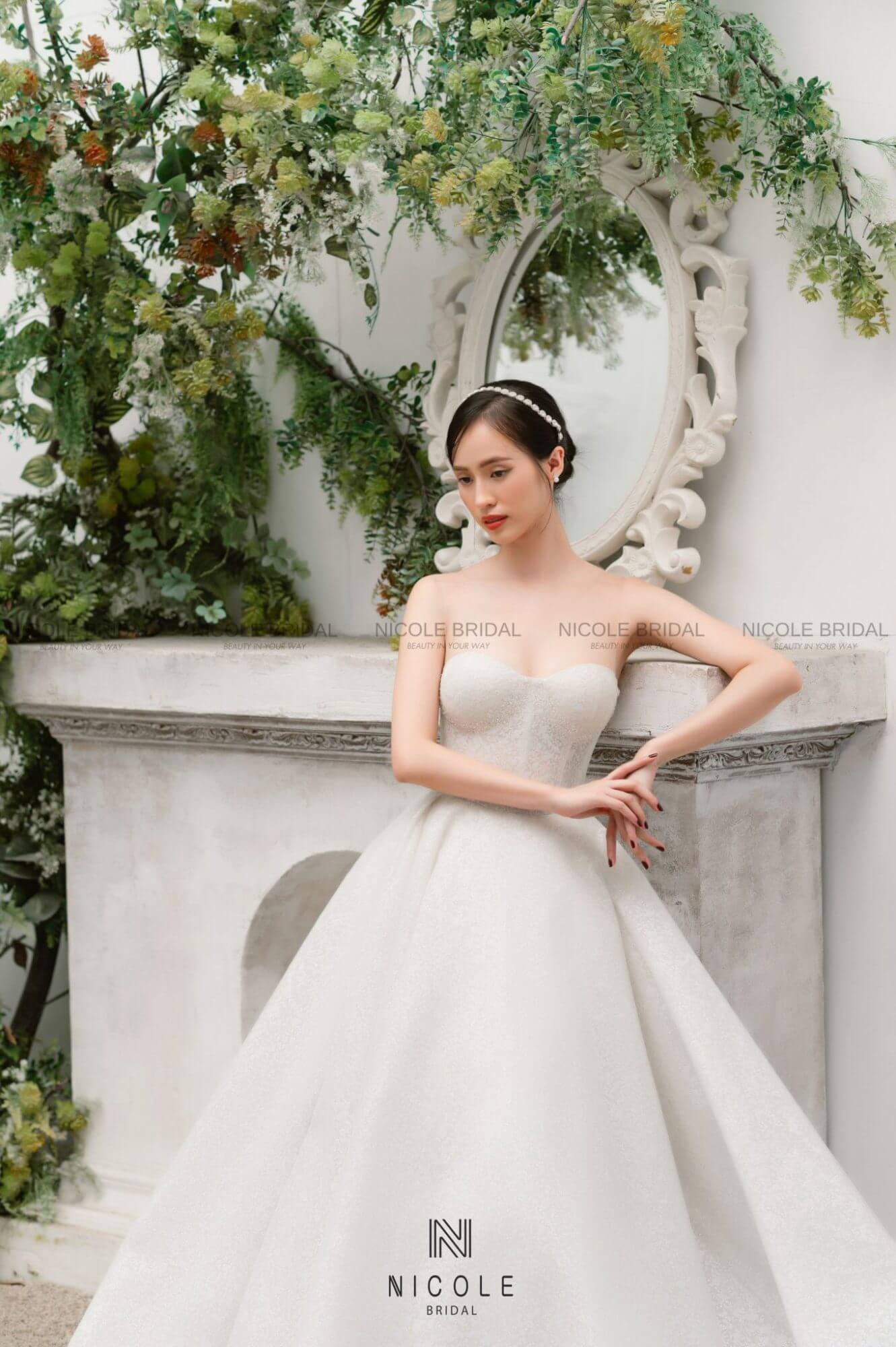 *** Read more about "How exactly is a custom made wedding dress consulted @ Nicole Bridal"
*** Read more about "How does a custom made dress procedure in details"

Notes when ordering wedding dresses
Determine the budget!
Compared to renting or buying existing designs, making wedding dresses will cost a little bit more. Depending on your fashion style and preferences, the brides can choose and balance the budget better. Normally, its cost will be from vnd10,000,000 for a minimal wedding dress and from vnd10,000,000 to vnd25,000,000 for our Ruby line, and above vnd25,000,000 for a luxurious dress which is required a lot of hand-working hours.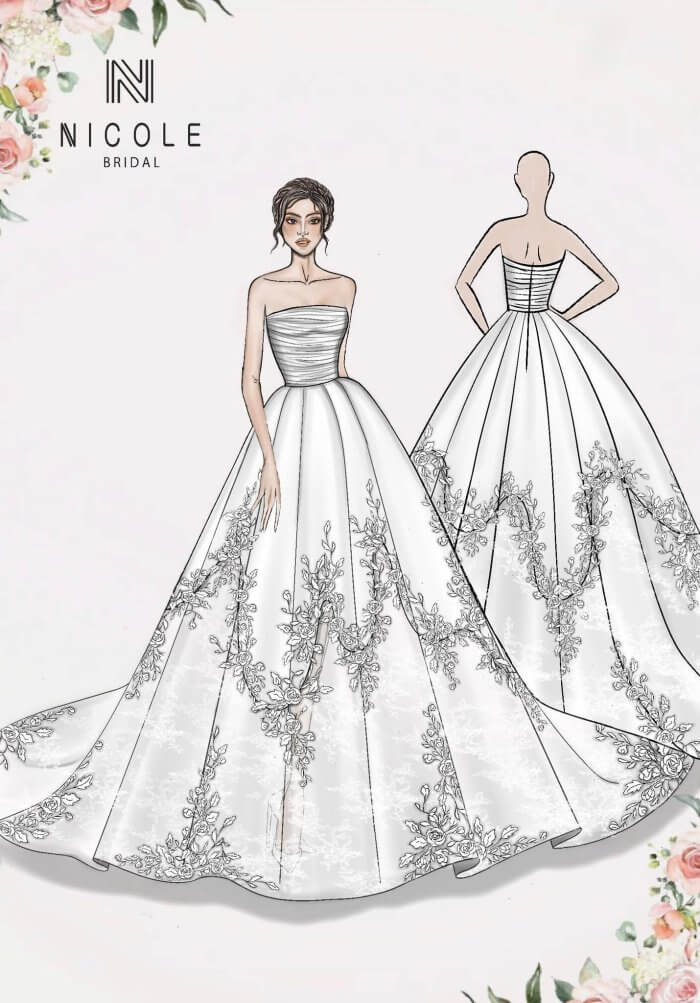 Determine the appropriate time
To get the dream and outstanding-fit wedding dress, Nicole Bridal advises brides to order at least 2-3 months before the date. Because it required you to have a plan about your dress and weight. Also, we will have time to do everything in good support to adjust your wedding (if needed). We will update you on each step for reference from Material checking – Form done – Dress done.
Determine dress style and shape
A suitable wedding dress will help you be more dignified and confident
No one can better understand the advantages and disadvantages of the body than the bride herself. This is a very important step to making beautiful and suitable wedding dresses. Nicole Bridal's designed team and consultants will help you determine the wedding style and shape as well as try the available dresses to find the best look.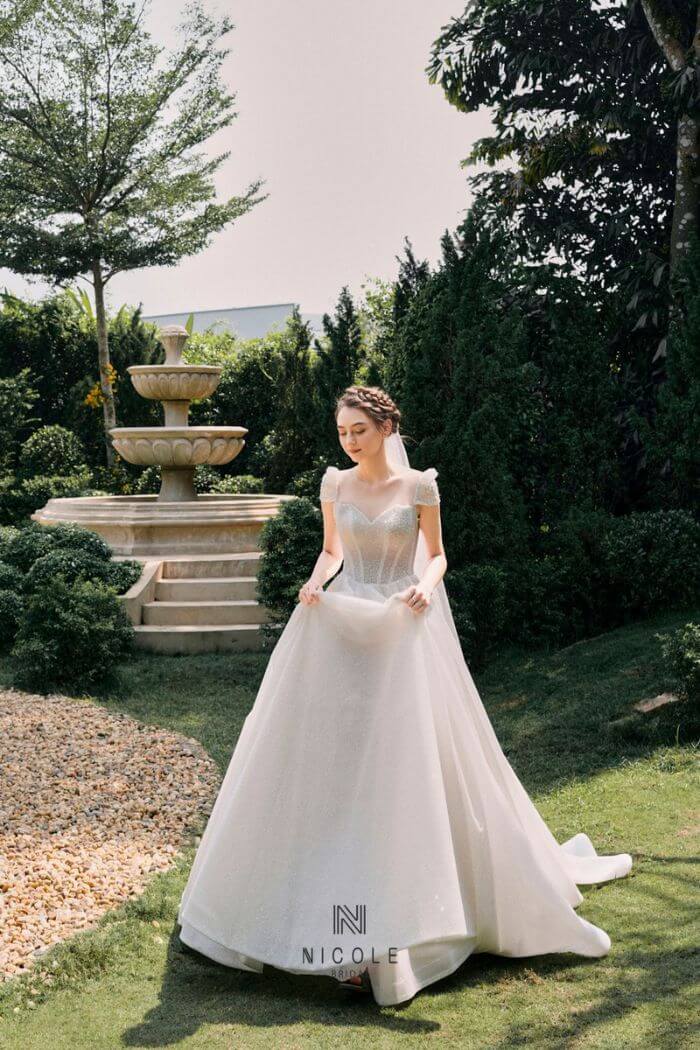 For example, if you are pear-shaped when making a wedding dress, you should choose a fishtail dress or letter A, with puffy sleeves or an attachment at the shoulder for a more balanced overall look.
For the apple shape, you should choose a simple wedding dress with a classic A-letter shape with accents on the waist or a floating princess shape. Especially avoid the styles of the collar off the shoulder, the boat neck, the chest cup…
For brides who are a little bit fat, they will be suitable for making A-shaped wedding dresses with accents on the waist, with sleeves, and do not refer to elaborate details.
Determine the color of the wedding dress
The variety of colors will help the bride unleash "creativity" – Surely, you can have 2 different color wedding dress
In addition to the traditional off-white color, brides can choose wedding dresses with many different tones such as pastel, nude, red, yellow. But the most important is you should know which color tone enhances the skin and helps to conceal the imperfections.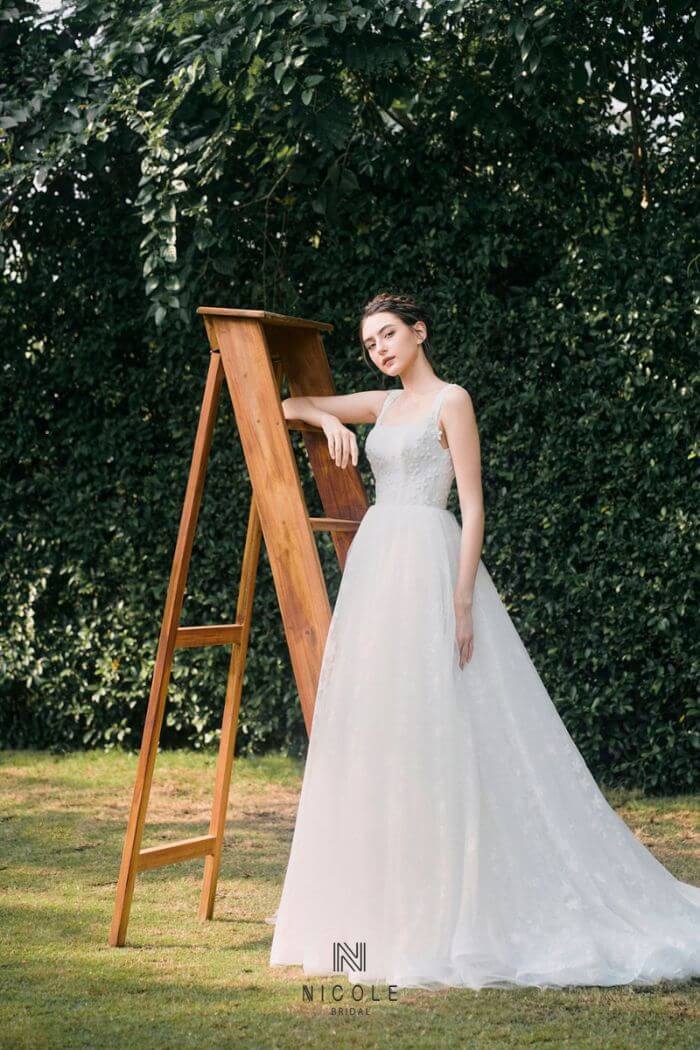 Materials Understanding
There are different materials you need to know such as tulle, silk, lace, satin, taffeta… For each kind of material, there are several types based on its quality and features.

The material determines most of the elegance as well as the shape of the wedding dress. Nicole Ngo and her design team will consult brides about the types of materials as well as the volume, seduction, elasticity, wrinkles, adhesion… At the same time sharing your bridal ideas, Nicole Bridal will listen and make sure to fulfill your "dream".
Special requirements sharing
Nicole Bridal will help you own the most wonderful wedding dress
In order to own a suitable and outstanding wedding dress, you should discuss directly with Nicole Ngo and her team about the special details such as "How long the dress's train you love? How much puffy is the dress required? How shiny the dress crystal, beading needs to add on… You should also provide more information about the body height and weight plus high-heels height to tailor the appropriate length of your dress.
Among the countless addresses to order beautiful wedding dresses, Nicole Bridal is confident as a "trust-worthy destination" in Vietnam when sewing prestigious, top-quality wedding dresses for many local and foreign brides around the world at the affordable cost. With a professional design team and the advantage of direct sewing shops without intermediaries, we can control at an affordable price with good quality.
You can book a consultation appointment and try dresses –  SET UP AN APPOINTMENT
For more information, please visit or email us:
Hochiminh Branch
Address: 51 Ho Van Hue, Ward 9, Phu Nhuan District, TPHCM
Hotline: 0902.640.490