The wedding day is one of the most important days for every girl. Every bride wants to wear the most beautiful wedding dress to become a lovely bride. However, in order to celebrate a beautiful wedding ceremony has too many things to worry about from the place to take place the ceremony party, the decoration supportive party, handy wedding flower to the wedding dresses… Herein, Nicole Bridal will gives you tips and information based on our profession and experience – how much a wedding dress cost or whether or not to make a customized dress wedding dress or the different between make a wedding dress and design a wedding dress.
Buy a wedding dress or Design a wedding dress
Currently there are two ways to own wedding dresses. With each type, they have different advantages and disadvantages.
– Buying wedding dress according to the available patterns wedding dress. Wedding dresses will be less expensive but the tune and creativity of the wedding dress are not as high as the wedding dress designed as you dreamed of.
– A designed wedding dress design requires creative and meticulous. No matter what style is available, whether the finished wedding dress is beautiful or not require creativity from the designer, the workmanship of the performer, the alignment from the smallest detail. Based on the sophistication, the cost of tailoring wedding dress always is usually much more expensive than other types
Normally, to order a wedding dress according to the sample, you only need to spend from a few million to more than ten million vnd. As tailoring a designed wedding dress, you will need to pay a higher fee, from a few tens of millions to several hundred million depending on the brand and designer. If you choose the high-end shops or designers such as Chung Thanh Phong Bridal, Truong Thanh Hai, Joli Poli Bridal you will need at least 35 million to own the simple wedding dress design. Another option you can choose medium-sized outlets such as Nicole Bridal, Sue Ann … with simple wedding dress designs, delicate from just 10 million upon.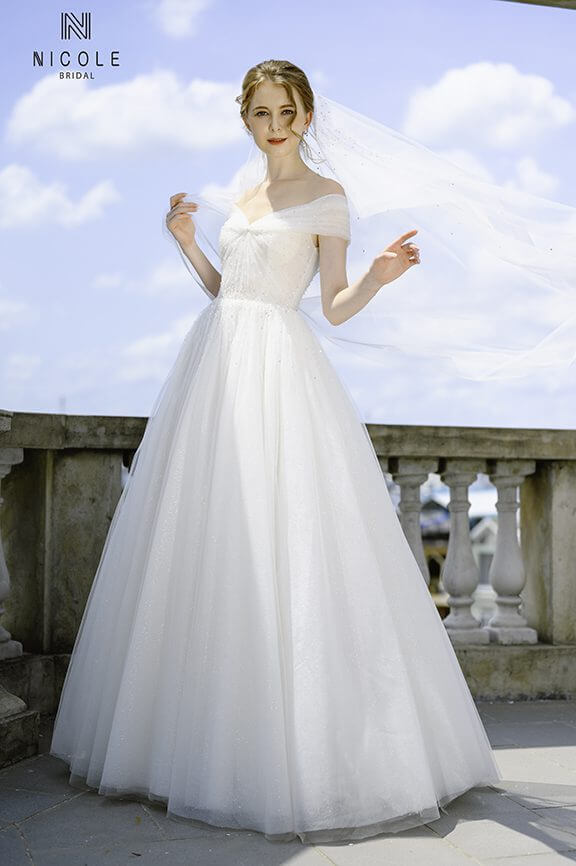 Tips for choosing a good quality wedding dress place
Comfort Feeling
You should try at least 2-3 different style dresses at some stores to have the most correct evaluation. You can evaluate dresses based on the quality of material, dress forms and discussion experience… By that way, it will help you to feel the dress form and shape, comfort as dressing up. Do dresses bring you ease in moving, confidence as walking, have a good shape in dress and become more beautiful?
Fabric soft and comfortable
Besides the design of the dress, fabric is also a important factor to judge whether the wedding dress is good or not. Often, prestigious designers such as Nicole Bridal will advise what fabric they are making. Feel and sense the fabric: Is that fabric thick, smooth and comfortable? People think wedding dresses are very heavy, however, it is changed on a fine and thin material to make dresses which brides can wear the whole day.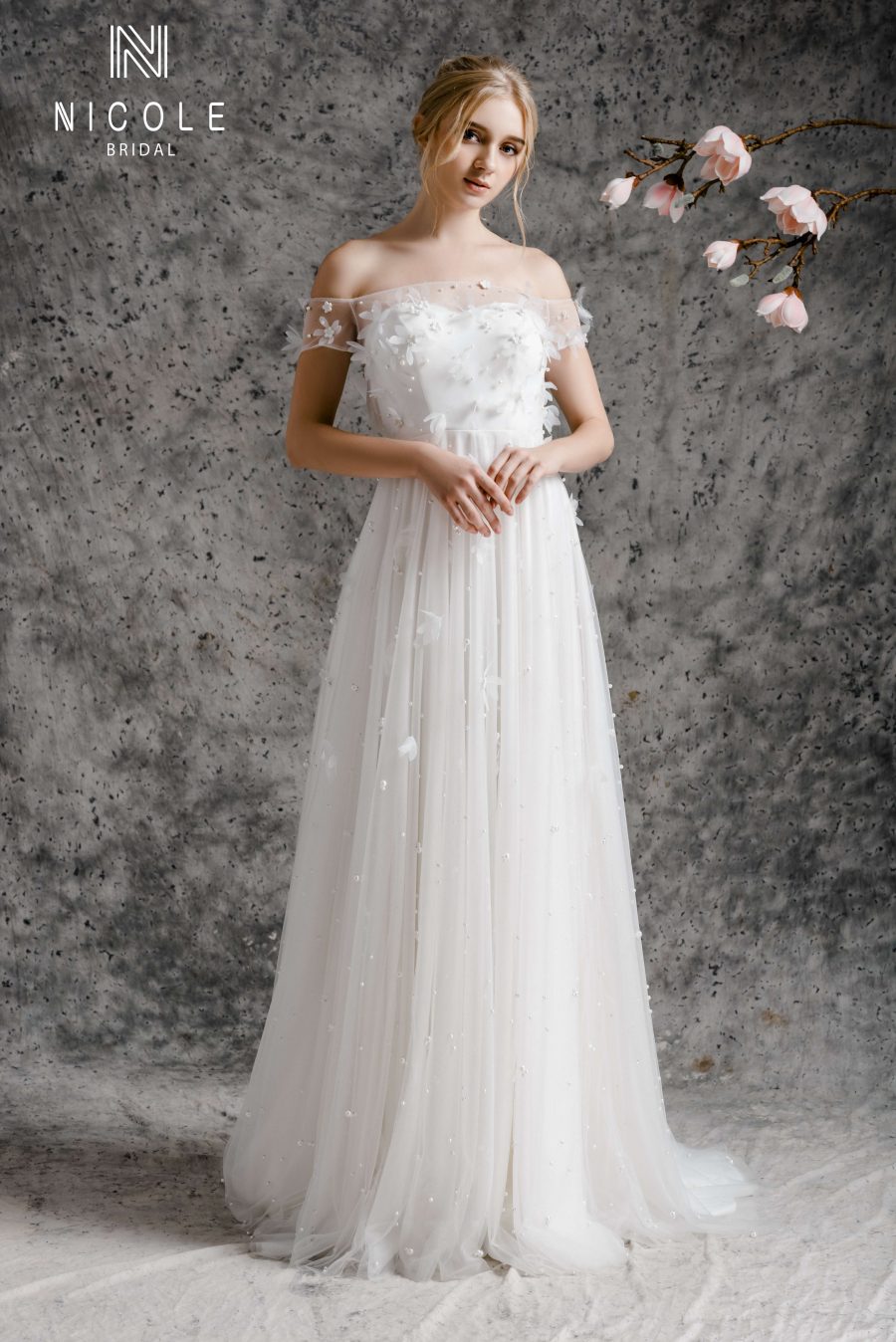 Finished seam
When the wedding dress is complete, let's see if it's the same as the previous dress you try. There may be some cases when finishing the wedding dress that the designer has a bit modified. Therefore, may be slightly different design, however, the same level as the design still needs to be guaranteed from 80% or more. There should be a good reason for editing.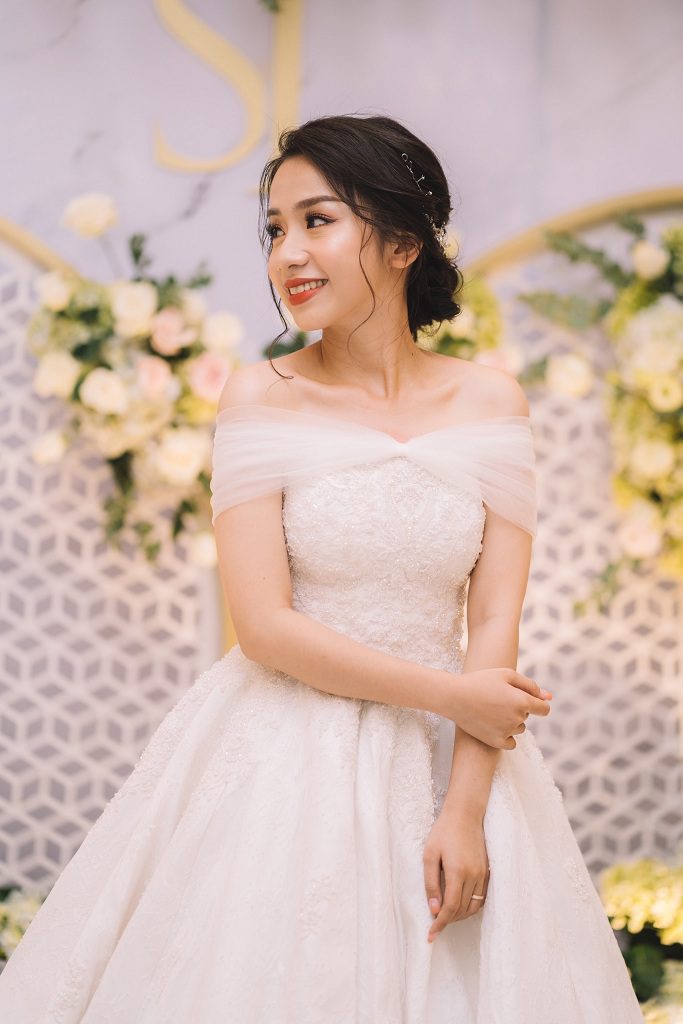 Also, take a glance on stitching and are there many stitches exposed? How complete is the dress? And do not forget to try that dress up. Does the dress fit and shape you to cover up the disadvantages? A beautiful wedding dress is not only in the design of the drawing, but above all how complete it is and how suitable for brides is.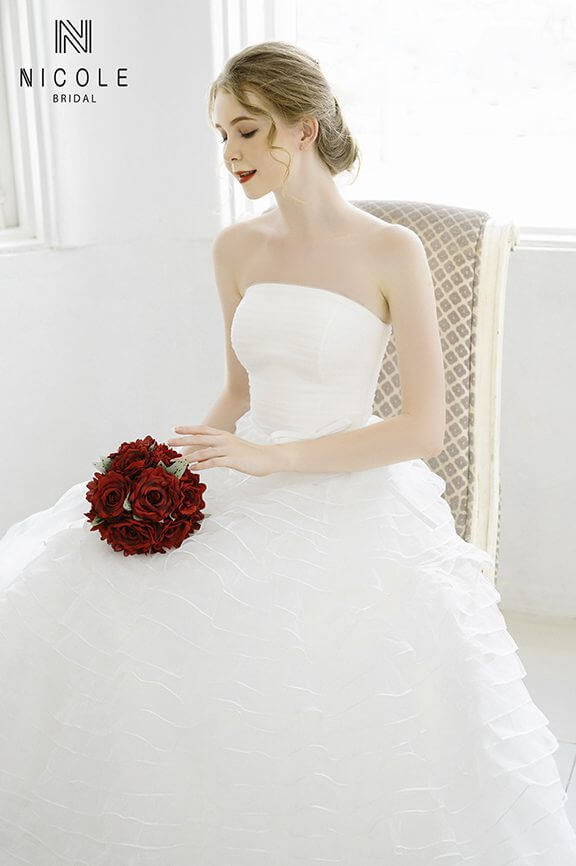 How much does a customized wedding dress cost in Vietnam?
Here is a list of wedding dress price you can refer to (for the wedding dresses based on available patterns):
– Popular wedding dress: 2.000.000vnđ 5 – 10,000,000 VND
– Medium wedding dress: 10,000,000 VND – 35,000,000đ
– High quality wedding dress: 35.000.000vn – 80.000.000vnđ
Please be noted that the price range above is generally for the market updated to early 2020. For each different design, you can contact for a bridal boutique for the most accurate price. Hope this helpful as you have intended to make a customized wedding dress in Hochiminh and Hanoi City.
To find out more information about Nicole Bridal Tailoring service: https://nicolebridal.vn/en/design-tailor-wedding-dress-vietnam/
In case you would like to have the practical price for your designed wedding dress, you can mail us via nicole.weddingbridal@gmail with your dress ideas and details. We are willing to help you out within 48 hours
Please take a note that NICOLE BRIDAL provide FREE DRESS SKETCHING AND CONSULTATION online
—–
NICOLE BRIDAL – FROM NICOLE WITH LOVE
Hochiminh Store:
Address: 49-51 Ho Van Hue, Ward 9, Phu Nhuan District, Ho Chi Minh City. Ho Chi Minh.
Hotline advice: 0902.640.490
Fanpage: Nicole Bridal
Hanoi Store:
Địa chỉ: 60 Khâm Thiên, Quận Đống Đa, Hà Nội
Số điện thoại: 0984 615 350
Email: nicolebridalhanoi@gmail.com