Normally, ordering  a wedding dress to prepare a perfect and decent wedding dress takes up to 9 months. However, not almost couple has a marriage plan nearly a year in advance. Nicole Bridal will give you some advice when ordering bridal dresses online at least 6 months before the wedding ceremony.
Wedding dress just for you
Every bride wishes to have a gorgeous wedding dress to accompany her lover to the aisle. But listen to your body, exploit your strengths and weaknesses to find the perfect wedding dress.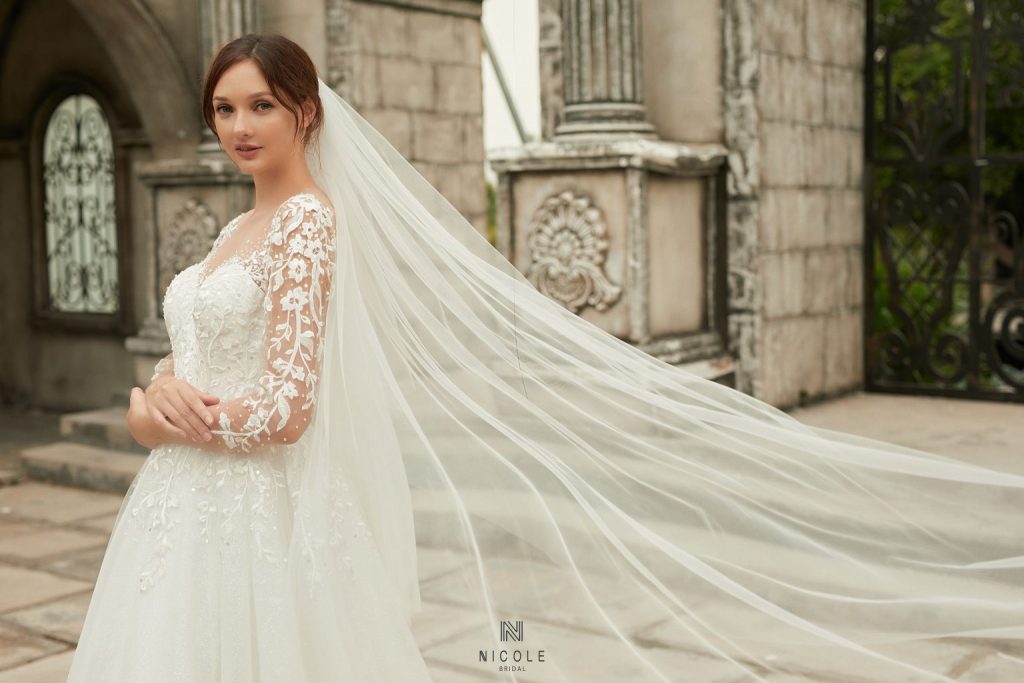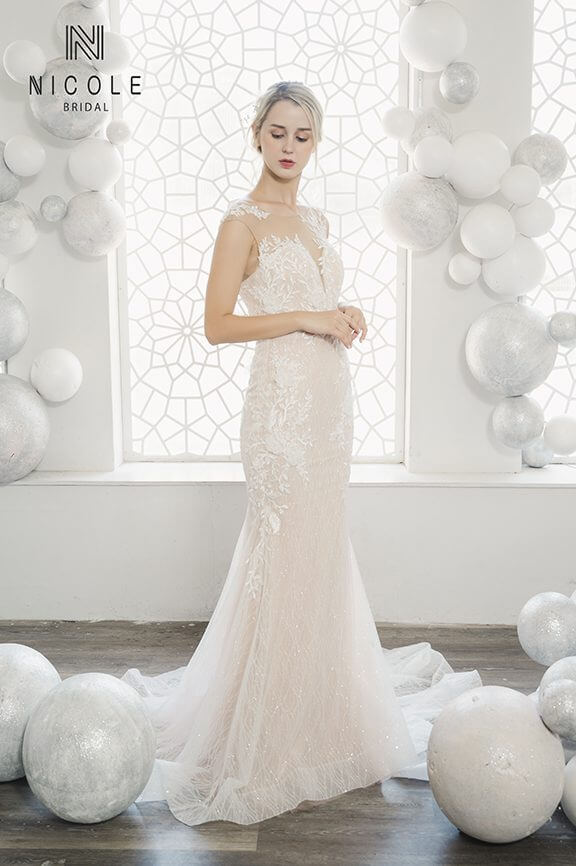 Nicole Bridal always thinks that the most beautiful wedding dress is the one that accentuates her curves and advantages in appearance. You need to be consulted the information in advance and find yourself a wedding dress as planned. If you are a bride with a chubby body, you can choose an A-shaped wedding dress; if the bride has coarse shoulders and big biceps, you should consider choosing a long-sleeved wedding dress to cover these part; Or if you are a bride with a beautiful figure, a fishtail wedding dress will help you shine and stand out.
Spend 10% of your time searching for wedding dresses online
Preparing for the perfect wedding gown involves many meticulous steps to make the ceremony go smoothly. Normally, you should spend at least 10% of your time looking for and ordering a bridal dress that suit your preferences and desires. For example, the time you prepare for the wedding is about 3 months, you should not spend more than 9 days to find the desired wedding dress and order the wedding dress right away.
Update the latest bridal dress trends
You can refer to wedding dress samples from books, Internet information, friends to be able to choose a suitable one.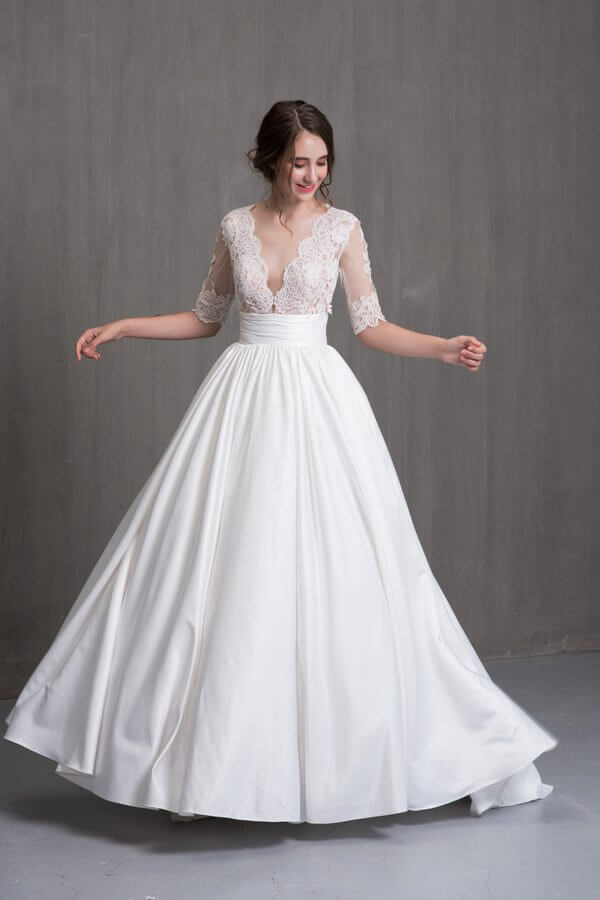 Many wedding dress models have not been displayed or updated by the store on the Website, Instagram, Facebook… So you can directly contact the wedding dress maker to exchange more information or discuss the desired dress you love. Surely the staff of the wedding dress studio will enthusiastically help you find the most beautiful wedding dresses online.
You may be offered FREE CONSULTATION AND SKETCHING for the designed dress
Determine the budget for dream wedding dresses
Making wedding dresses is a normal thing when preparing for the big day. The wedding dress is not only a dress to wear on the wedding day, it also has a sacred, unique meaning, reminiscent of happiness.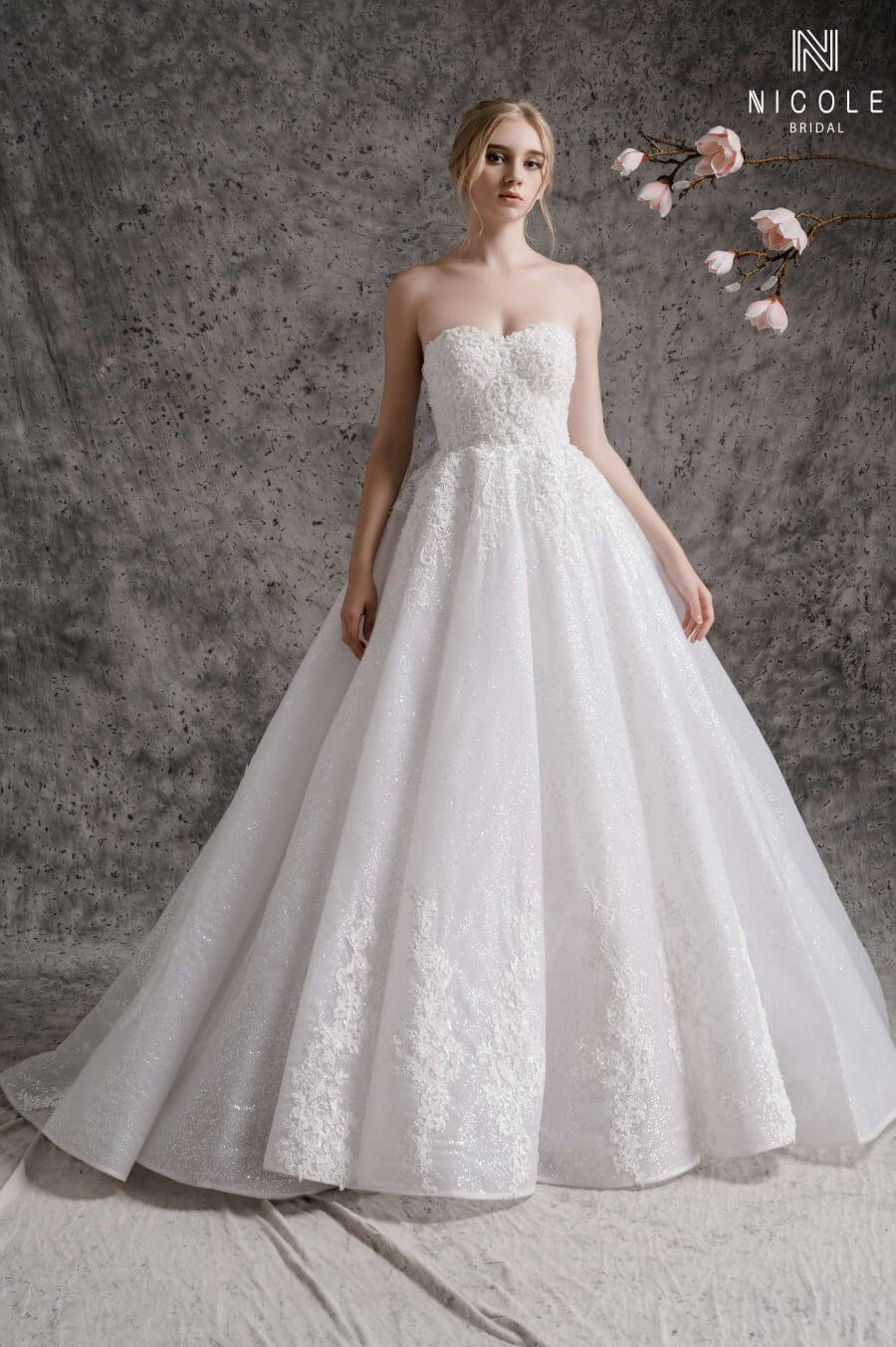 Depending on the style, materials and sophistication, the price of tailoring a wedding dress online at Nicole Bridal can range from VND 7,000,000 to 10,000,000 (for the Minimalist model) and VND 10,000,000 to VND 25,000,000 (for sophyticated style bridal dress).
Determine the time range before tailoring wedding dresses online
At Nicole Bridal, the bride will normally receive the wedding dress online 2-3 months after the date of ordering. On pthe other hands, brides must take at least 4 – 12 months for a finished bridal dress from a few popular Bridal Shops such as: Berta, Monique Lhuillier, Raffaeleciuca Bridal…
In Nicole Bridal experience, there are some situations when the brides want to order rush wedding dresses. There will be a surcharge VND 1,000,000-3,000,000/dress to quickly receive your dream wedding dress.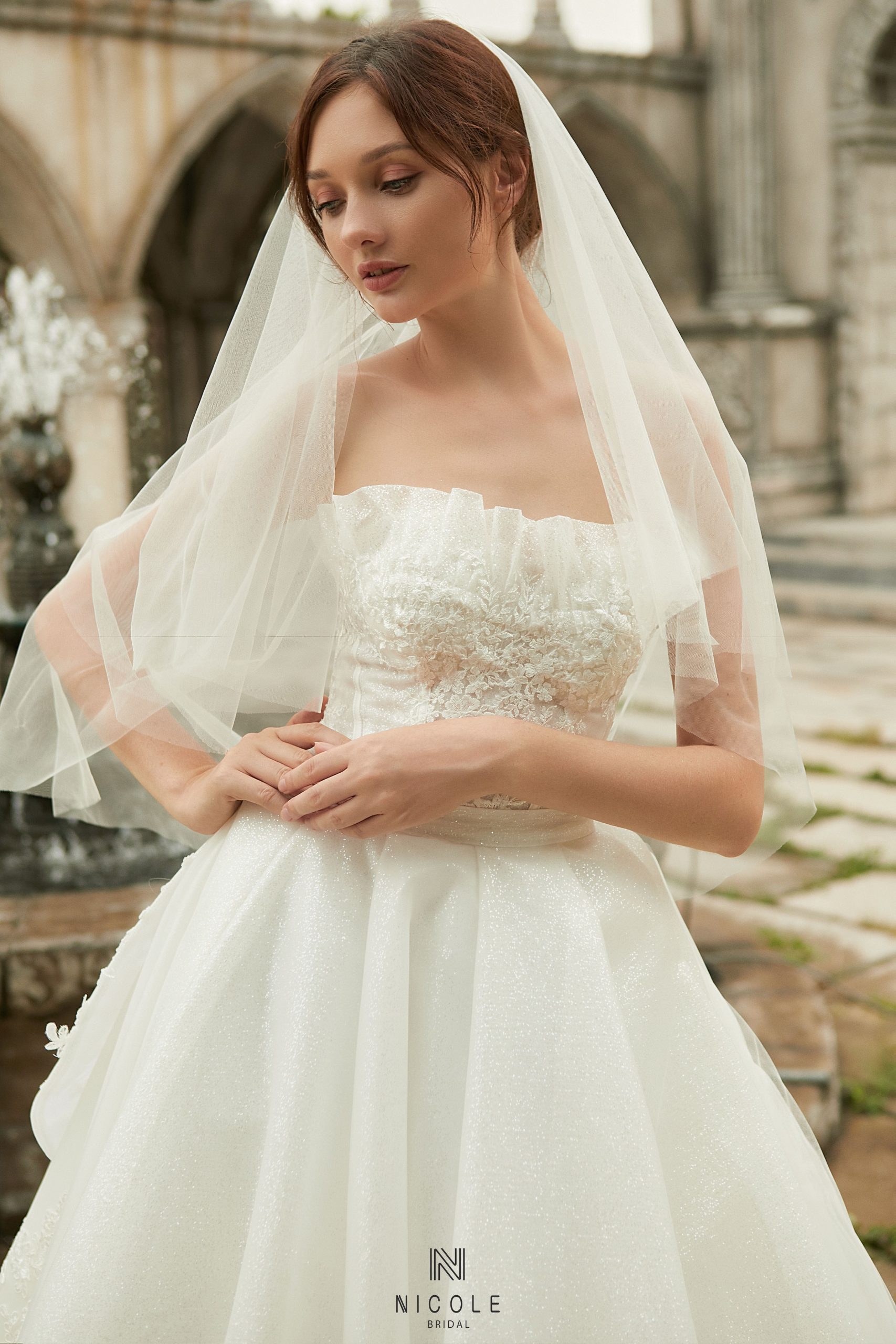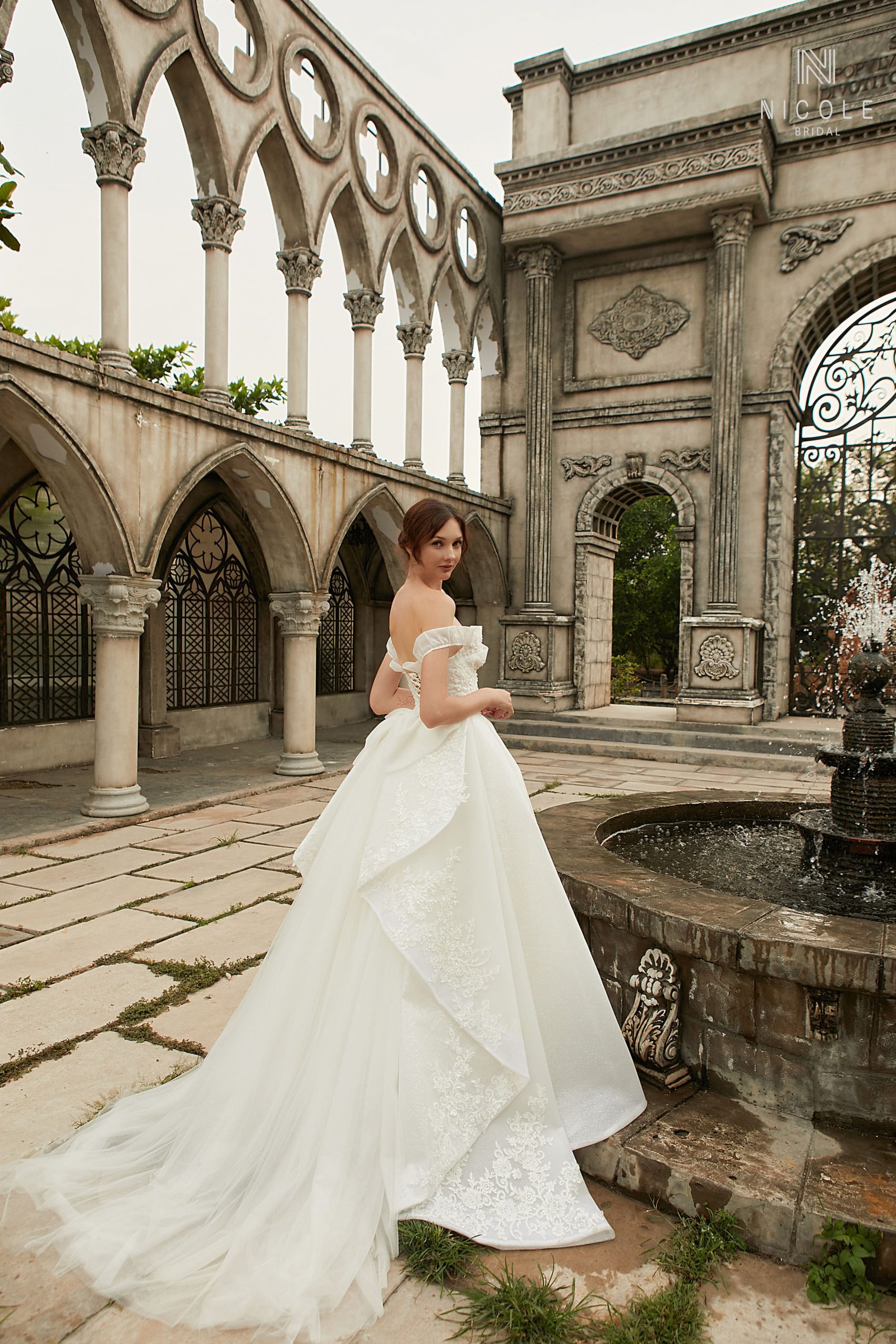 For brides who order online bridal gowns, Nicole designed team will work with you to come up with ideas from sketching, choose materials, take measurements, sew and edit… until the wedding dress reaches perfection. Therefore, the standard lead-time to complete 01 wedding dress ordered online at least 04 weeks for all tailoring stages. You can refer to: Design & Tailor Wedding Dress online at Nicole Bridal
Choose a professional wedding dress showroom
With the complicated situation of the Covid-19 epidemic, many brides face obstacles in organizing their wedding, especially overseas Vietnamese brides. You need to find the bridal showrooms specializing in wedding dressmaking services to receive advice and support. They will give you complete peace of mind while discusing and working.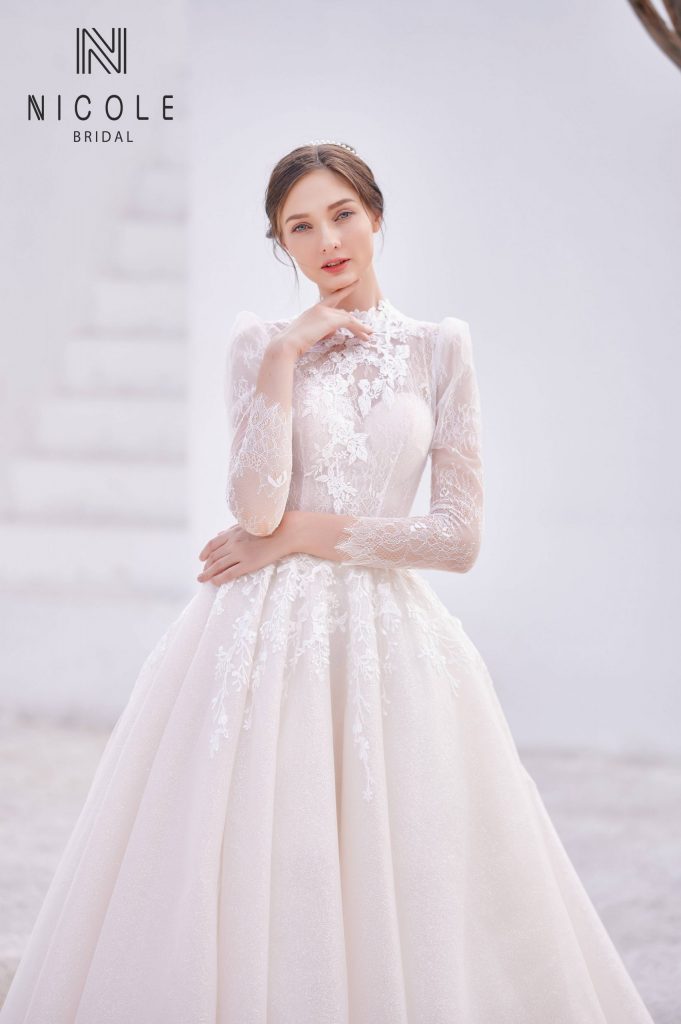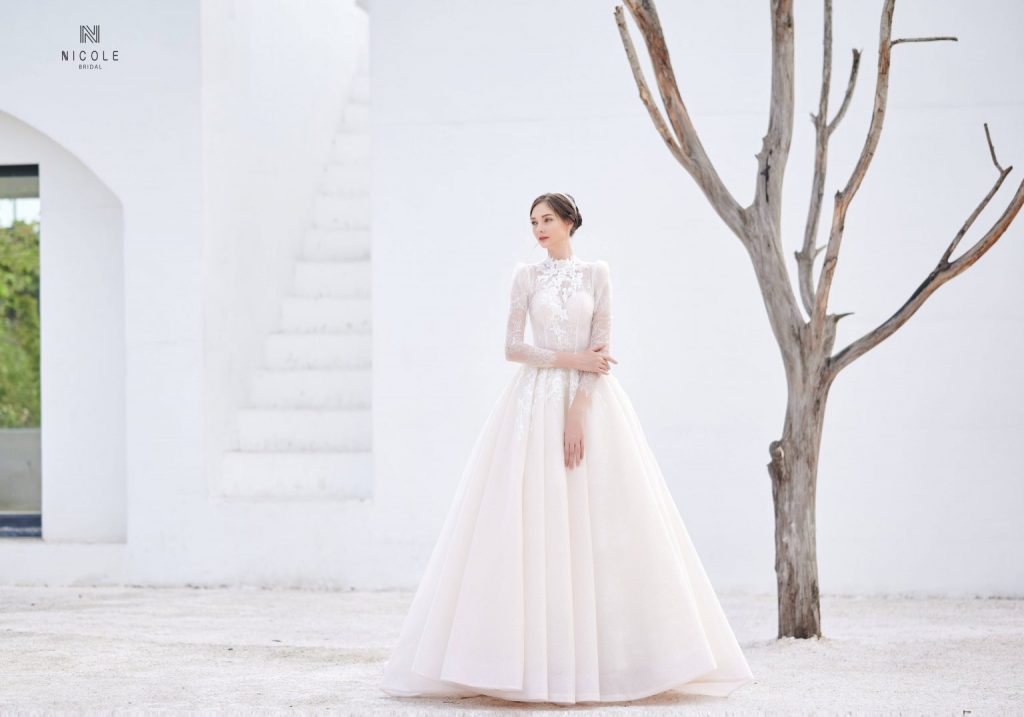 Nicole Bridal always wants the bride to wear the most beautiful wedding dress, marry the man she loves the most in a ceremony filled with happiness. To facilitate the bride to find a simple and elegant wedding dress that suits her, Nicole Team designs and sews bridal dresses online.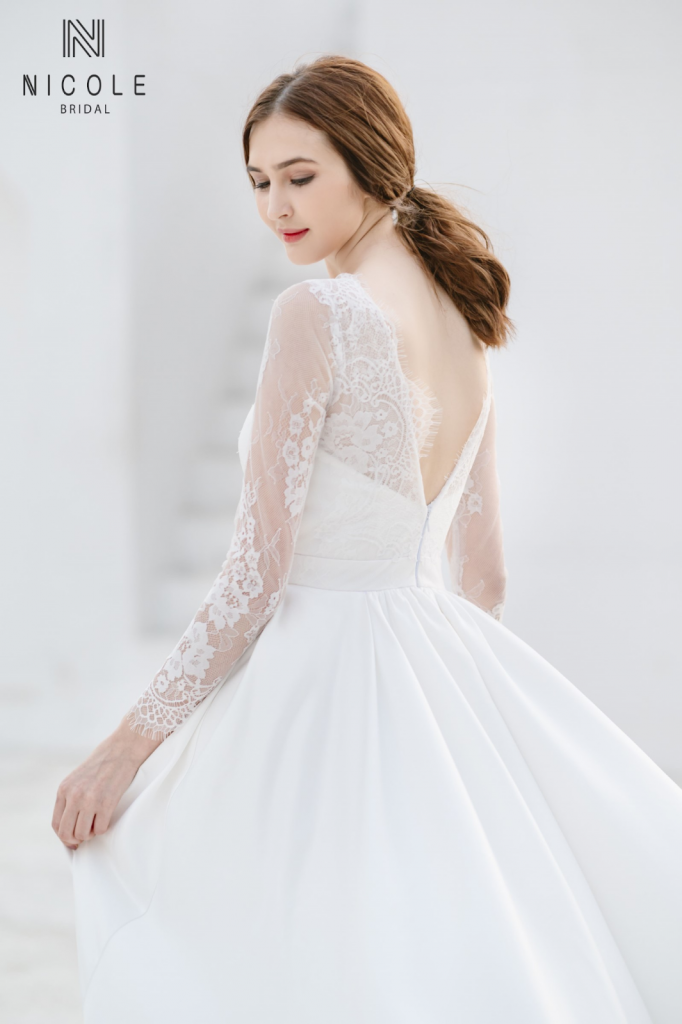 You can contact Nicole Bridal staff to provide measurements and wishes about your wedding dress. All things will need to discussed clearly in order to match your marry-line.
Nicole Bridal is proud to be the place to accompany thousands of brides in their journey to find the dream wedding dress. Hopefully, the article can help you find and sew wedding dresses for brides, especially in the online form during the complicated epidemic days.
You can schedule a online appointment for FREE CONSULTATION AND SKETCHING. For more details, please contact:
Ho Chi Minh City Branch: Address: 51 Ho Van Hue, Phu Nhuan District, HCMC | Hotline: 0902.640,490
Hanoi Branch: Address: 23 Alley Hue, Ngo Thi Nham, Hai Ba Trung, HCMC | Hotline: 0984.615.350