Vietnam wedding Aodai is not only a traditional costume of Vietnamese people. This type of Vietnam costume is also chosen by many brides to wear on their big day. Are you wondering where to sew beautiful and luxurious wedding dresses with preferential costs? Don't worry because Nicole Bridal's service will help you become the most beautiful bride with beautiful Aodai wedding dresses!
Wedding Ao Dai for brides on the big day
For a long time, many brides and grooms still choose Vietnam wedding aodai to wear on their wedding day. This is not only a special occasion to reminisce and preserve the traditional beauty, but also an opportunity for the bride to highlight her sexy, seductive and outstanding lines. Besides wedding dresses imported from Europe, tailoring wedding dresses is still the choice to ascend the throne in the wedding seasons.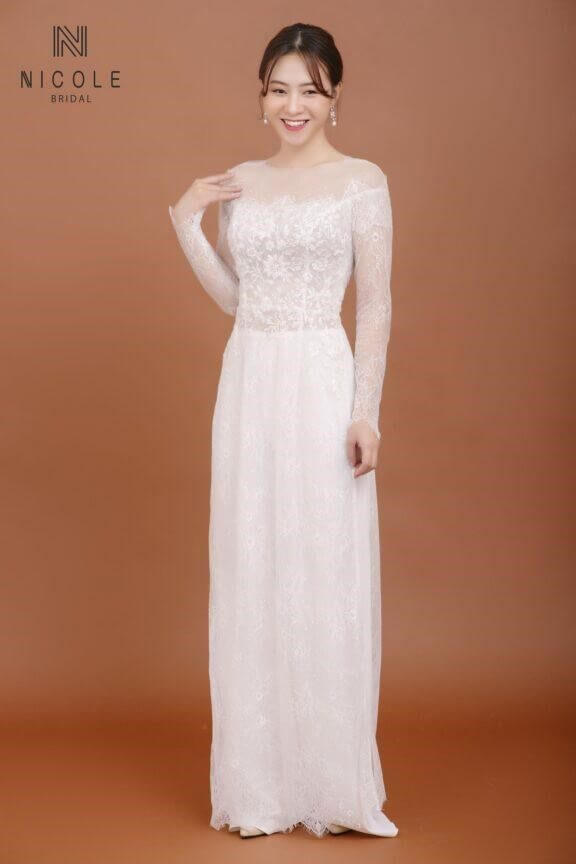 However, many brides still have many doubts about choosing a beautiful Aodai wedding dress. Understanding the desire to become the most beautiful princess, Nicole Bridal brings the brides beautiful and splendid designs. Each Aodai product designed by the unit has its own beauty, attractive but full of personality, exuding the beauty of a girl.
The process of making Vietnam wedding Aodai at Nicole Bridal
When she became a bride for the first time, she couldn't help but feel awkward and awkward. Nicole Bridal will help you soon get a beautiful Aodai wedding dress with a professional sewing process: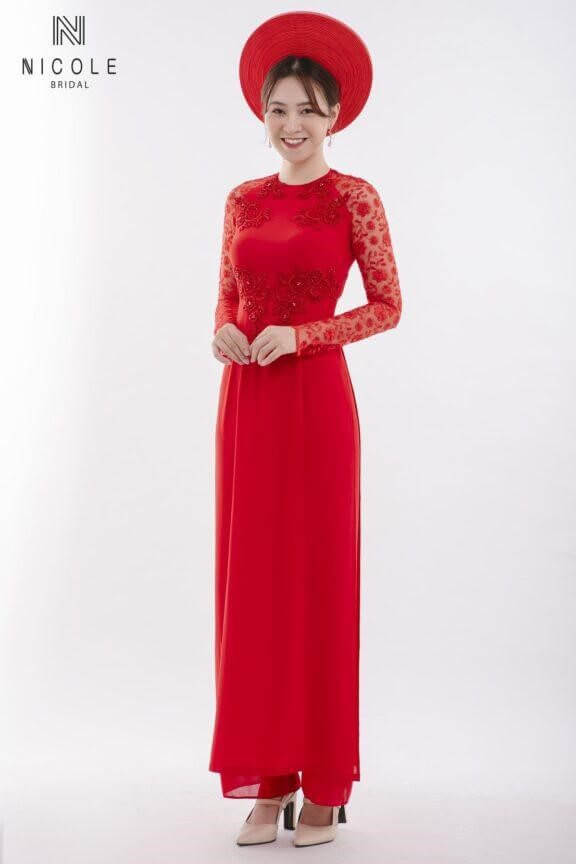 Step 1: She will be supported by Nicole Bridal's consulting team to try on wedding dresses to choose the right style. Along with that, the team will advise her to know the pluses and minuses of her body shape and have the best plan.
Step 2: After signing the contract to make ao dai, the bride is allowed to change the details of the design of the ao dai within 1 week before Nicole Bridal proceeds to cut and sew. At the same time, Nicole Bridal will take measurements to start the sewing process.
Step 3: Proceed to sew ao dai according to the measurements and designs that the bride has chosen. She will be able to try on the shirt and improve it before Nicole Bridal's team proceeds to apply lace and decorative crystals.
Step 4: Nicole Bridal completes the decoration of the wedding dress after it has been adjusted and satisfied. Usually, the bride will have to wait 3 to 5 weeks to get the perfect ready-made wedding dress. Nicole Bridal also has a priority sewing service package of only 2-3 weeks with a surcharge of 1 million VND.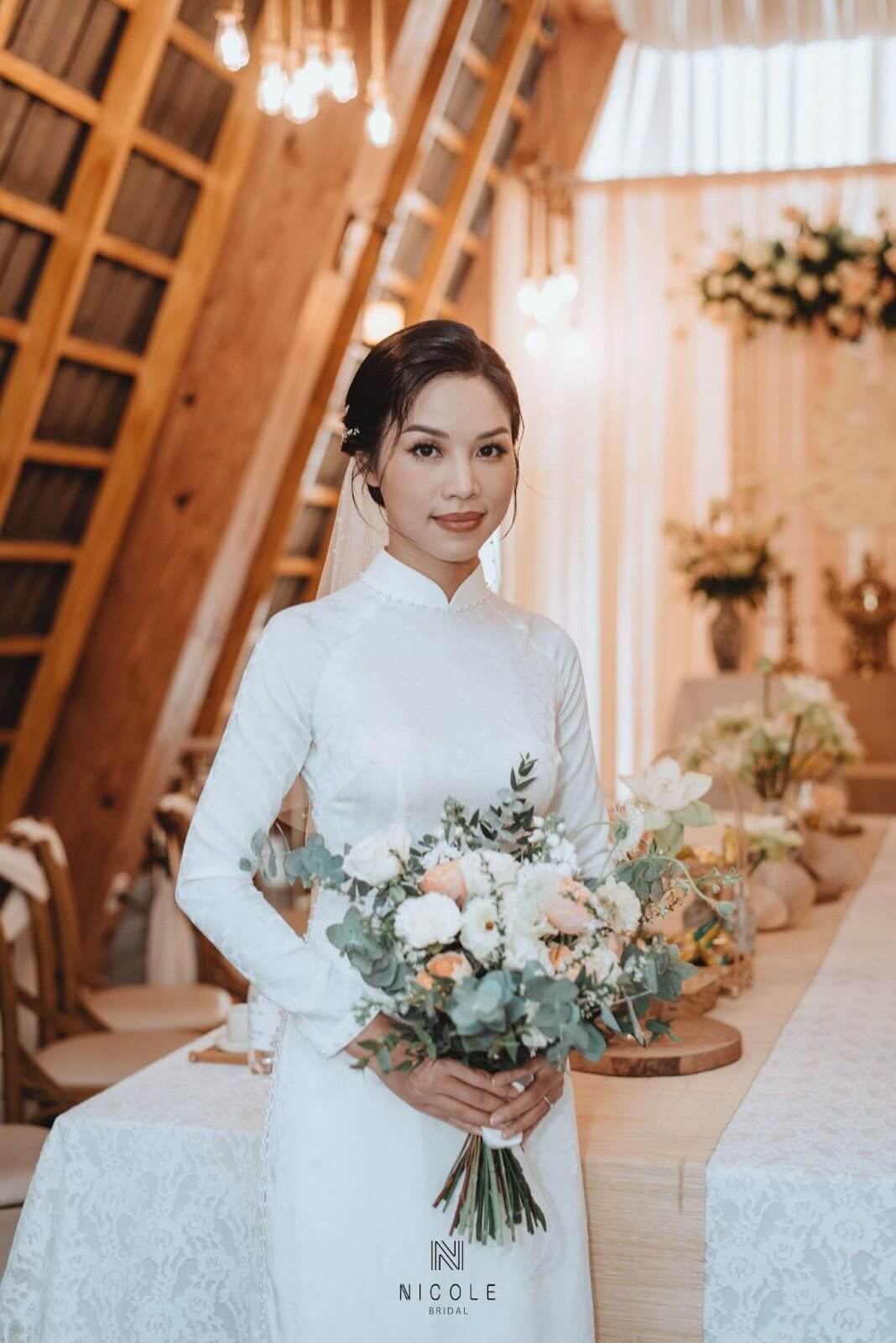 Nicole Bridal – the address to make your own Vietnam wedding Aodai
If the bride is wondering where to make a beautiful wedding dress in Ho Chi Minh City, please try Nicole Bridal.
Soon to be available at the wedding dress market in Ho Chi Minh City. In Ho Chi Minh City, Nicole Bridal is a valuable address for the brides to give their trust. Every new bride who visits Nicole Bridal's feet is consulted to choose the best wedding dress model.
The design team has a sharp aesthetic eye
Nicole Bridal is proud to own a team of experienced fashion designers. Especially in the field of sewing wedding dresses and wedding dresses, they are all "artisans" with creative minds and keen aesthetic eyes. Each model of wedding dress is meticulously cared for to every thread and crystal. In addition, the model will be edited until the bride is satisfied!
Various designs of Aodai wedding dresseses
Nicole Bridal has a variety of ready-made wedding dresses. In addition, the unit also accepts designs according to customers' sewing orders. In particular, Nicole Bridal commits that the wedding dress design is always unique and not duplicated.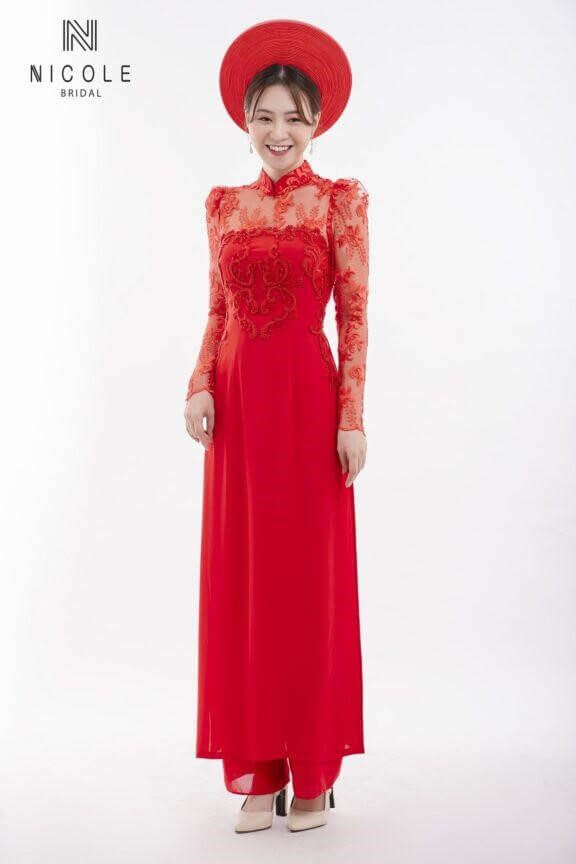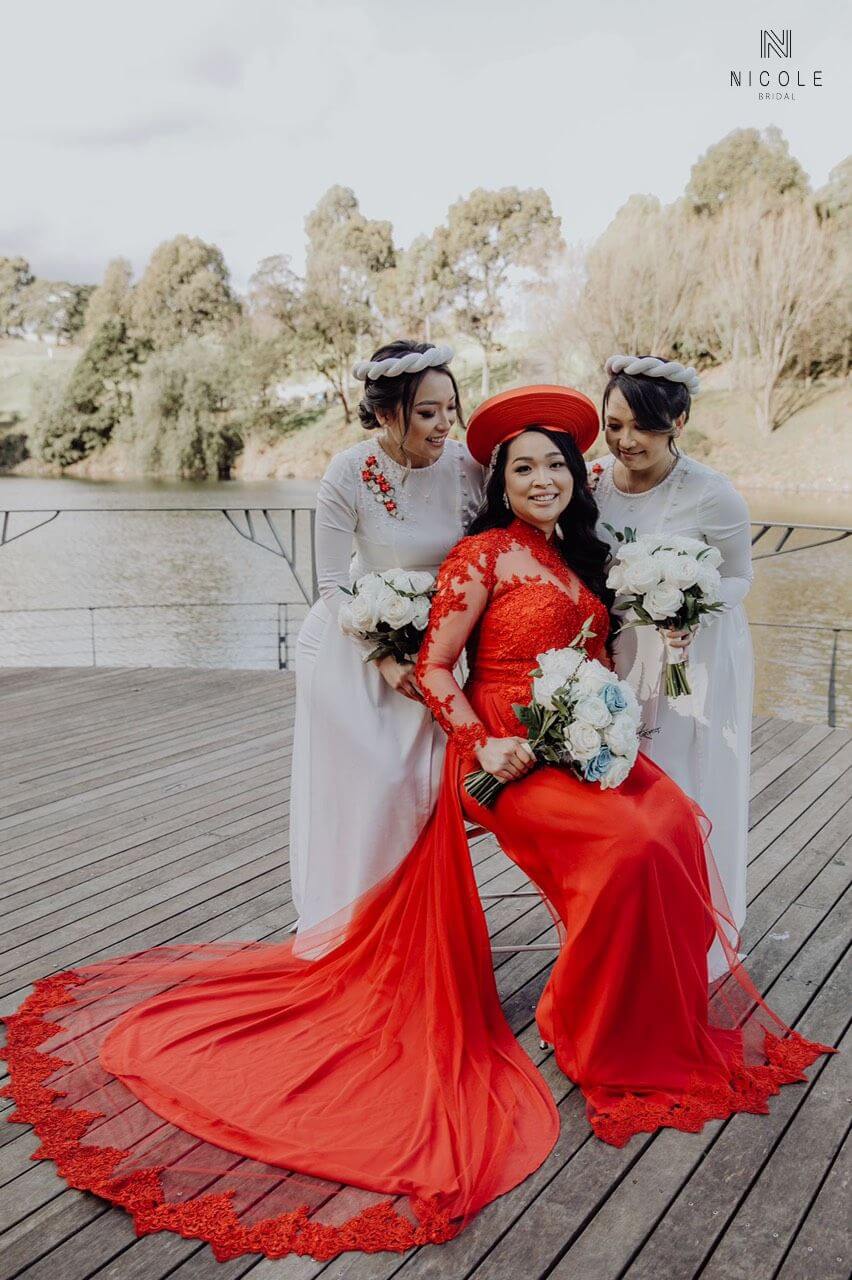 Selected, quality fabrics
We are very fastidious in the process of choosing fabrics and materials for making Ao Dai. All fabrics must be 100% high-class with a variety of colors, silk, chiffon, brocade… Thanks to that, Nicole Bridal's beautiful brides will have more options.
The cost of tailoring a wedding dress for her at Nicole Bridal
If you are wondering about the price of wedding dresses, Nicole Bridal deserves her visit. From only 4.5 million VND, she owns a lovely wedding dress for the big day of her life!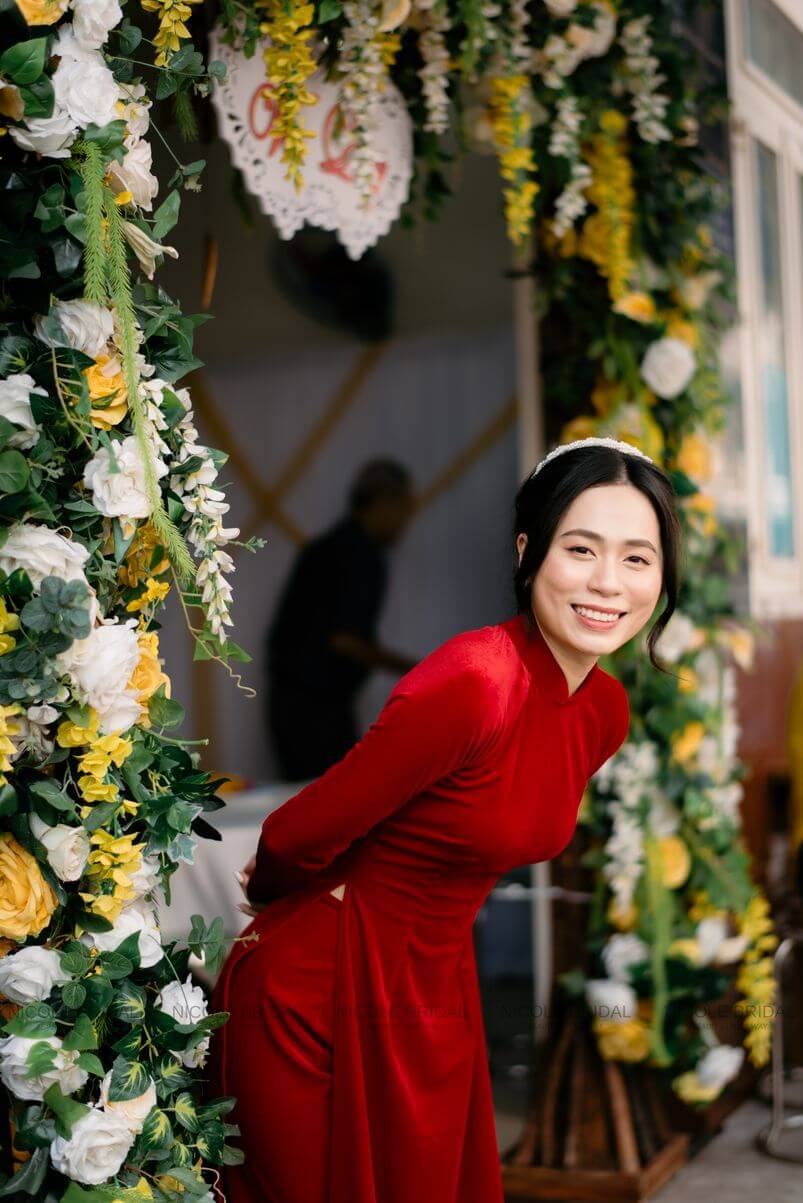 Price list for renting and tailoring Vietnam wedding aodai at Nicole Bridal
| | | |
| --- | --- | --- |
| Service | Cost (VND) | Time |
| Aodai Rental | 1.500.000 – 2.500.000 | 3 day |
| Aodai Tailoring | 5.000.000 – 10.000.000 | 3 – 5 weeks |
Besides the brides in Vietnam, Nicole Bridal for many years is also a wedding studio that many overseas brides "choose to send gold". For brides from far away, a traditional wedding must have a beautiful and gentle wedding dress that exudes the Vietnamese quality of the bride. Therefore, the service of Tailoring Ao Dai for the bride's wedding is a way to help her realize a traditional wedding even when far from her hometown.
When choosing to order bridesmaid dresses from afar, all stages of ideation, selection of wedding dress fabrics, and finishing stages are discussed by us via video call. With many years of experience accompanying brides from far away, Nicole Team is completely confident to bring the most beautiful wedding dress designs that fit the bride's figure on the big day.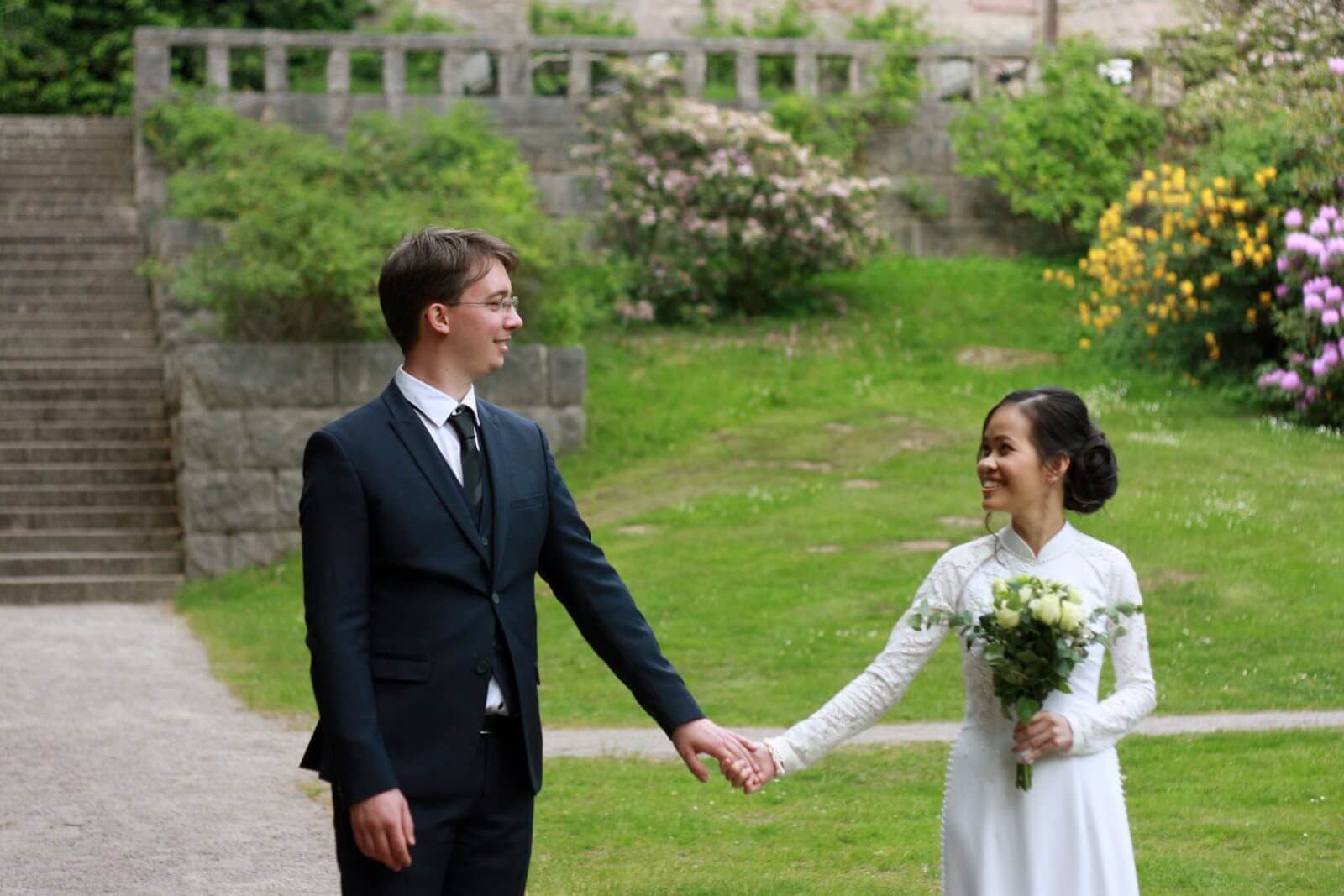 Coming to Nicole Bridal, she will be lost in the paradise of beautiful wedding dresses. We are confident to help the bride sew a satisfactory wedding dress at the best price in the market. I'm sure she wearing Nicole Bridal's wedding dress will receive a lot of words from guests on the day they follow him back to the palace! Contact Nicole Bridal now for advice!
Address : 51 Hồ Văn Huê, phường 9, quận Phú Nhuận, TP Hồ Chí Minh
Hotline: 0902.640.490
Read more: Nicole Bridal – A place to rent beautiful Aodai wedding dresses