Brides around the world are always become the most beautiful in her day. Some is looking for a popular wedding brands for a unique design. Other brides will find a trust-worthy bridal shop to order a beautiful wedding dress. Here is the article about Vietnam brides order wedding dress Online from hometown.
Stories about VN brides abroadly
The tailored-made wedding dress on the wedding day of Cam Nhung is the highlight that everyone admire and commend.
Cam Nhung shared: "Like many other girls, I am interested in wedding dresses as soon as I am proposed. Nhung reads a lot of fashion magazines or websites to look up a beautiful wedding dress for the special day. I will save those images for future reference. 8 months before the wedding which will occur in the end of 2019, I will start ordering and tailoring my own wedding attire. "
The first time Nhung contacted and talked about the tailored-made wedding dress online with Nicole Bridal was in mid-2019, 7 months before her wedding. Like other brides far away, Nhung can only return to Vietnam a few days before the wedding. To get that adjustment, team Nicole and Nhung exchanged every detail and color, wedding dress effect of "that dream wedding dress" for nearly  a month.
Like Cam Nhung, Kim Quach from the United States returned to the country and held a wedding in the early days of 2020 also prioritizes the selection of wedding dresses from Vietnamese brands, due to the sophistication in details, affordable cost and understanding style. Kim Quach chose to order a traditional Aodai Vietnam and a tailored-made wedding dress online designed by the Nicole Bridal.
Difference from 2 above brides, bride Van Huong who returned from Australia in the last month of 2020 coinciding with the time when the Covid epidemic broke out all over the world, including Vietnam. She used to tell Nicole Bridal about the dream dress halfway around the world every night.
It is not only her own wish for happiness but also the feeling of bringing a harmonious and delicate TAILORED-MADE WEDDING DRESS ONLINE to any other bride in this world by Nicole Bridal. Each step of Huong online wedding dress about consulting, drawing, checking materials and measuring instructions was completed quickly in 02 days.
Team Nicole's biggest challenge is the leadtime which is only 30 days. About Huong's difficulty, it was that she had to fly back to Vietnam only 3 weeks before the wedding, then she had to quarantine for 2 weeks!
There are indeed many reasons for Vietnamese brides to carefully consider choosing between a world-famous brand and a domestic one, the Nicole Bridal team can summarize in some main reasons as follows:
– Economy: The domestic designs always have a much more reasonable cost when compared with the same design.
– Suitability: foreign designs often follow Western forms and so the figure and body shape will be different from Asian people.The shape of tailored dress may not be comfortable and fit, especially for the petite Vietnamese bride.
– Understanding: longtime tailors often have many years of skilled tailoring so they can understand Asian designs, especially traditional dresses than any famous designers in the world.
Choose a traditional Aodai wedding dress Online
As a Vietnamese girl, anyone is proud to be able to wear a traditional ao dai wedding dress at the ceremony. In the US and AU, ao dai is availably sold in standard sizing, but there is no service of tailoring the Ao Dai according to the measurements. Besides, there are not many different models and its cost will be more expensive. That is also the reason that the bride Nhung or the bride Quach and many Vietnamese brides all over the world decide to order an Aodai online from their homeland in Vietnam.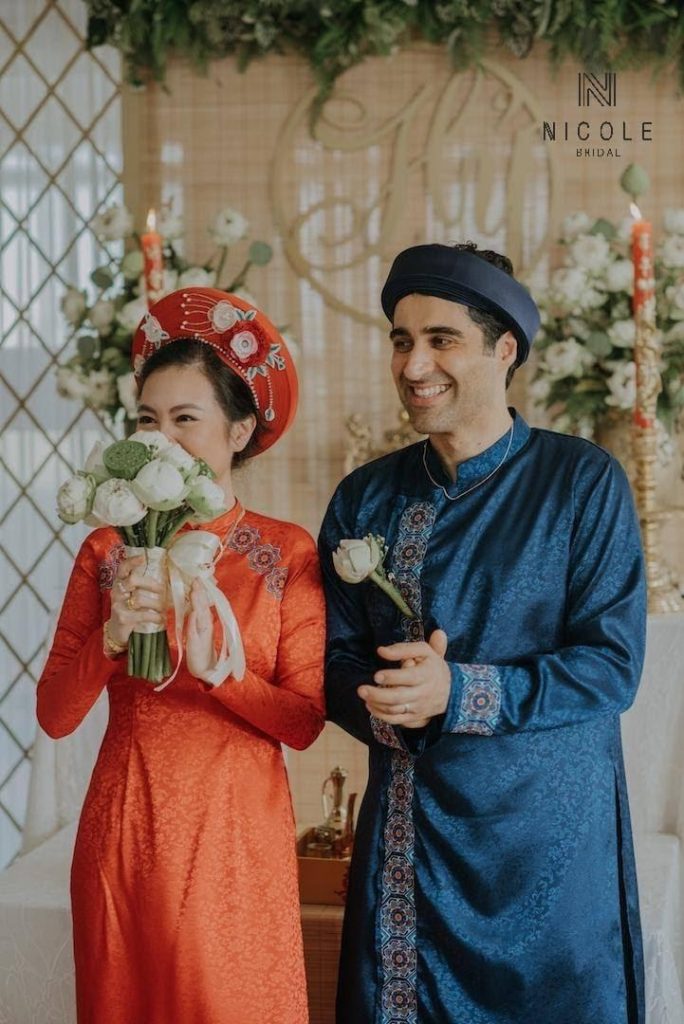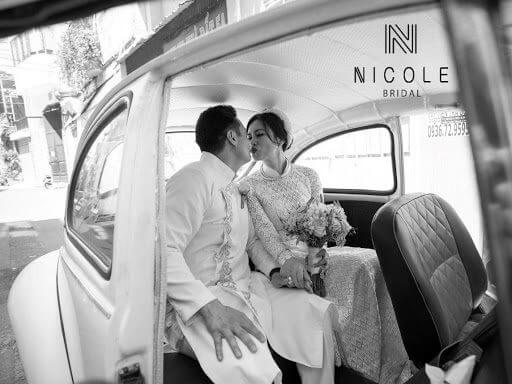 Journey to find a tailor-made wedding dress online
For bride, the wedding dress can be said to be the most important thing she wears on the happiest day. Along with the developed fashion style and the generous lifestyle of the developed countries, they have a very liberal and high demand in perfecting fashion designs.
Delicate, harmonious and seductive: As Nicole Bridal wrote, overseas Vietnamese brides have Western fashion Gout and high demands on the final wedding outfits.
Practical counseling ability: Because of the distance, it is difficult for her to order dresses online, she can consider consulting through the comments and reviews of many brides who have tailor made as well as evaluated the owner. concern in the process of counseling and support.
Understand the process of tailoring your dream wedding dress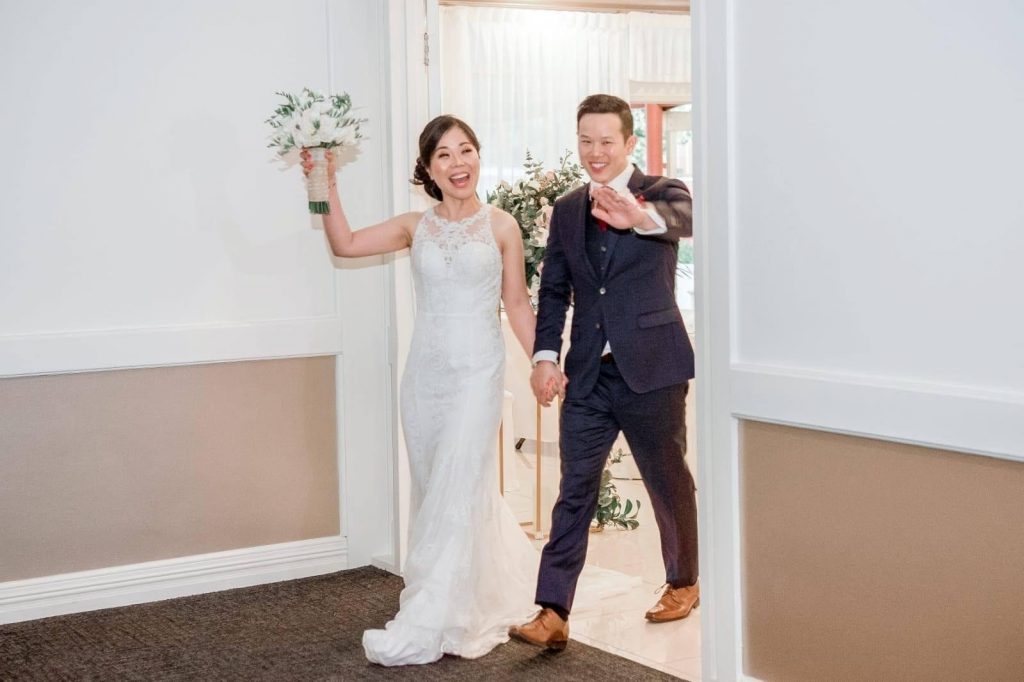 All research, information exchange are conducted online. The brides will check and select the fabric and the perfect tailor dress. The most important wedding dress is when the bride dresses it up and feels confident and special.
Note when ordering online wedding dress online
Understanding Your Body: brides should take a little time to learn about their strengths and weaknesses, about their physique, beautiful areas and flawless areas so that they can visualize themselves.
Share interests and timelines: Speak up about your favorite wedding dress details as well as important milestones so that Nicole Bridal can rely on appropriate advice to make the dress harmoniously.
Support when taking measurements: Because you order online tailor-made wedding dresses, the measurements need to be very accurate. So ask a relative or friend to help you with the guidance of the Nicole Bridal design team.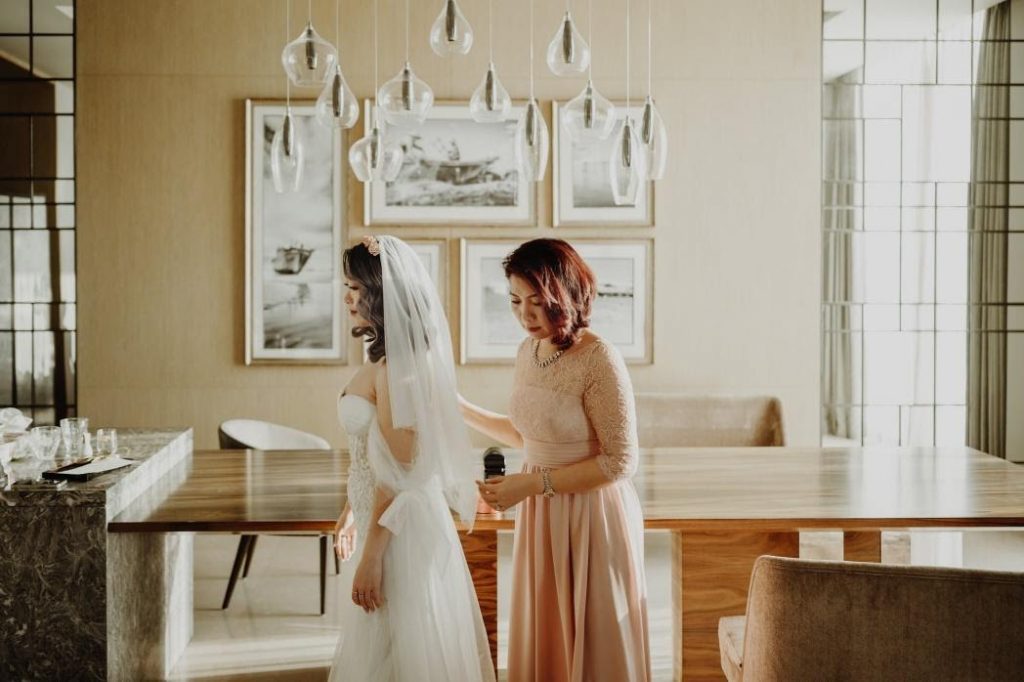 Difficulty in not fitting: Team Nicole believes that with the tailor-made staff of more than 10 years of experience in the fashion industry, your wedding dress will fit well. However, for a certain reason that you do not fit the online tailor-made wedding dress, Nicole Bridal is ready to assist with editing and squeezing the tailor-made dress best. If you are not in Vietnam, you can send your wedding dress to Nicole Bridal Saigon to be edited. Or you can consider finding a local tailor to assist at a more economical cost than sending back the wedding dress back to Nicole Bridal.
A reliable choice for wedding dress online Vietnam

Nicole Bridal has been supporting many Vietnamese brides from Germany, Switzerland, Canada, South Africa and especially Australia and the US in tailored-made wedding dresses online and traditional Vietnam Aodais. The difference that Nicole Bridal brings to future brides around the world is:
We have many years of tailoring and supporting experience for more than 250 foreign and overseas Vietnamese brides since 2012 beside nearly 500 tailored local brides.
Support sketching FREE for the unique dream dress and make it come true.
The bride is allowed to choose fabrics, laces according to her personal preference with the consultation of the Nicole Bridal design team.
The wedding dress is handcrafted with the most delicate finishing by a team of more than 10 years experienced tailors.
Nicole Bridal is offering "FREE SKECHTING AND DESIGNING" for Online Wedding Dress, please email for further information HERE