Sheath wedding dresses are increasingly proving to be attractive because of their simple, gentle beauty as well as convenience for the wearer on the big day. Let's go with Nicole Bridal to find the best wedding dress for your happy day in the following article.
7+ sheath wedding dress for the beautiful bride who shines on her wedding day
Off-the-shoulder sheath wedding dress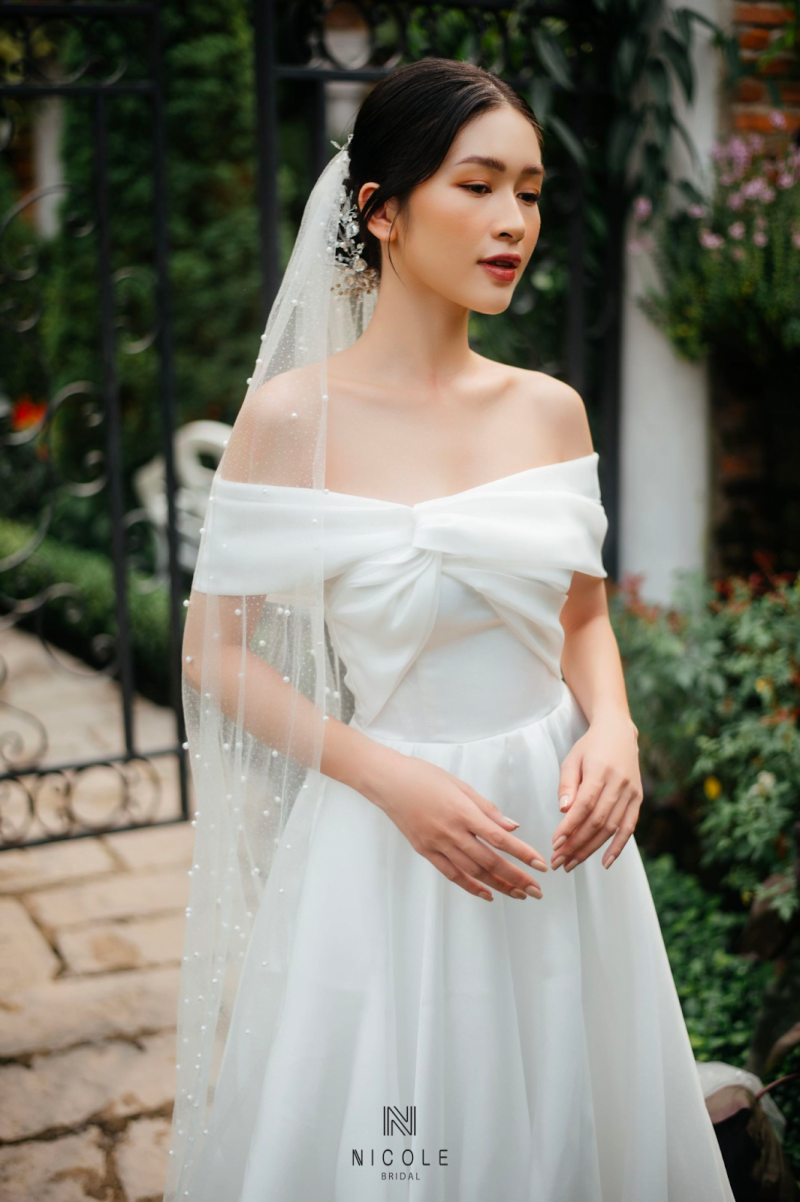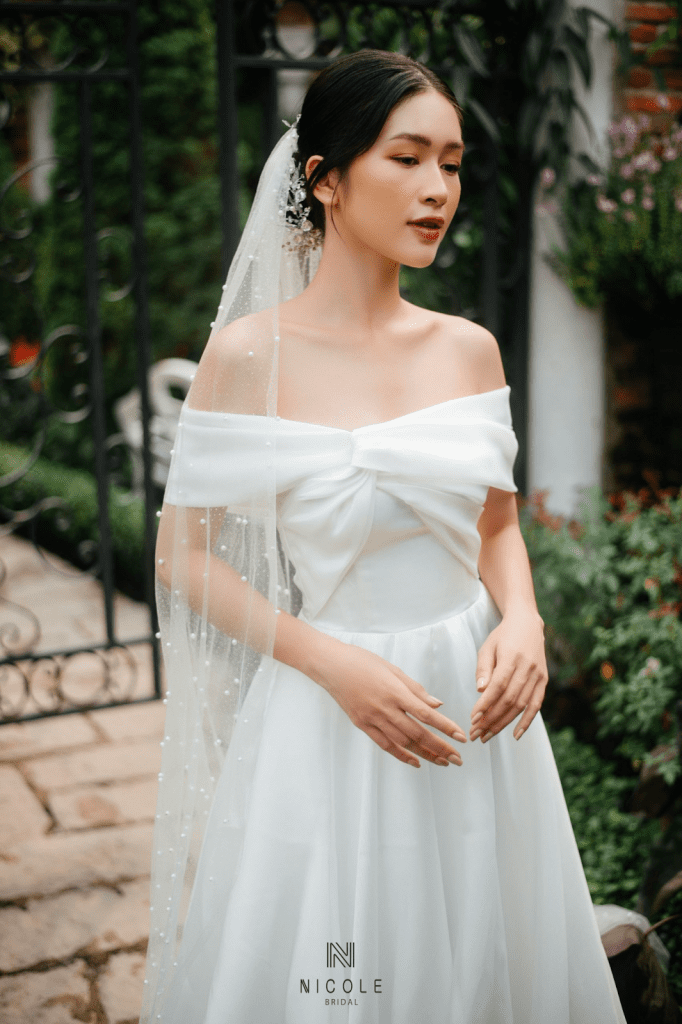 New Lotus flowing wedding dress from Organza
– Embossed accents on the chest are bold and elegant.
– Off-shoulder design helps her show off her sexy shoulders.
– New Lotus is suitable for wedding dresses to go to the table, wedding dresses for ceremonies, and weddings away.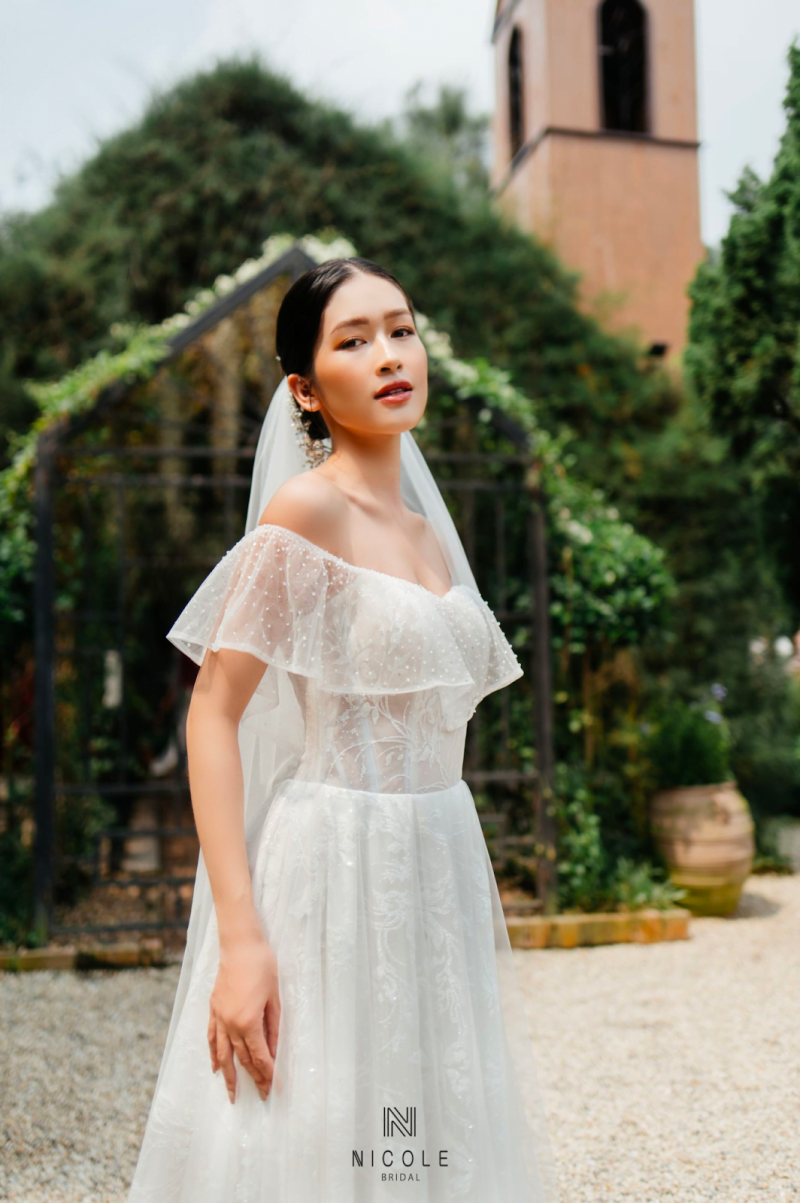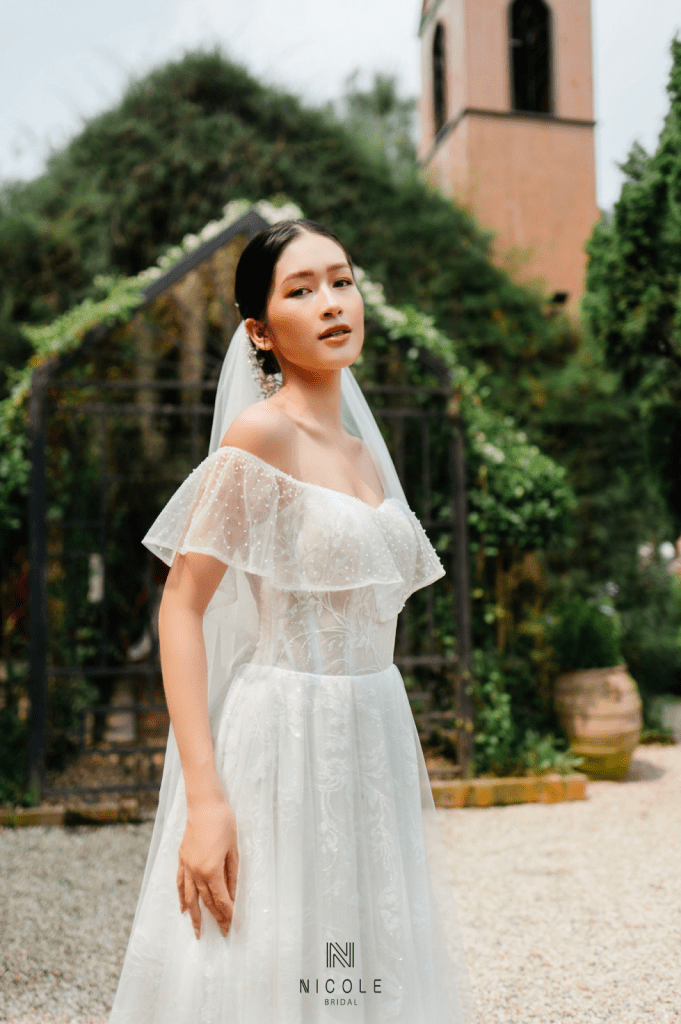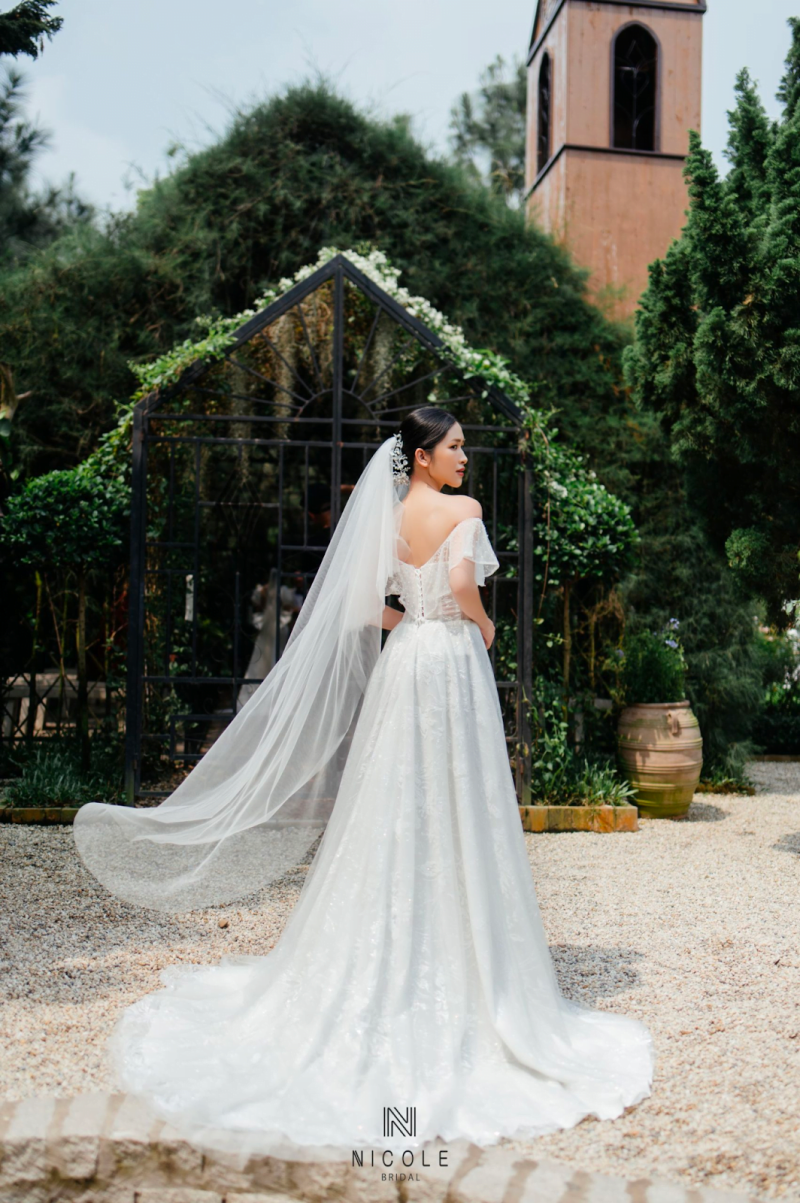 Sheath skirt with thin tulle covering the Sailing's skirt.
– Embroidered floral motifs on the body and side of the wedding dress are extremely delicate.
– The off-the-shoulder wedding dress is gently draped, combined with outstanding stones.
– The combination of sequin and lace mesh material creates a sparkling wedding dress that stands out in the middle of the party.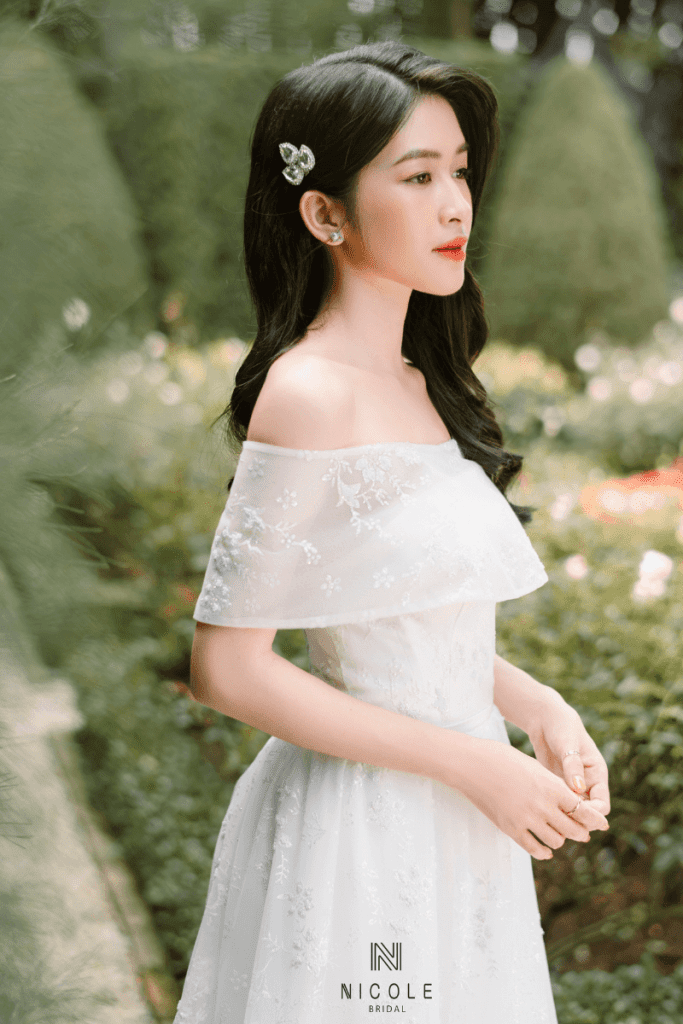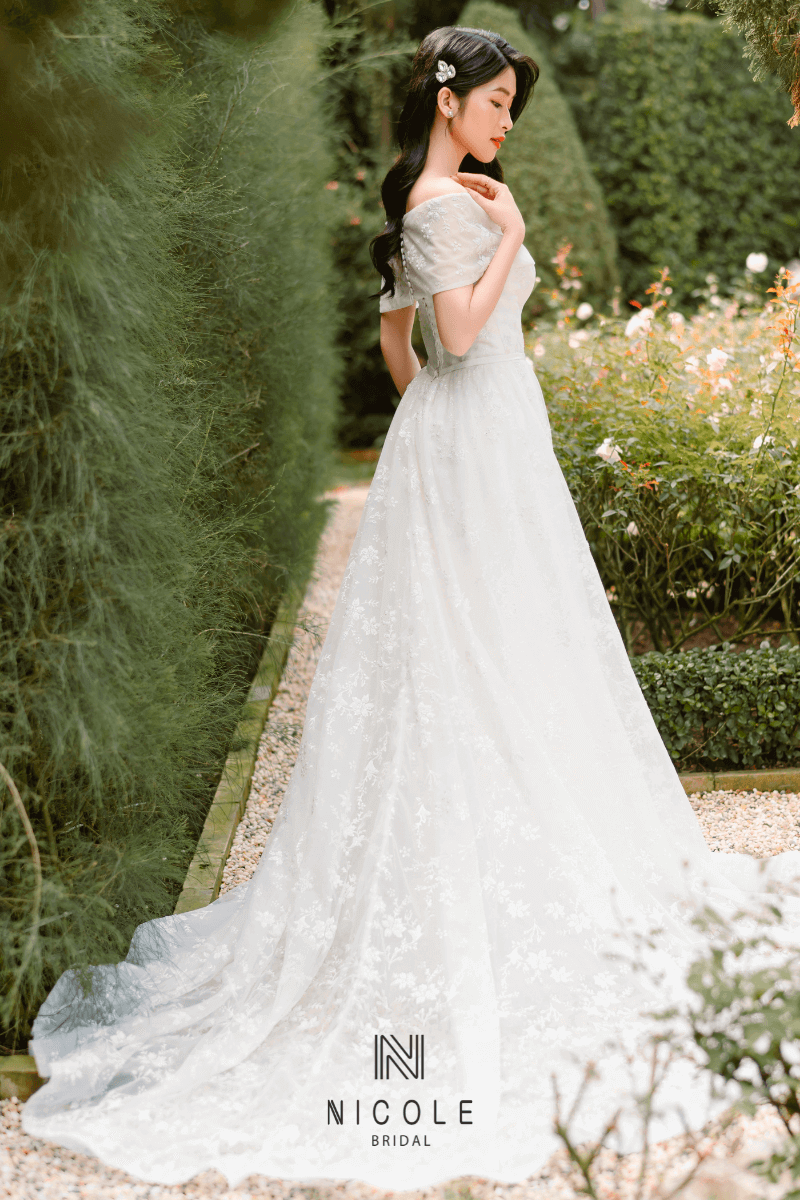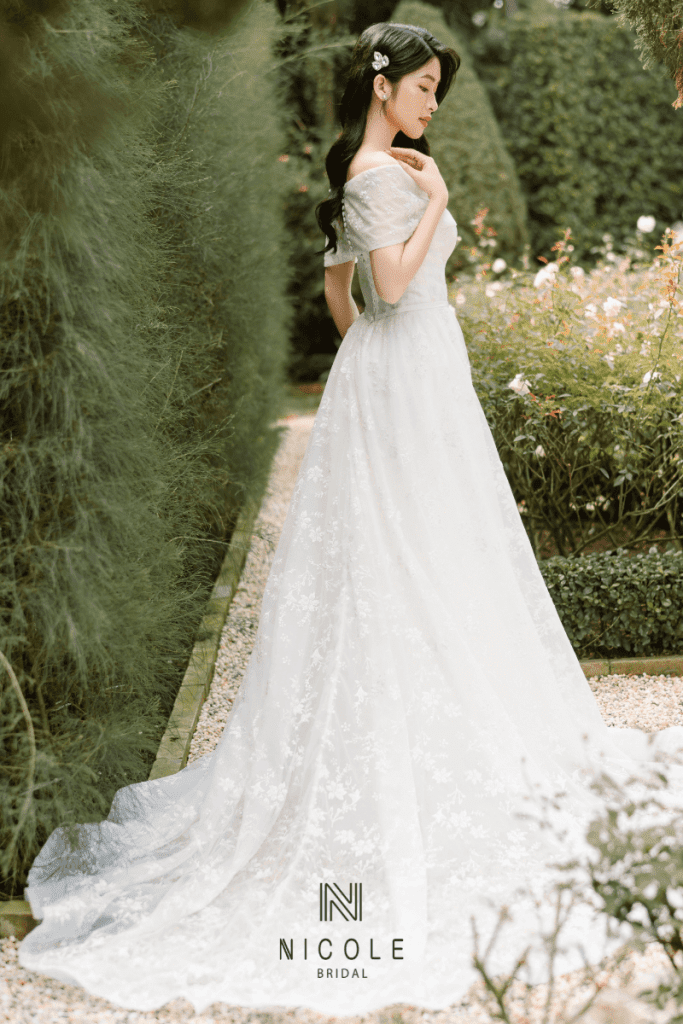 Serena off-the-shoulder sheath wedding dress
– On the background of brocade mesh material, Serena creates a sweet, feminine but still attractive bride for the bride.
– 2-in-1 wedding dress with separate shoulder straps, helping her to turn off-shoulder wedding dresses into cup-shaped wedding dresses quickly and flexibly in any wedding space.
Váy cưới dáng suông có tay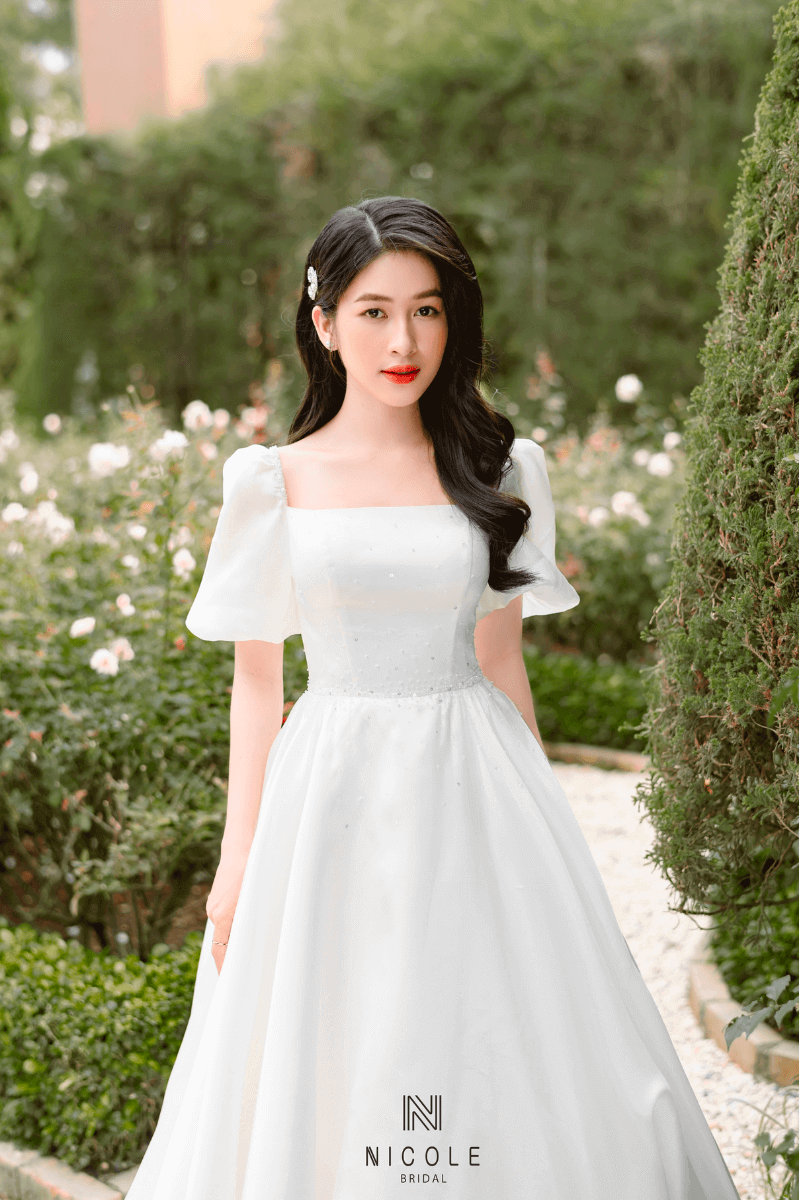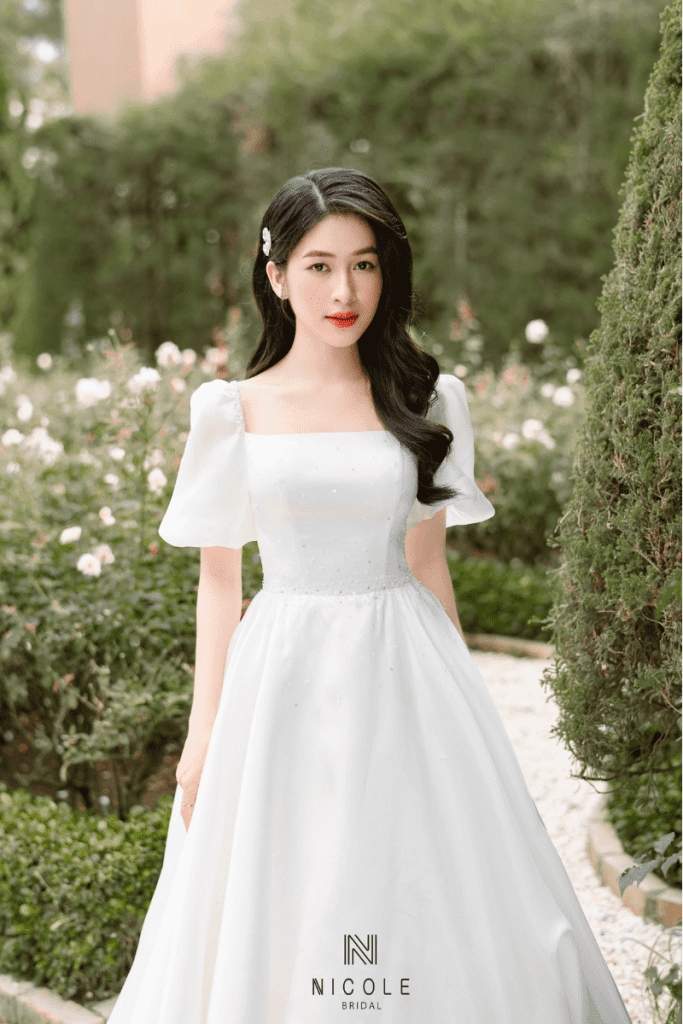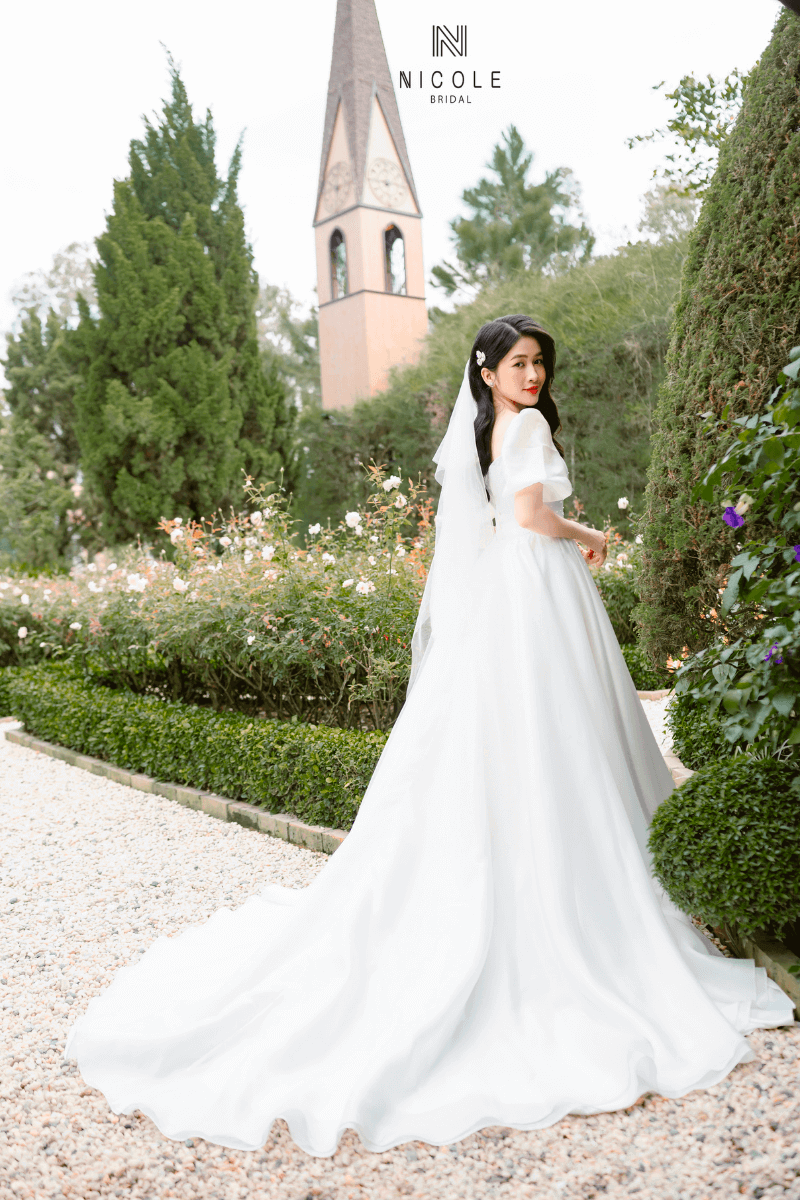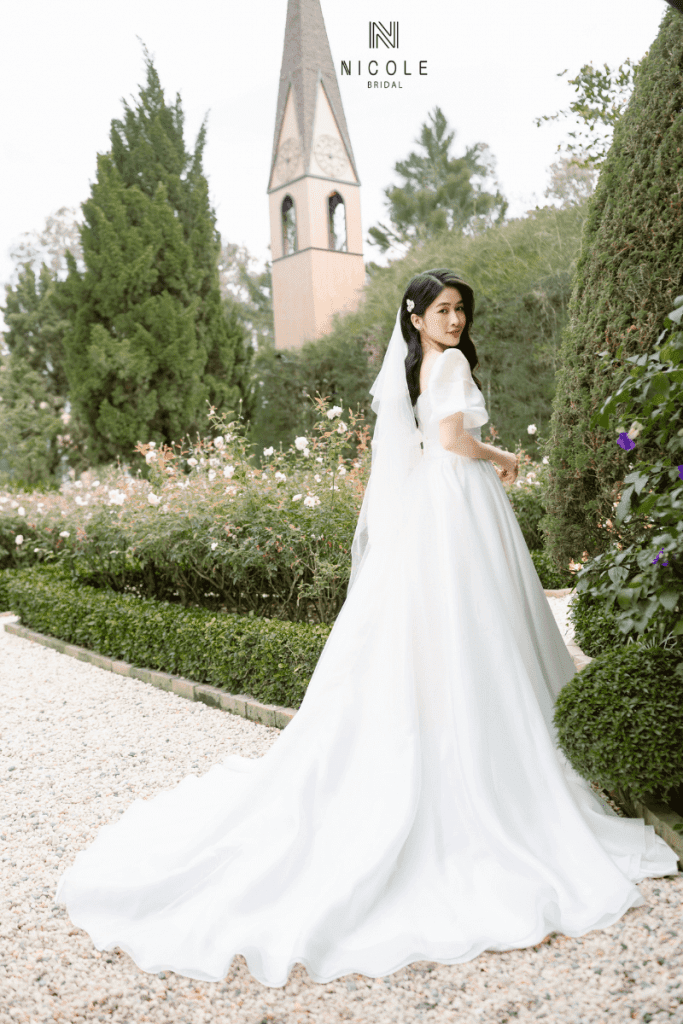 Charming, sweet Dilys square neck wedding dress
– The skirt is gently flared, evoking femininity and elegance.
– Design of puff sleeve wedding dress with classic European spirit.
– Sequins are delicately attached to the skirt body to create sparkle.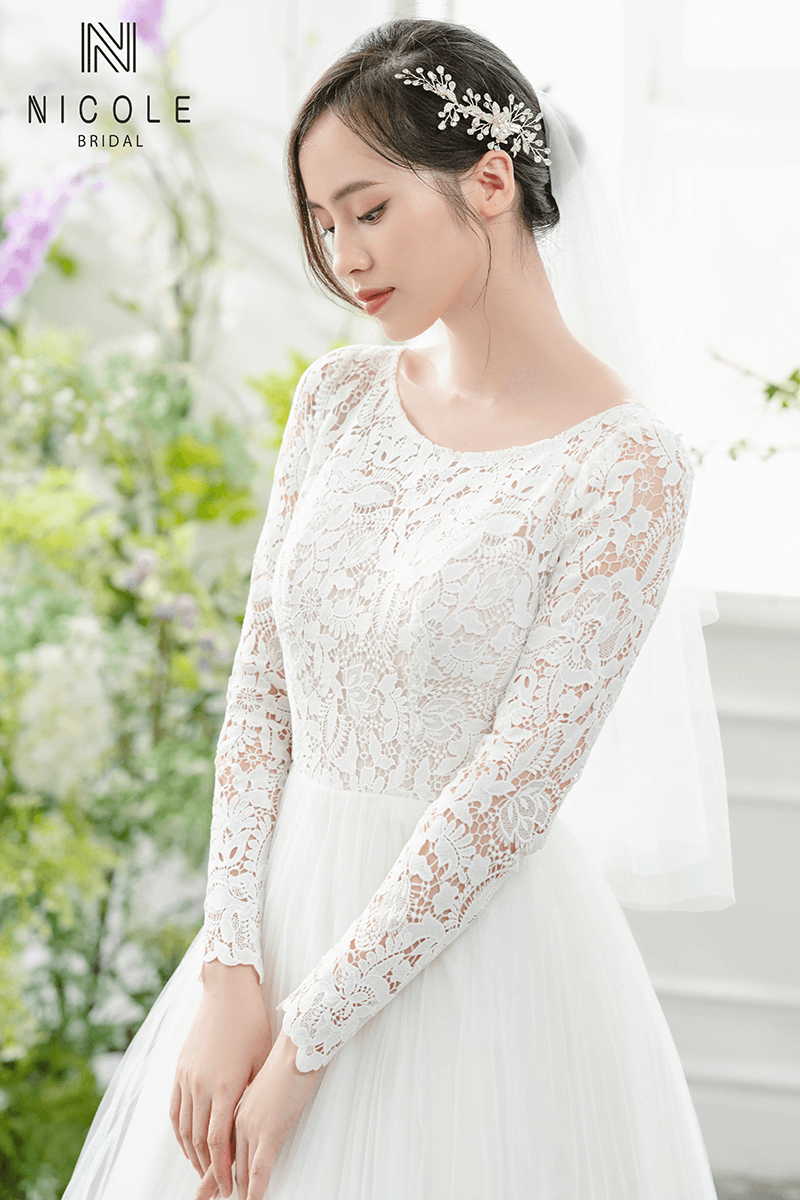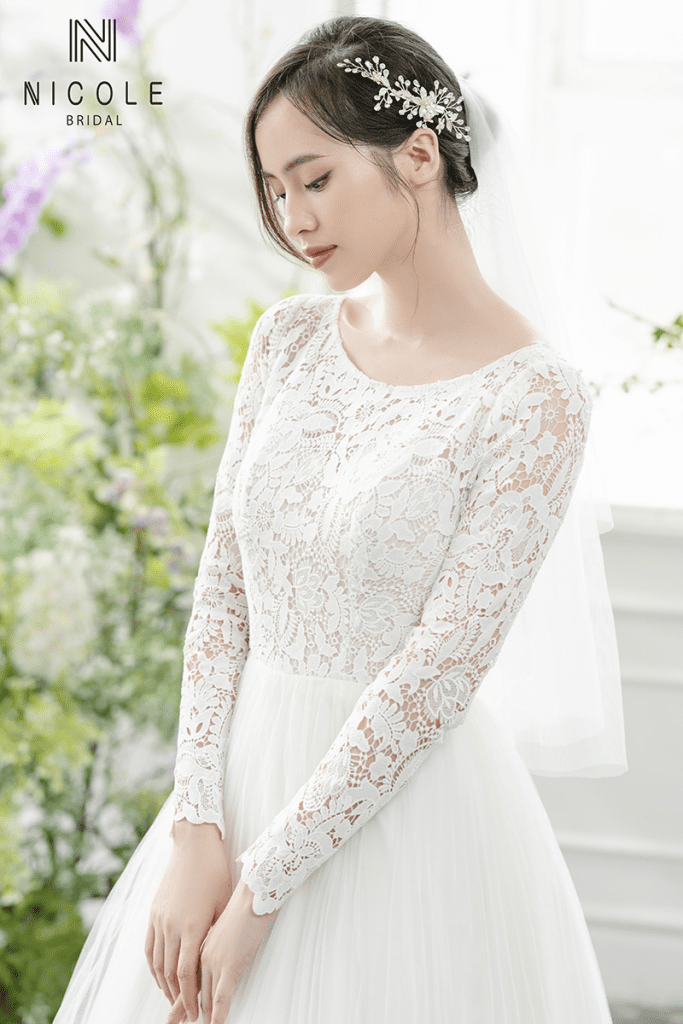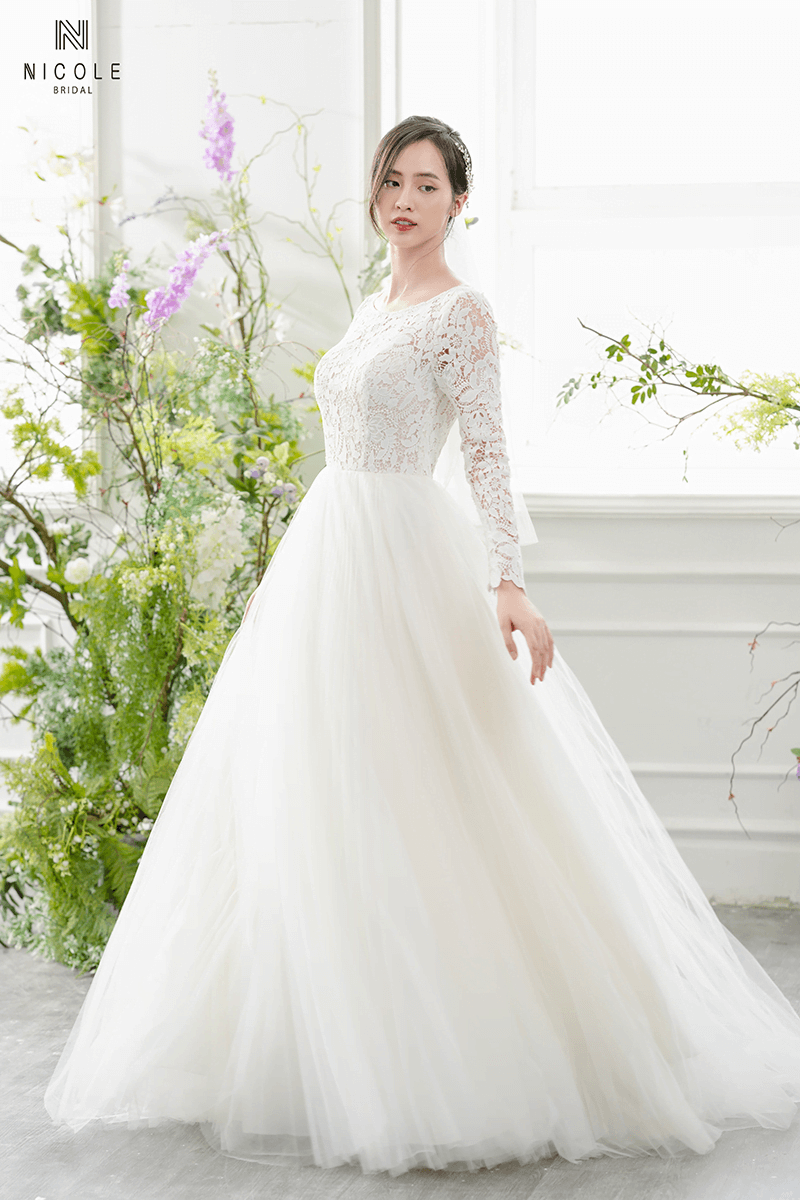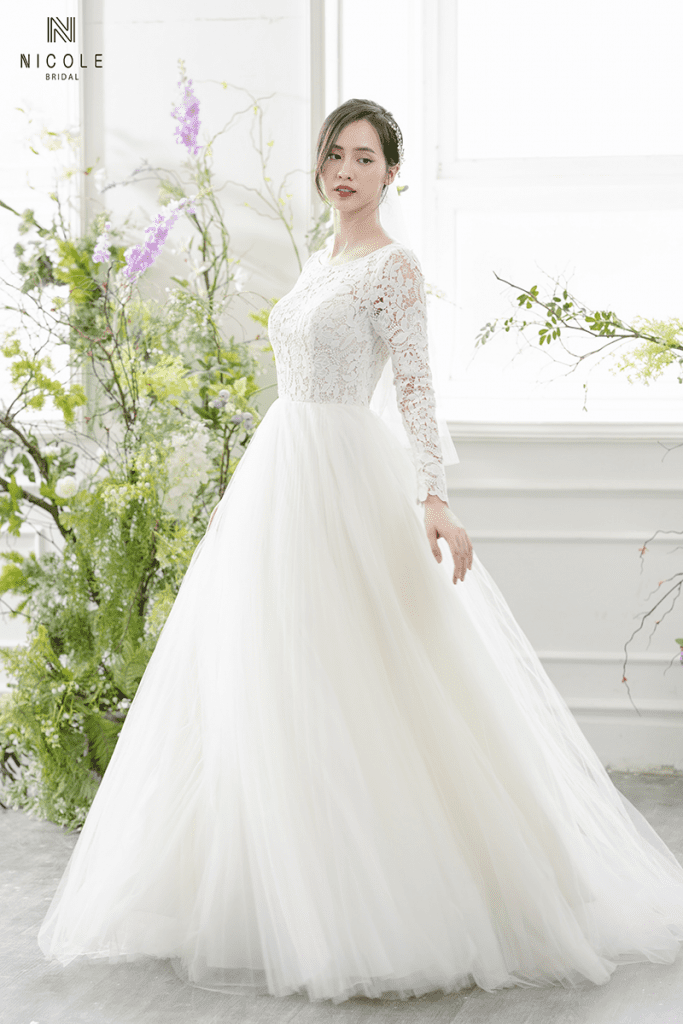 Naava long sleeve wedding dress
– The bodice of the wedding dress made entirely of Alencon Lace evokes a classic look.
– Tung wedding dress made on the background of mesh material, creating a floating but still comfortable and light.
– Long-sleeve design, round neck suitable for brides with large biceps.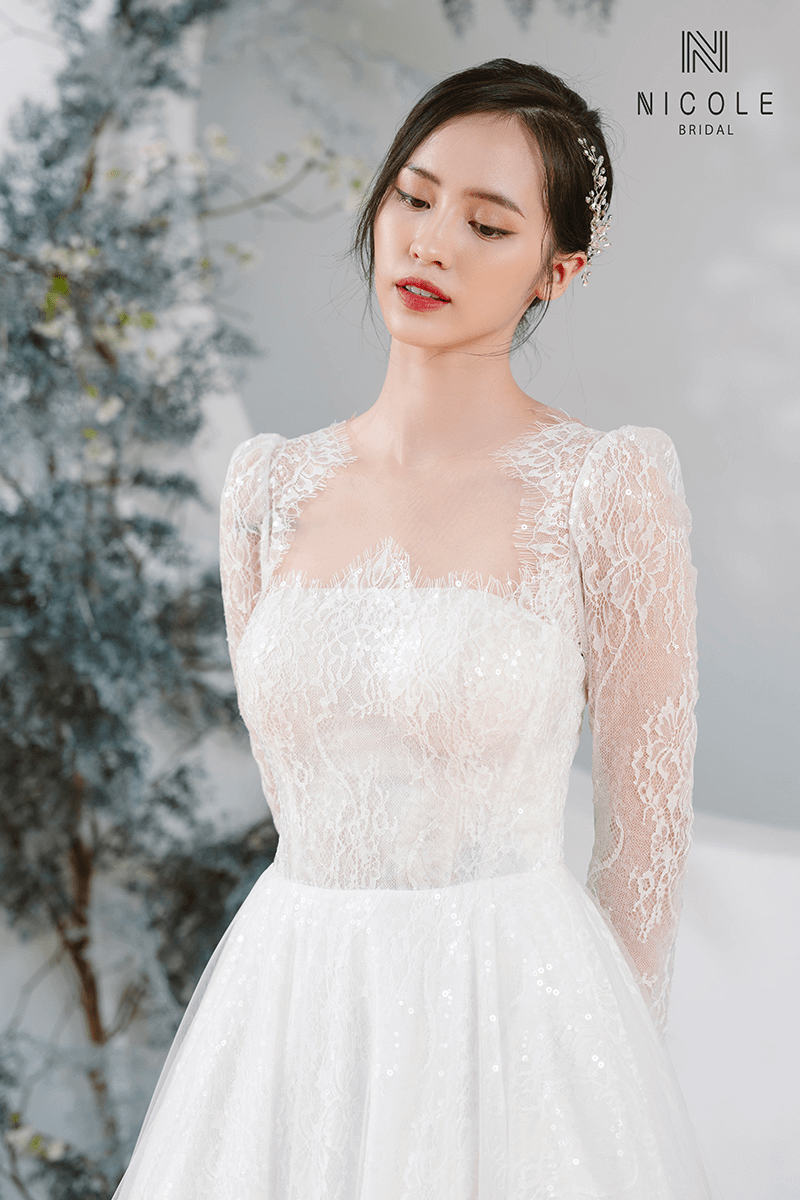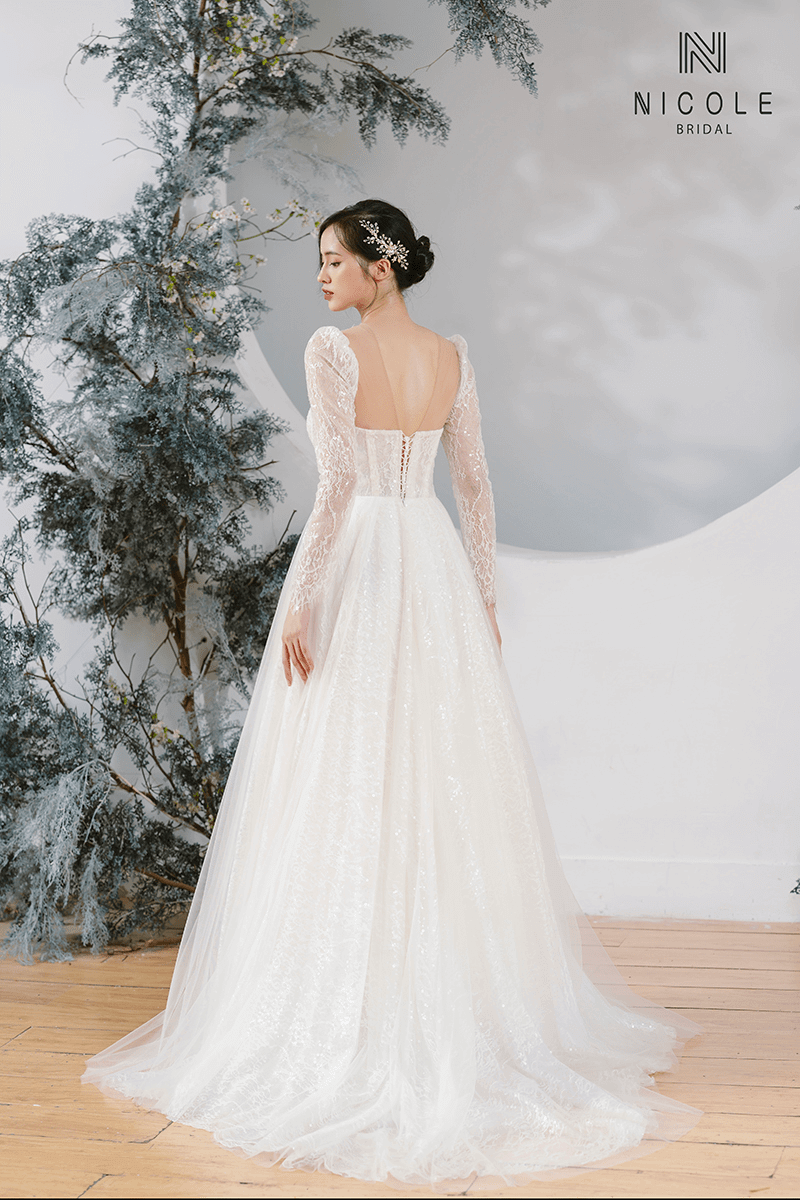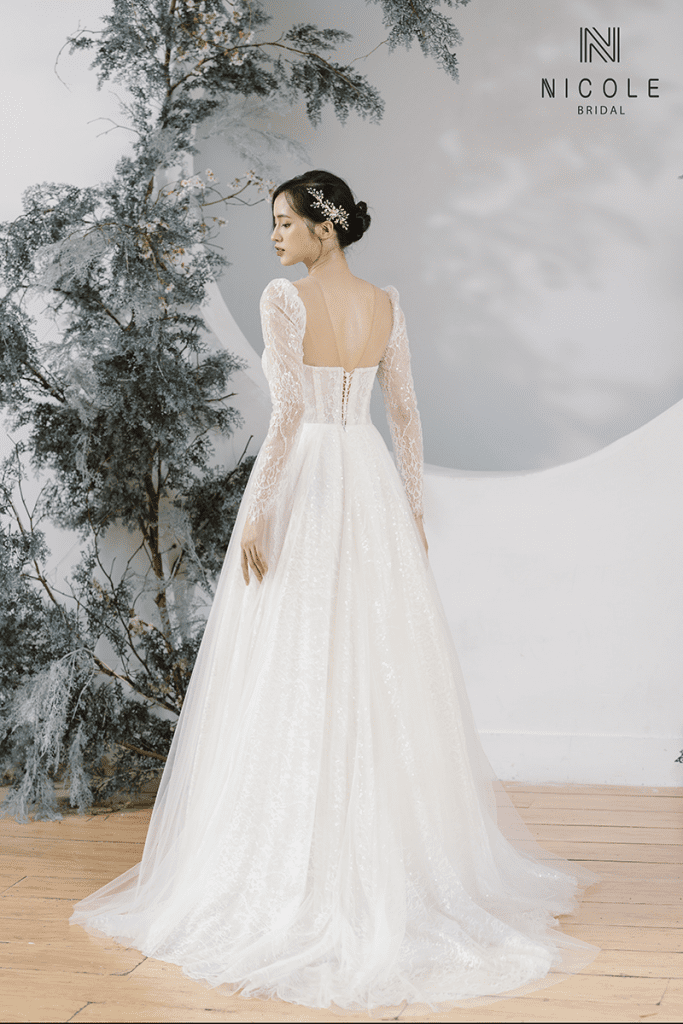 Juhi's light puff sleeve wedding dress
– On the background, Satin Silk material is combined with Chantilly Lace to create a standing shape for the skirt shape but still evoke lightness.
– Stylized square neck wedding dress helps her show off her charming collarbone.
– Long sleeves are suitable for brides with large biceps.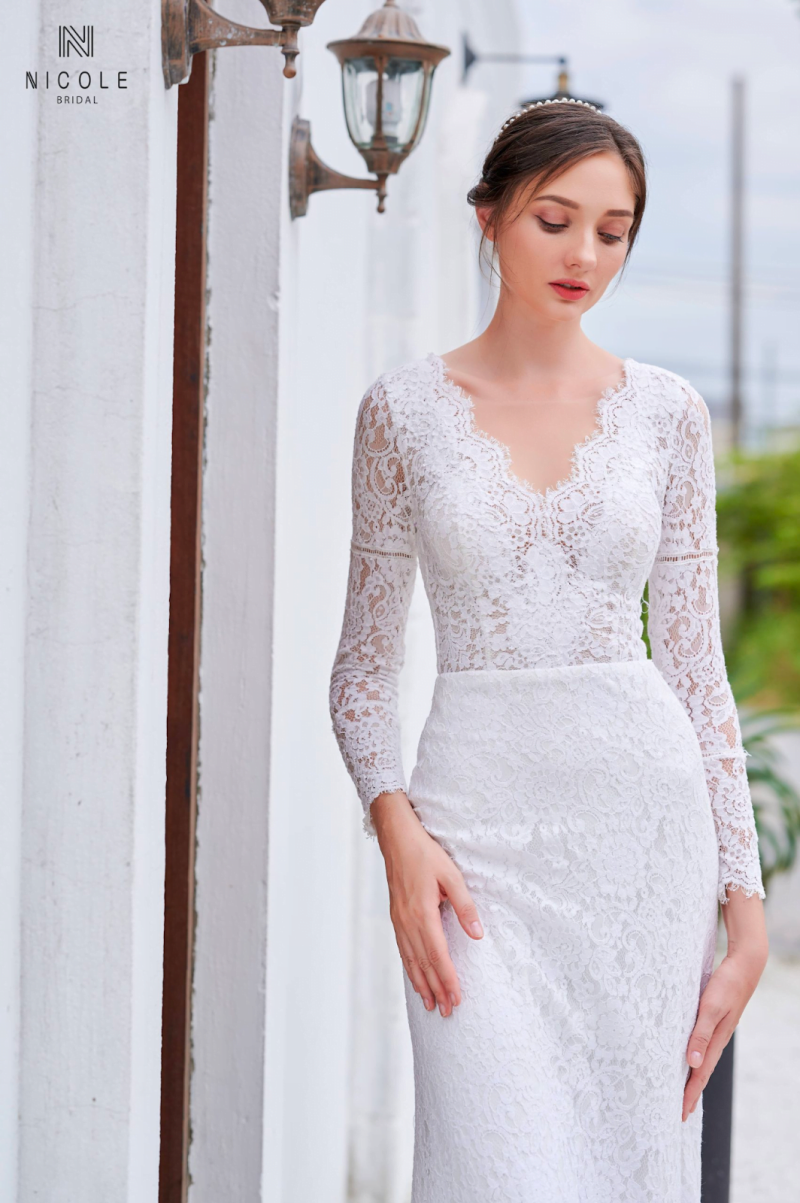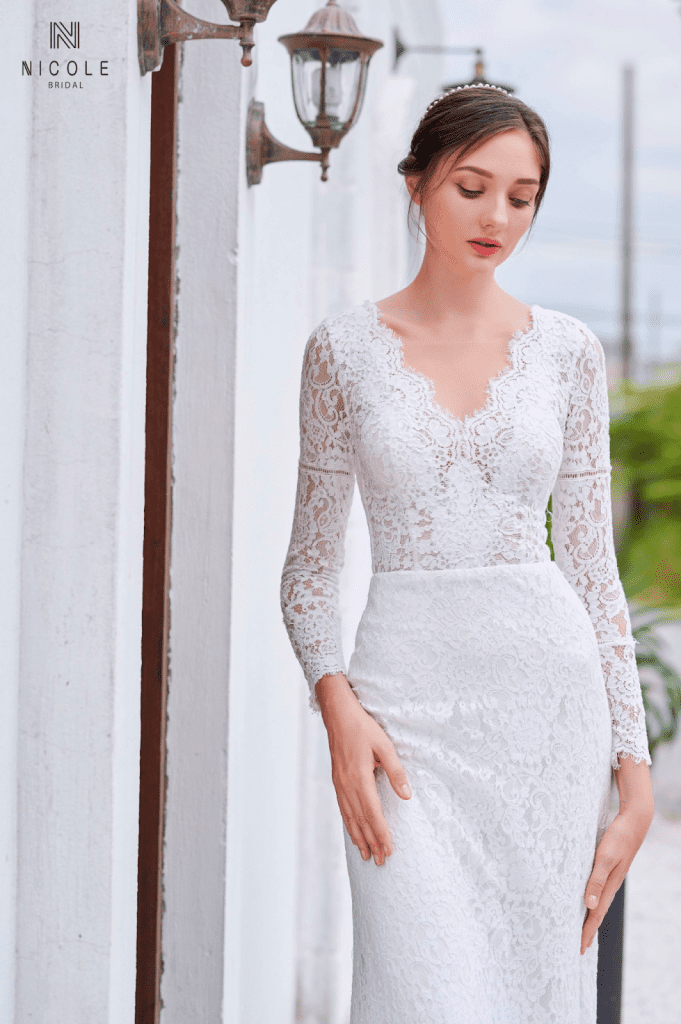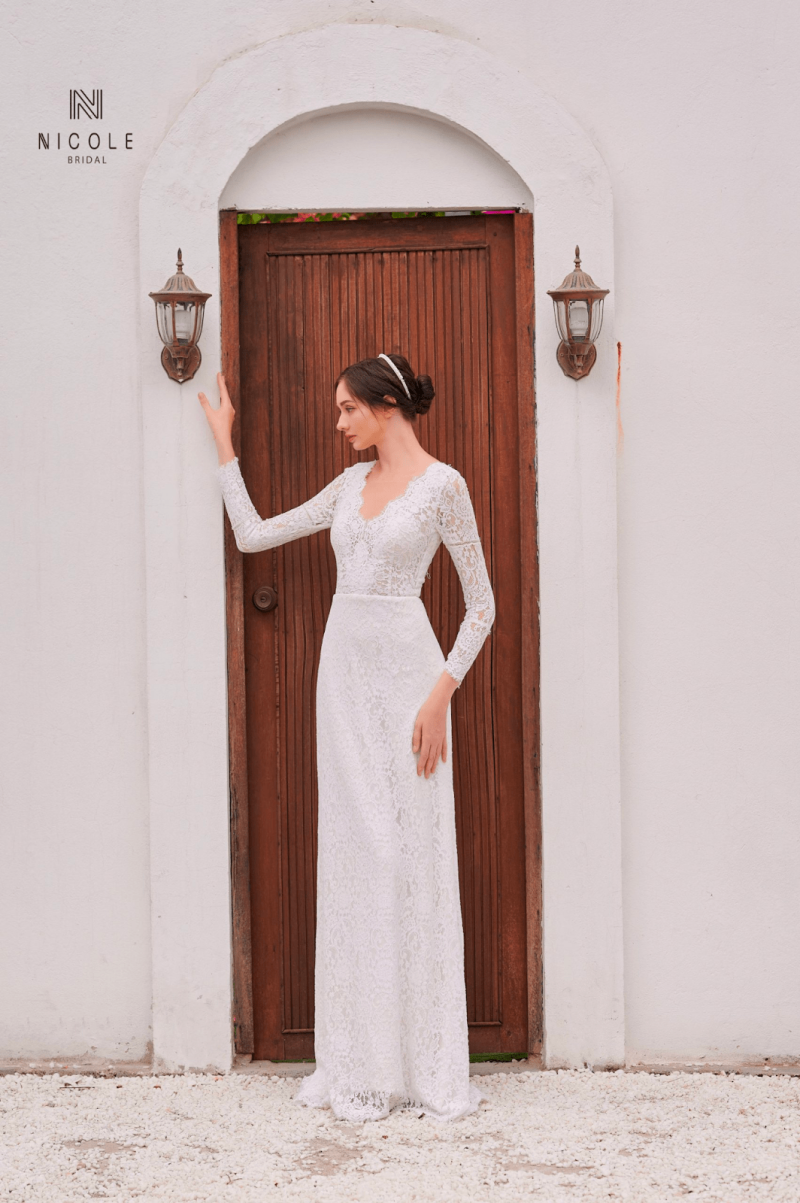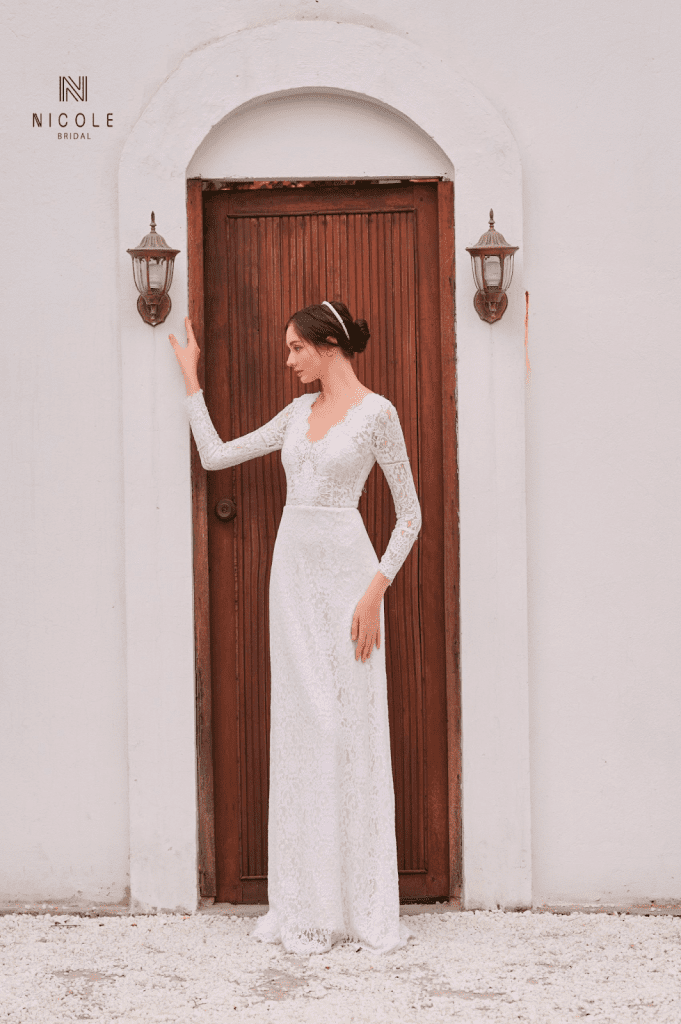 V-neck wedding dress Jena
– The Full Lace element makes Jena more special with the Minimalism line, bold in the classic European spirit with the lace design of the whole wedding dress.
– The v-neck helps her show off her strong round 1.
– The wedding dress is easy to carry away, suitable as a table dress, a wedding dress for a church ceremony…
Advantages of sheath wedding dresses
Recently, more and more brides choose to wear simple wedding dresses at weddings, wedding dresses to go to the table, wedding dresses for going away… Because the designs of simple wedding dresses have received many favors from the modern bride for the following reasons.
Not picky about the brides
Different from the princess wedding dresses, which are sophisticated in design, the wedding dresses are bold in the spirit of simple, modern, gentle and delicate wedding dresses. Regardless of whether the bride is chubby or has a small, short, thin body… the wedding dress will help her cleverly cover her body defects. At the same time, these designs help her to show off her full body beauty so that she can turn into a radiant and perfect bride on the big day.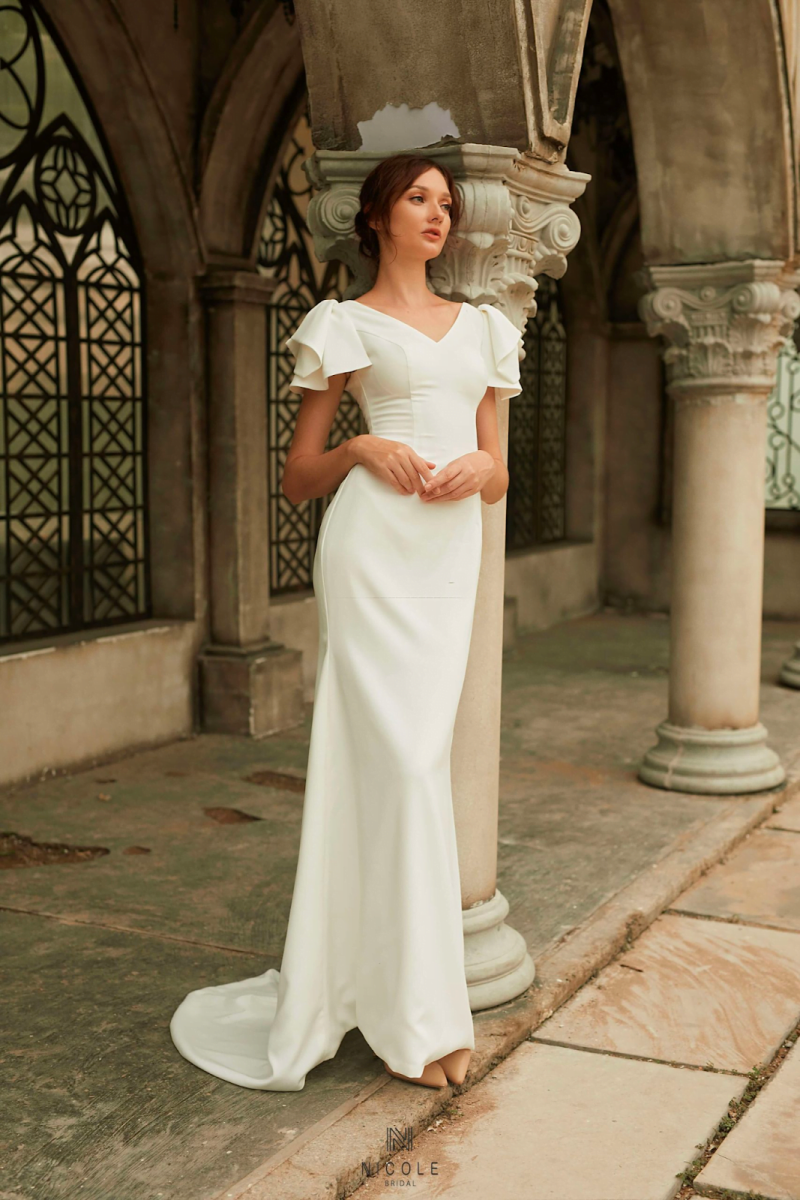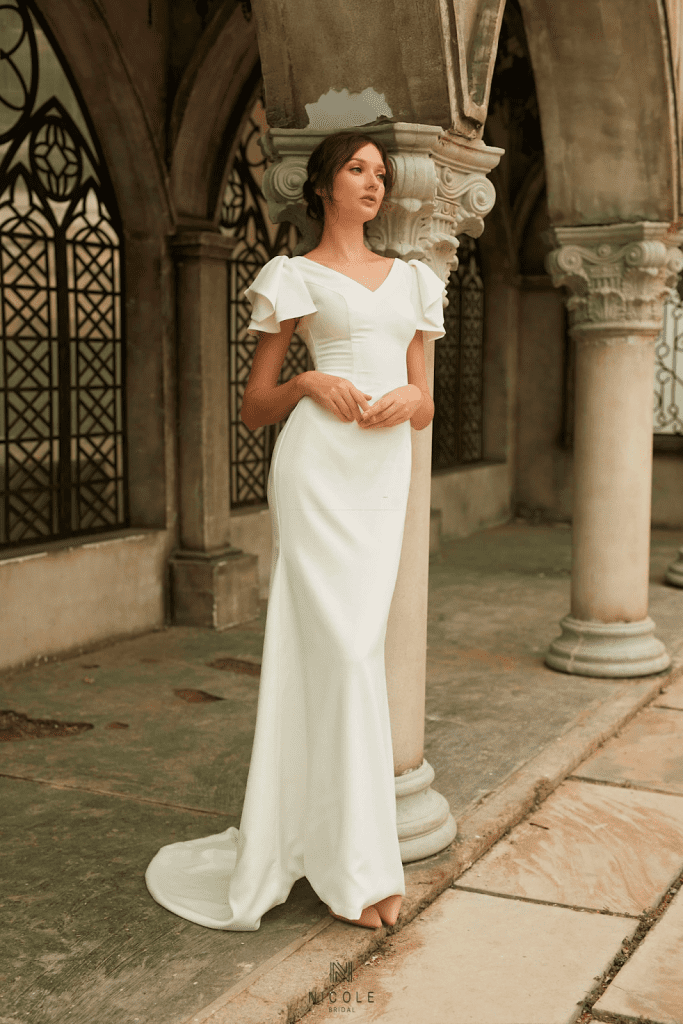 Comfort in all activities
Because the wedding dress design is simple, preferring lightness, the simple design of the wedding dress makes the bride's big party more comfortable when she can easily move, participate in activities without fear afraid of any obstacles. For summer weddings, when the weather is hot, she doesn't have to worry about being tired or hot because of the big, bulky wedding dress.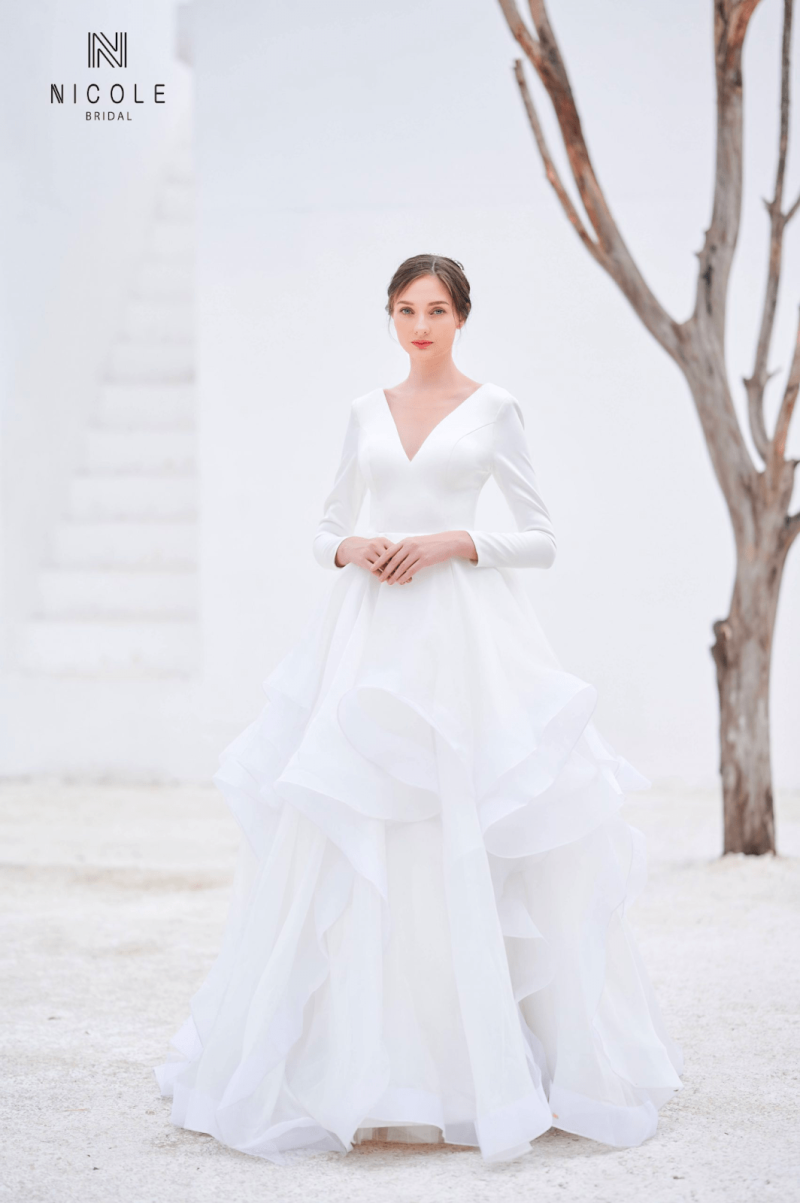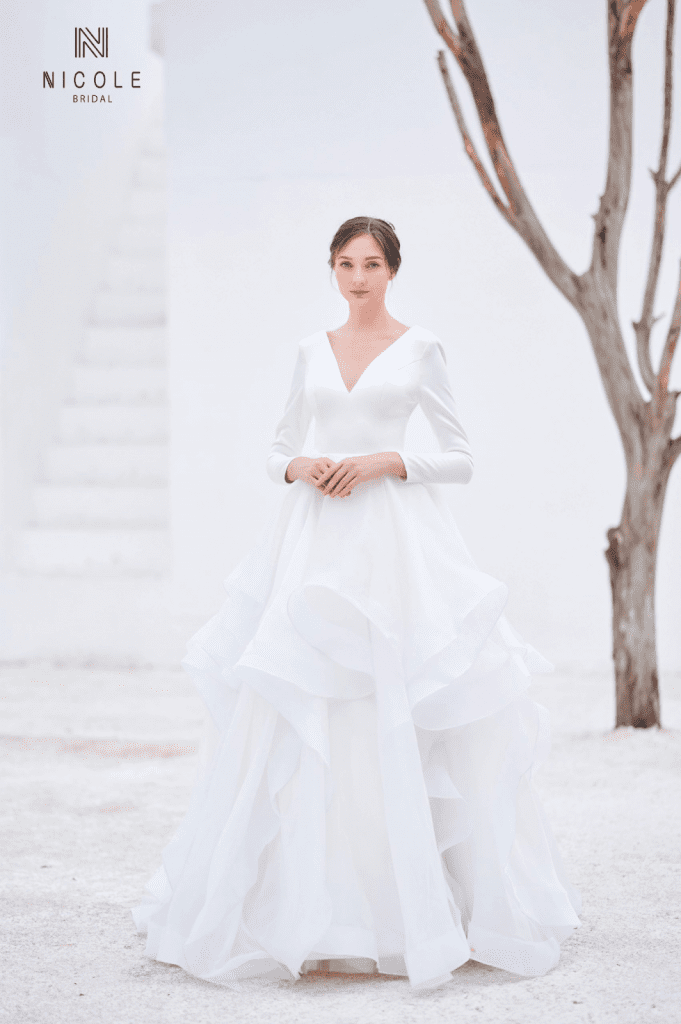 Suitable for any wedding party
In recent years, brides and grooms tend to choose intimate weddings, forest weddings, beach weddings, etc. with a limited number of attendees. Therefore, these wedding dresses are easily carried away, suitable for all concepts and the nature of modern wedding parties.
Straight wedding dresses are the perfect choice for brides who love simplicity, and convenience but are still beautiful and luxurious.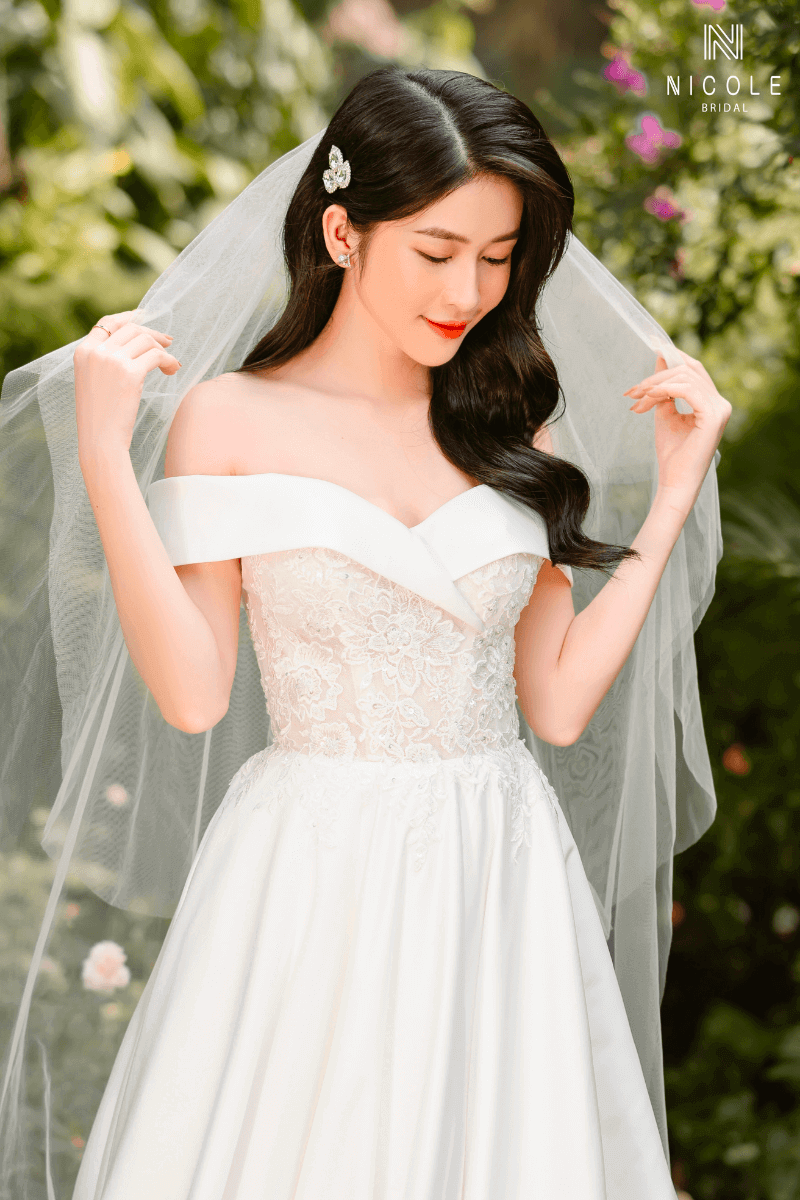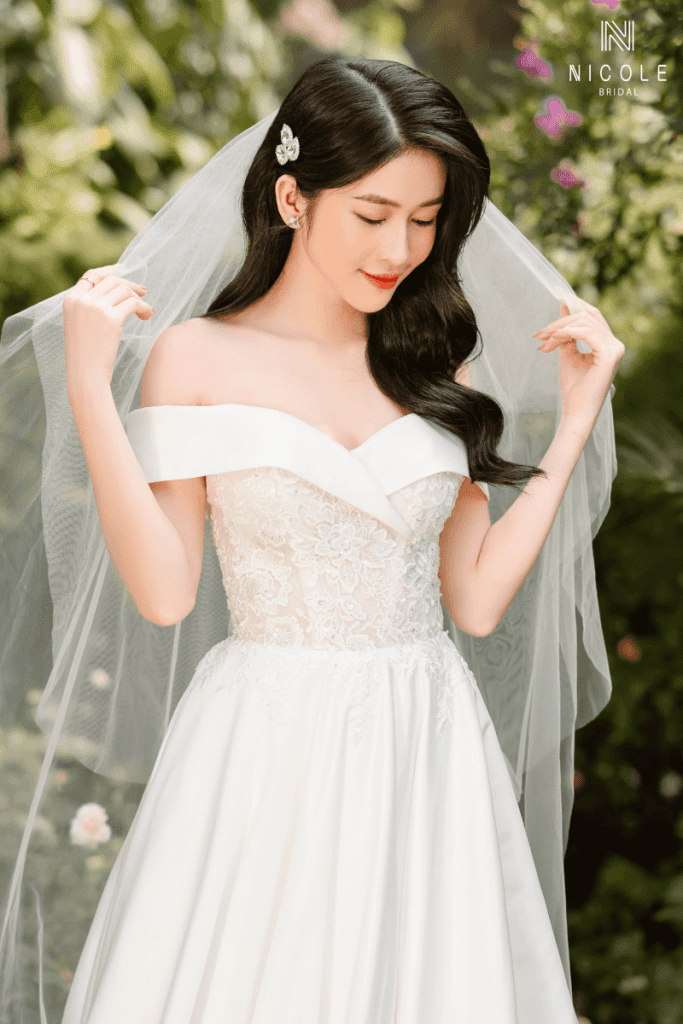 Never go out of style
Minimalist to the maximum, minimalist wedding dress designs never go out of style no matter how much time passes. She doesn't have to follow the latest trends to choose for herself some bulky and heavy wedding dresses. These simple wedding dress designs are perfect for every bride on her big day.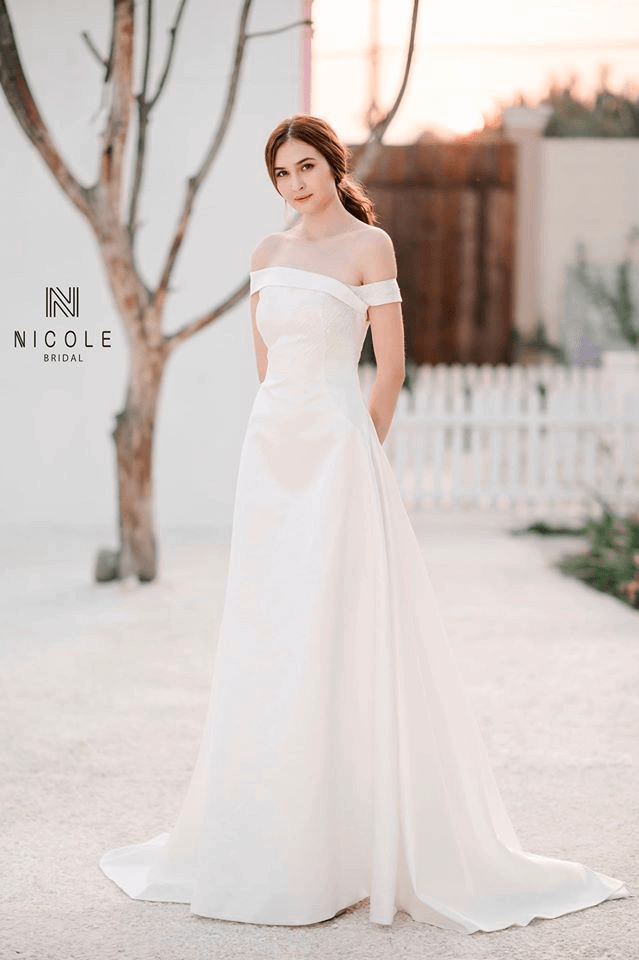 READ MORE:
– DESIGN & TAILOR YOUR UNIQUE WEDDING DRESS
Tips for choosing a sheath wedding dress for your wedding day
Thanks to the convenience and ease of wearing with all brides, she only needs to pay attention to certain points to get a beautiful wedding dress that creates its own highlights.
Choose a wedding dress according to the wearer's body shape
The wedding dress is suitable for brides who do not have the advantage of a full bust. These designs will focus on the upper body of the wearer, helping her to hide her body flaws perfectly.
For chubby, chubby brides, sleeveless, V-neck or off-shoulder wedding dresses are the perfect suggestion. These designs help the wearer show off the full advantage of round 1 while covering the big biceps.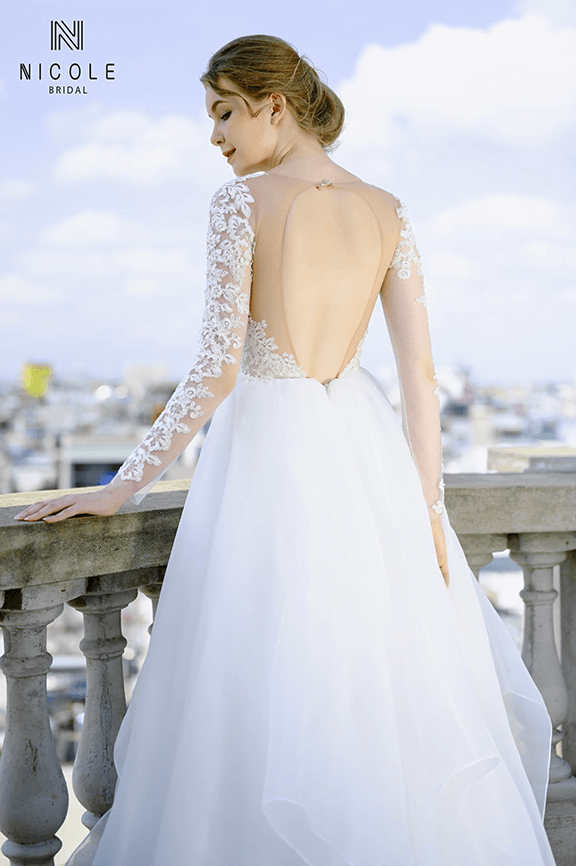 For brides with a thin, slender figure, you can choose a sheah=th wedding dress with an open back, a bib collar to cover the small chest, cleverly showing off your collarbones and a slim back.
Wedding dress material
The materials commonly used in Sewing wedding dresses include lace, satin, silk, chiffon, organza, etc., combined with light chiffon, creating a gentle yet relaxed look.
For chubby brides, a wedding dress made of soft mesh and chiffon will evoke a feeling of lightness and flexibility when walking. On the contrary, for the bride who is thin and small in stature, the wedding dresses with glossy material, standing in shape will be the perfect suggestion.
Choose from accessories
She can combine some accompanying accessories to create an overall highlight for the wedding dress. The wedding dress can be combined with a few accessories such as a lovely thin belt, a short wedding veil… She can also choose to add earrings, light and modern necklace to match the style. wedding dress.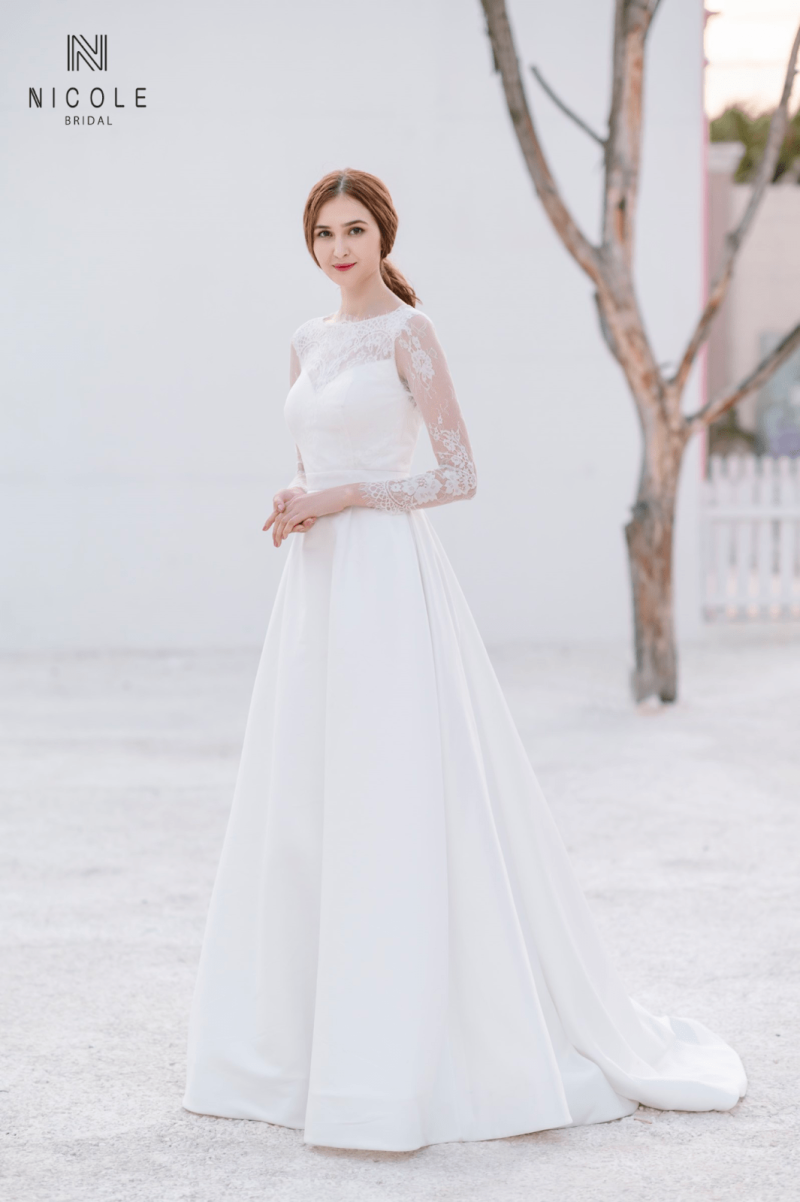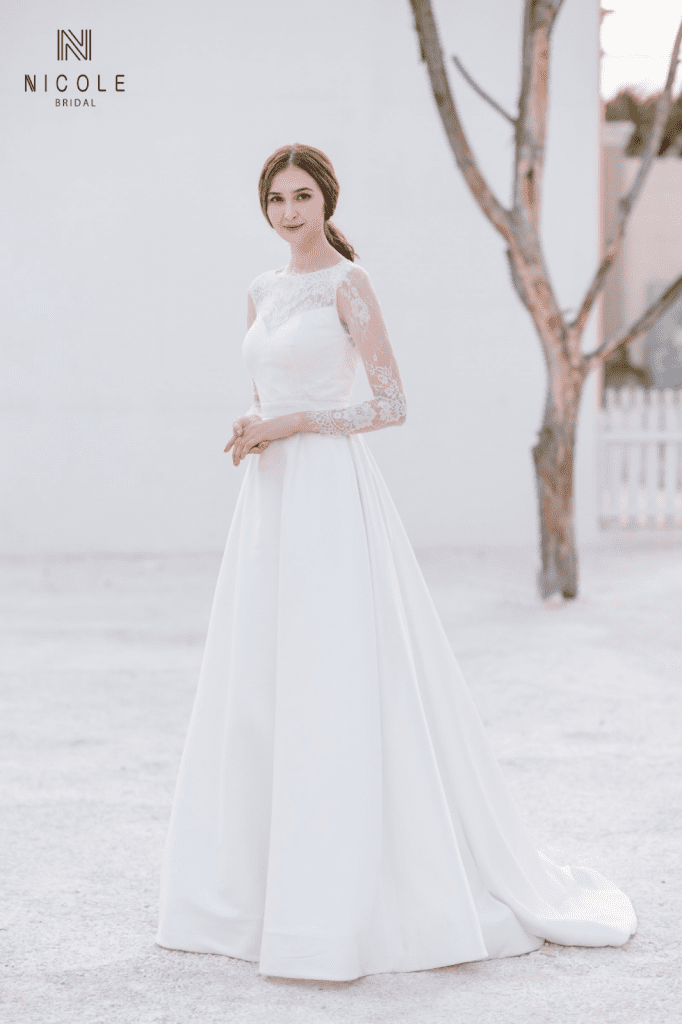 Above are suggestions for her beautiful wedding dress model as well as Tips for choosing the right wedding dress for the bride on her big day. Hope she will find for herself the most beautiful wedding dress designs, brightening the happiest day in the world. If she loves a simple wedding dress that Nicole Bridal has just suggested, don't be afraid, to contact us immediately so that she can have the wedding dress of her dreams.