Satin wedding dresses bring elegant beauty, and charm that never goes out of fashion, in line with the trend of simple wedding dresses in recent years. Have you found a satin wedding dress for your big day yet, if not, check out the latest silk satin wedding dresses from Nicole Bridal.
10+ Latest satin wedding dresses for luxury weddings
A-line satin wedding dress
Isa's off-shoulder wedding dress helps her show off her charming collarbone beauty. High-quality satin material imported from the skirt with silk and crystal accents on the shirt makes her more gentle and flexible when walking.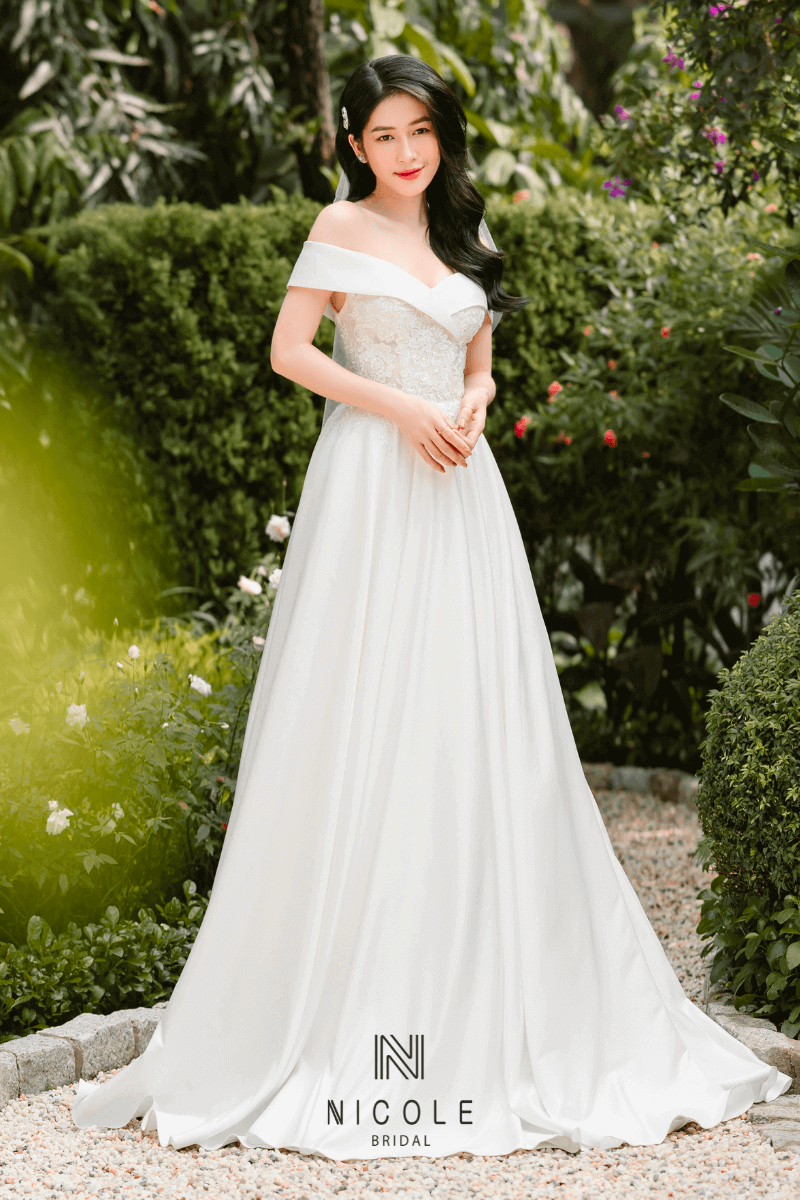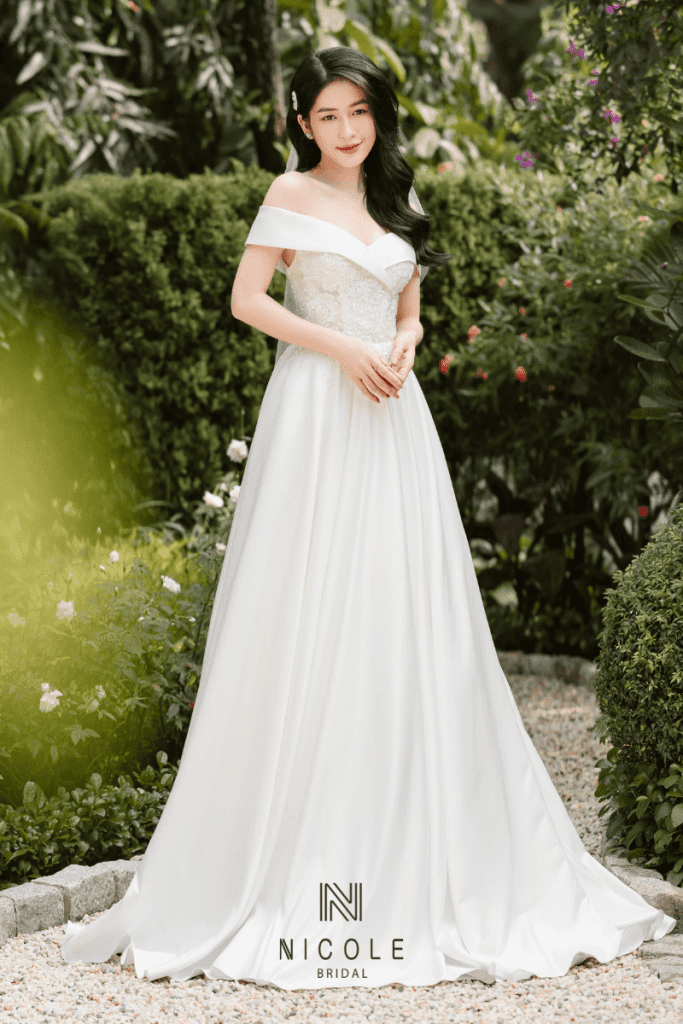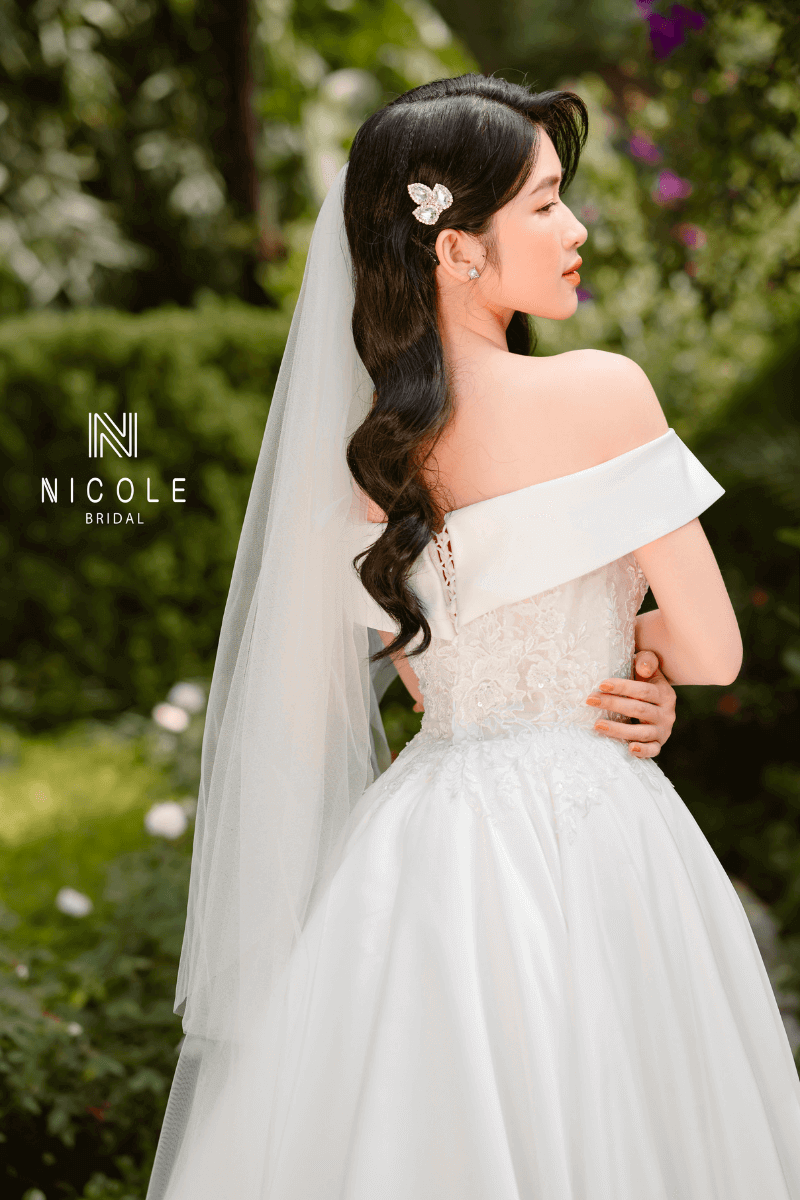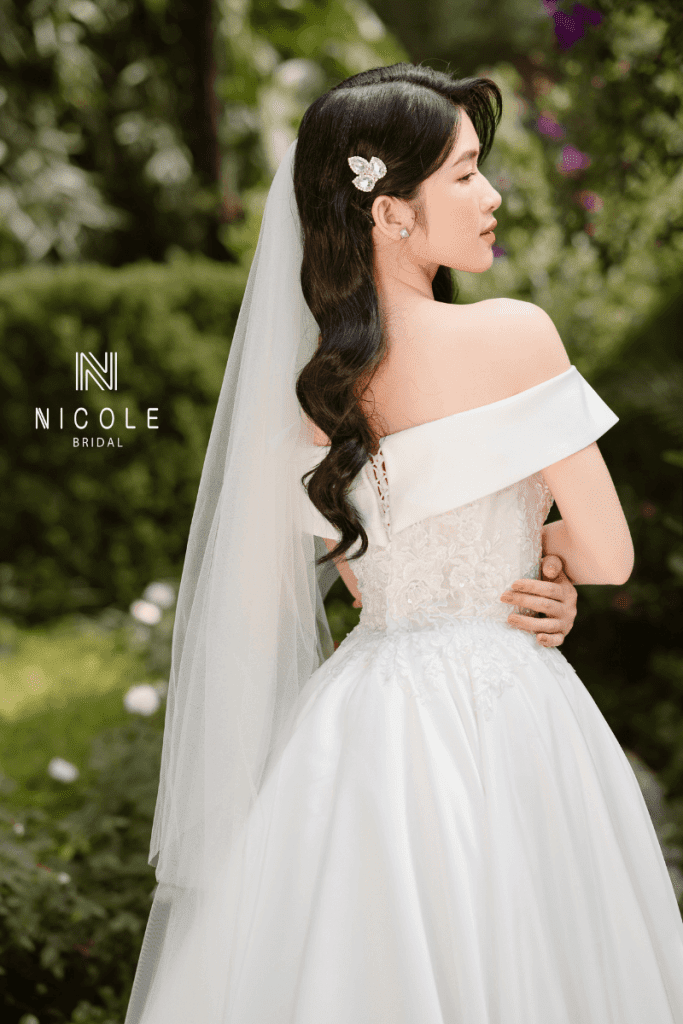 If she loves the vibrant red dress, Suri will be a suggestion not to be missed. Suri's simple satin wedding dress is attached with some sparkling stone details on the chest and skirt body, along with delicate fabric art to create memorable stylized lines. In addition, this wedding dress model is highly suitable for pre-wedding photo shoots.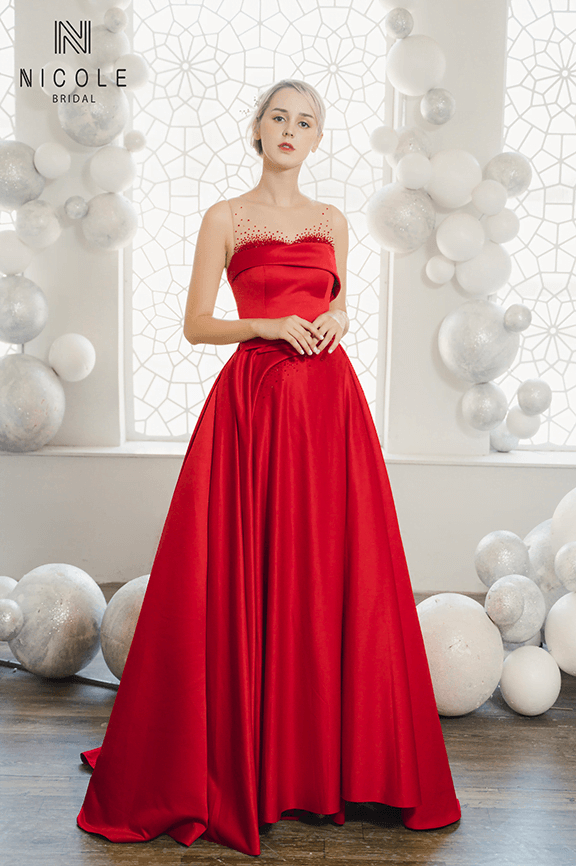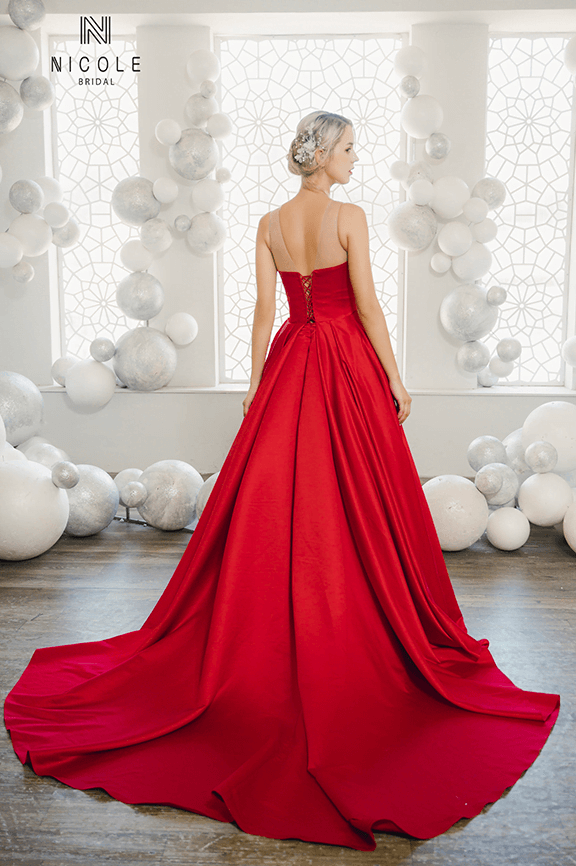 Susan's plain satin wedding dress is the most popular design this year thanks to the spirit of simplicity, elegance, and maximum luxury. European design with boat neck, high-quality lace long sleeves, and modern V-cut back.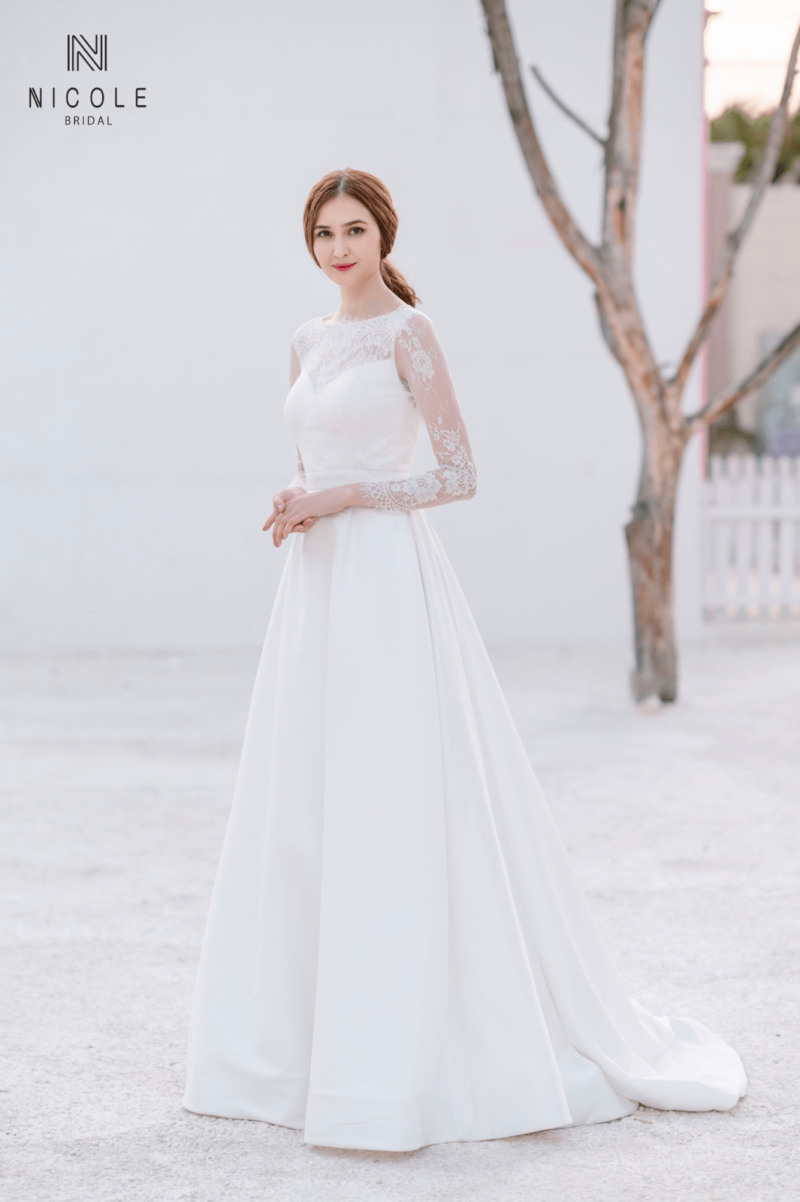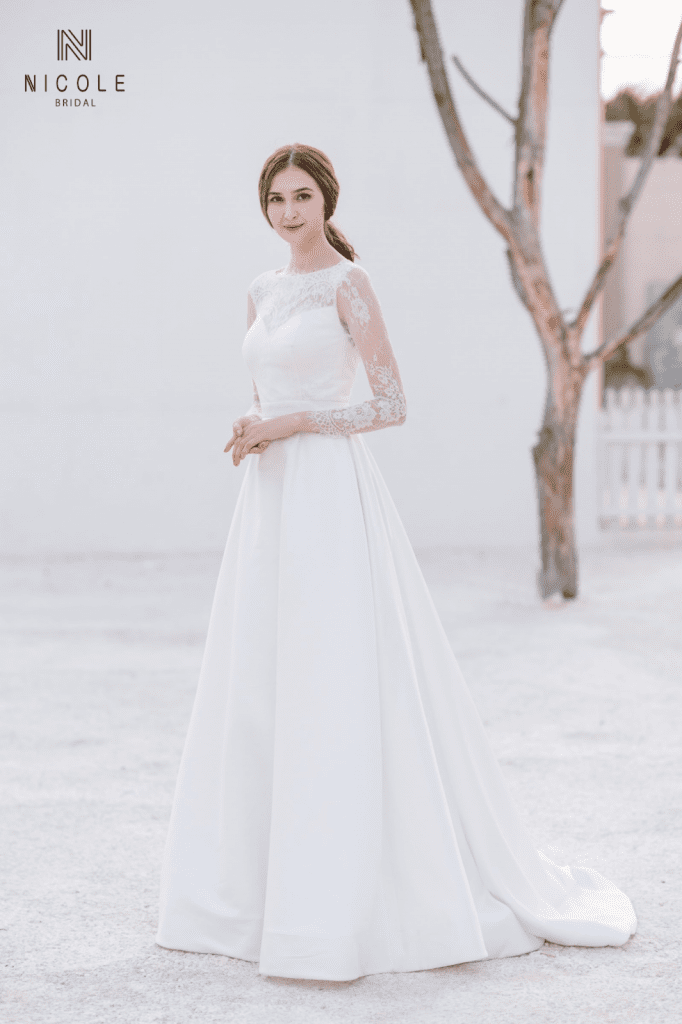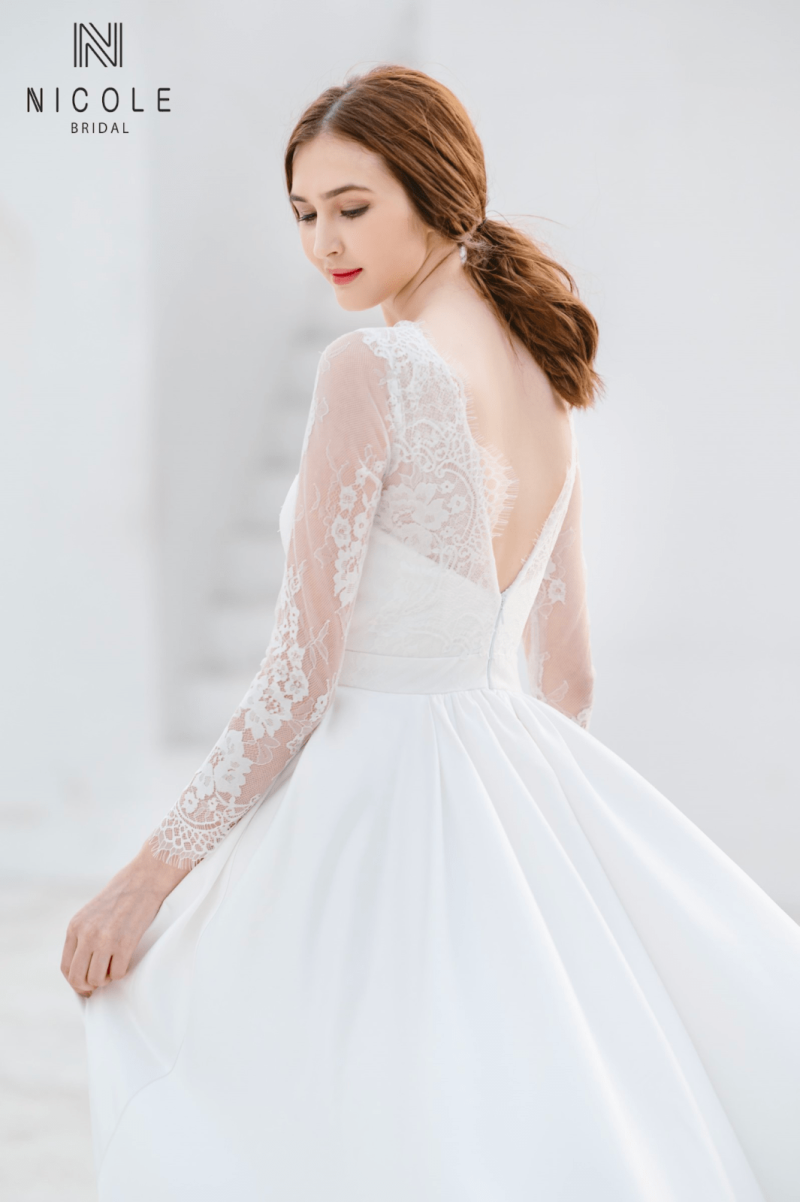 Eva is a combination of satin and organza silk, distinguished by its minimalism and unfussy design, bringing a lively breath to a modern wedding. With a simple satin wedding dress combined with Eva's silk Organza, she keeps the charm and softness of femininity while still being extremely comfortable experiencing the wedding day. Large V-neck design, adding unique creations to hide her flaws to enhance the beauty of her figure perfectly.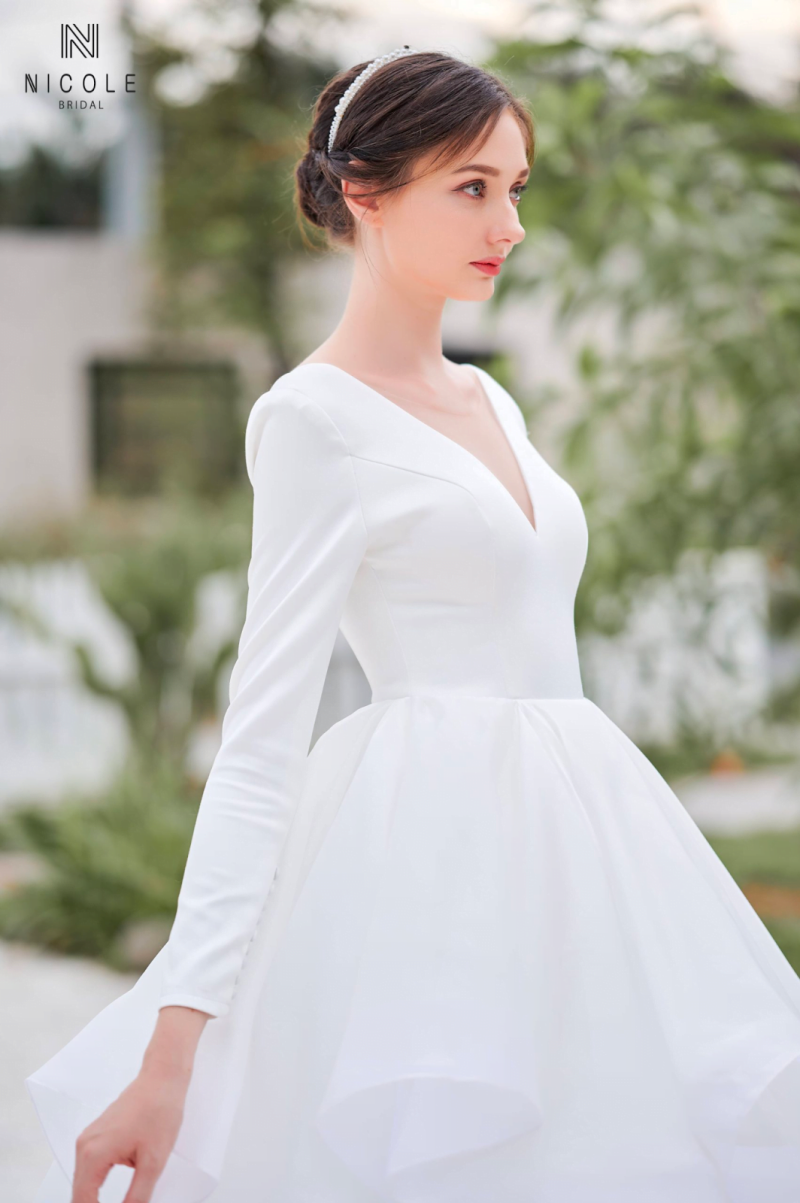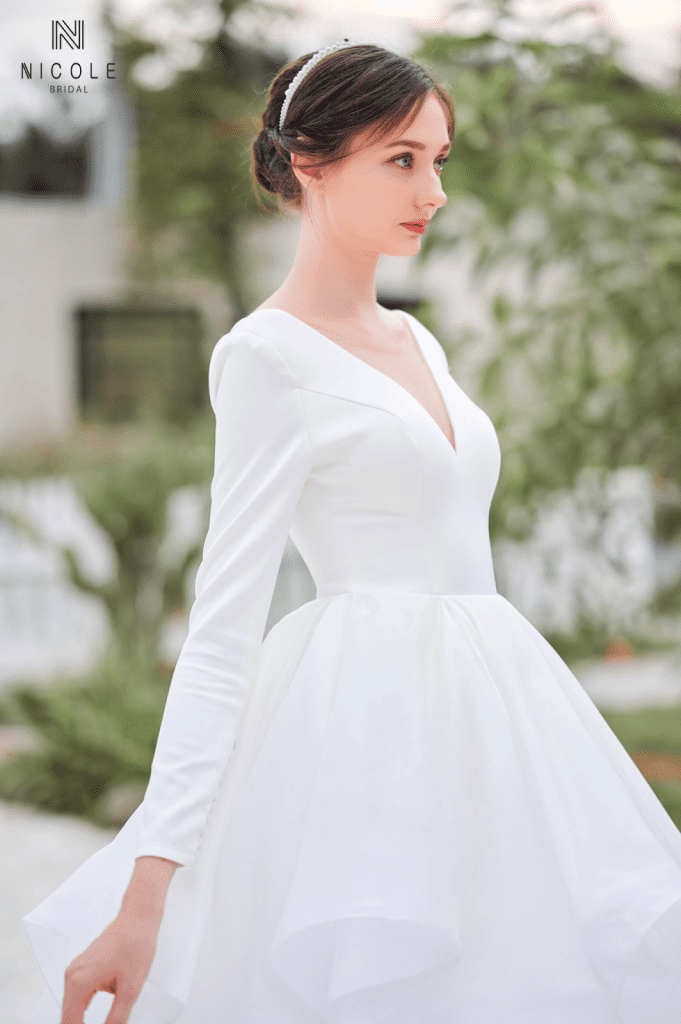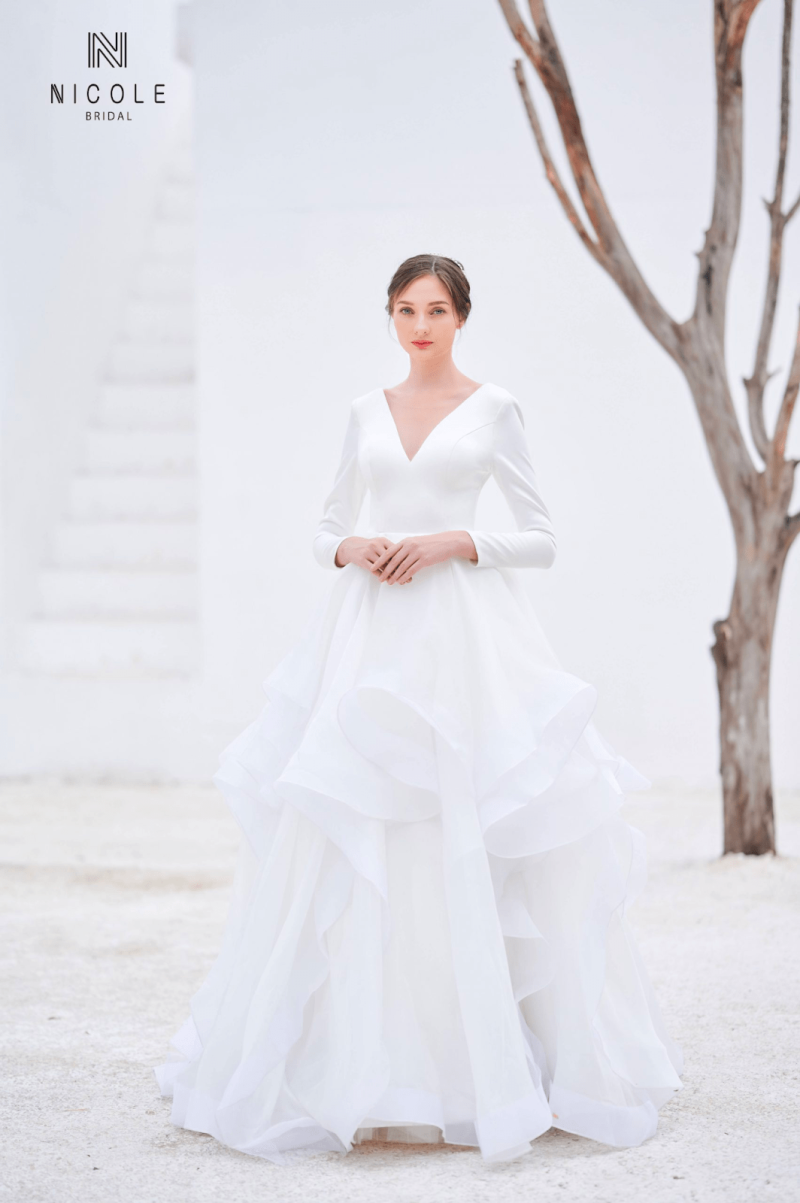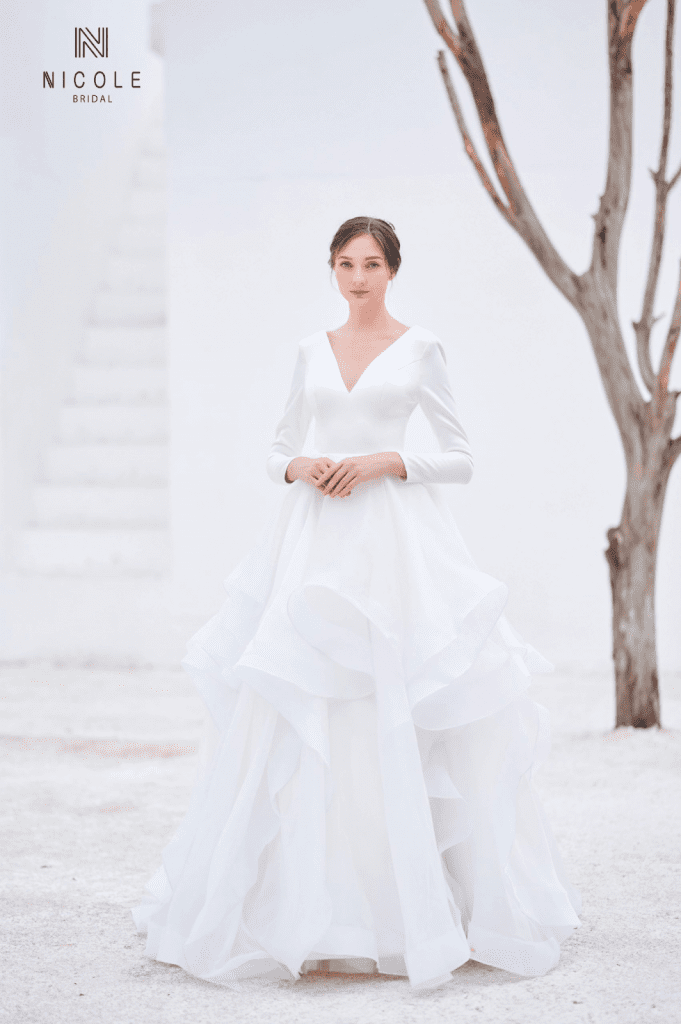 Louisa is likened to a sweet harmony between classic and luxurious colors of satin material combined with modern off-shoulder details. Classic and chic satin wedding dress with modern sleeve details. And yet, the striking and disruptive stone lines make the design simple but attractive, capturing the hearts of many girls.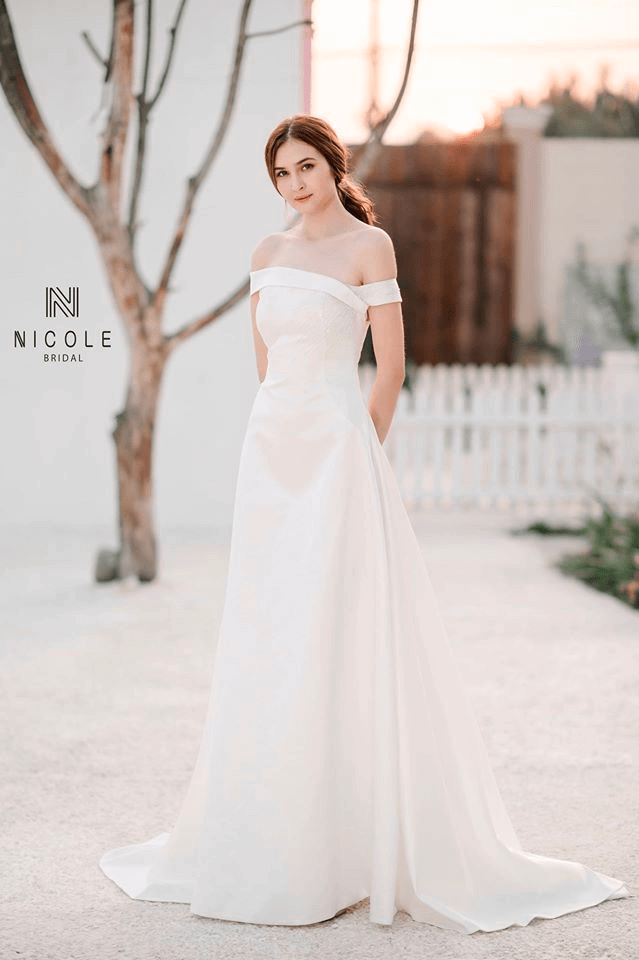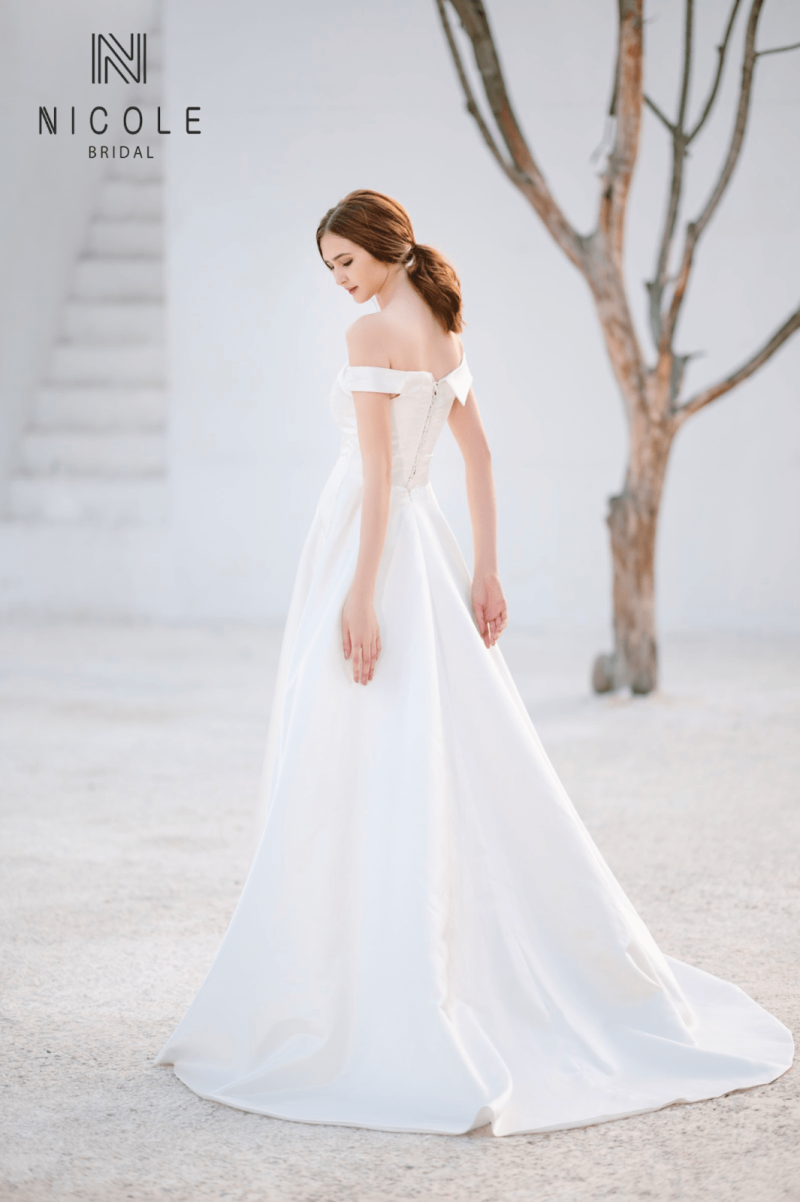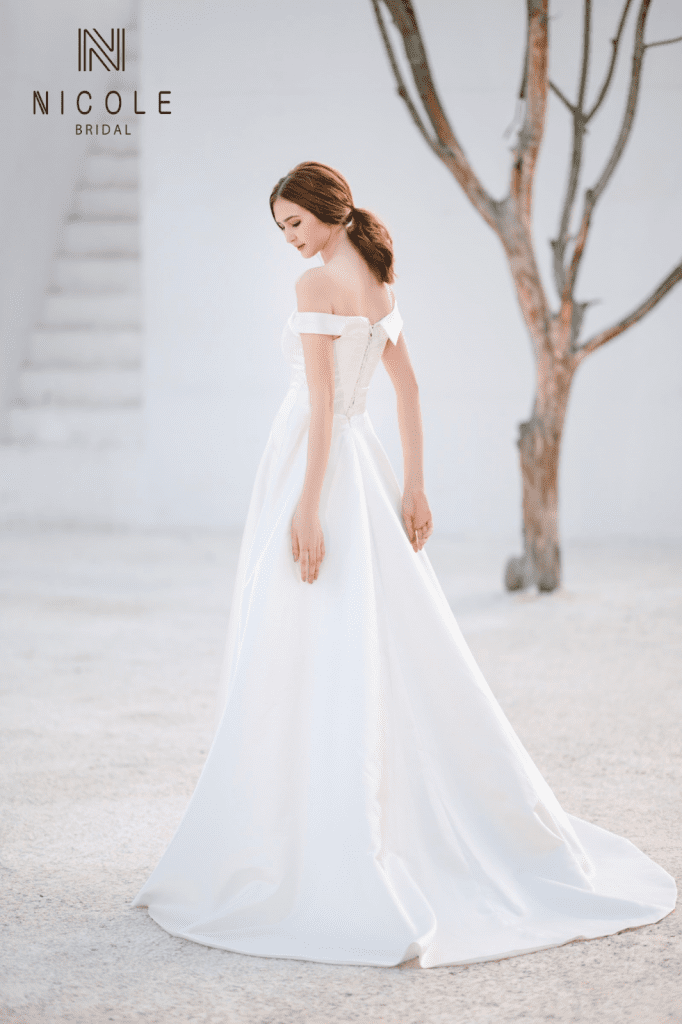 KEVA exudes the tenderness and tenderness of a beautiful girl. With years of experience in tailoring and delicate bonding techniques, Keva is a beauty that needs to be felt and understood. Keva is like a line of thought that hesitates slightly between sexy and discreet, between what I like and what we like.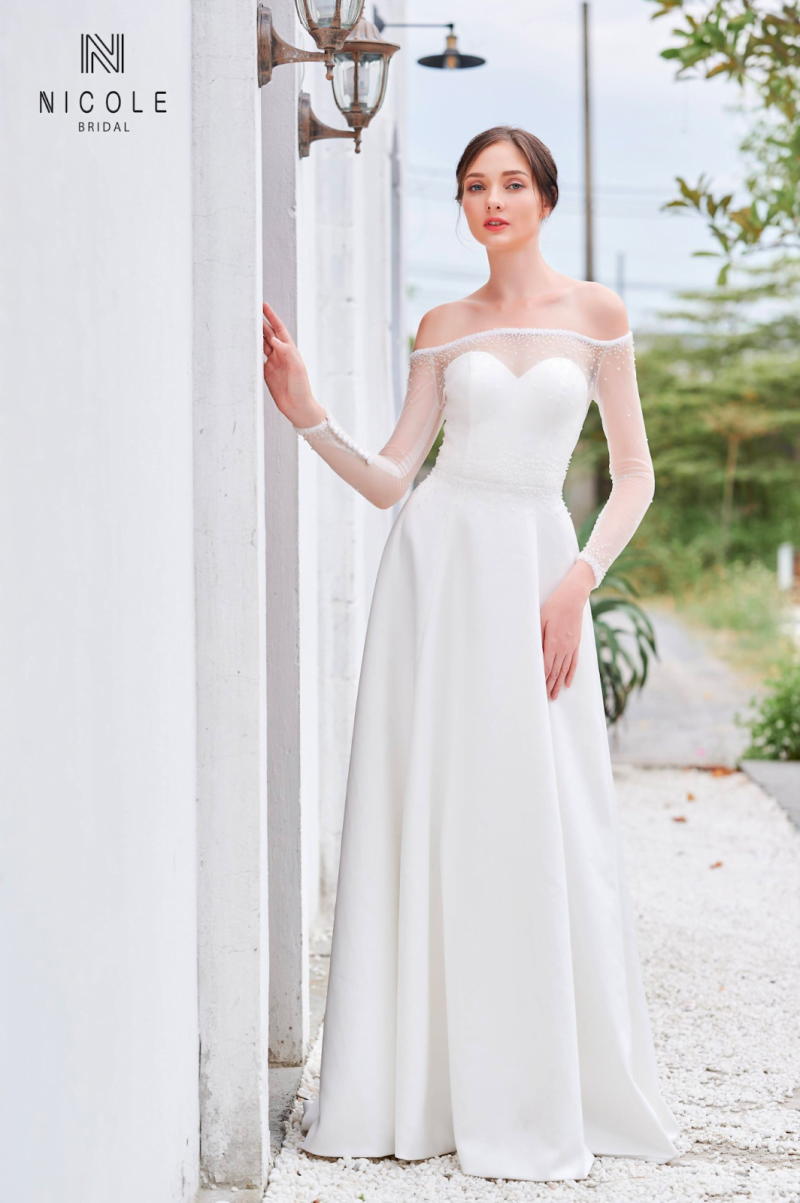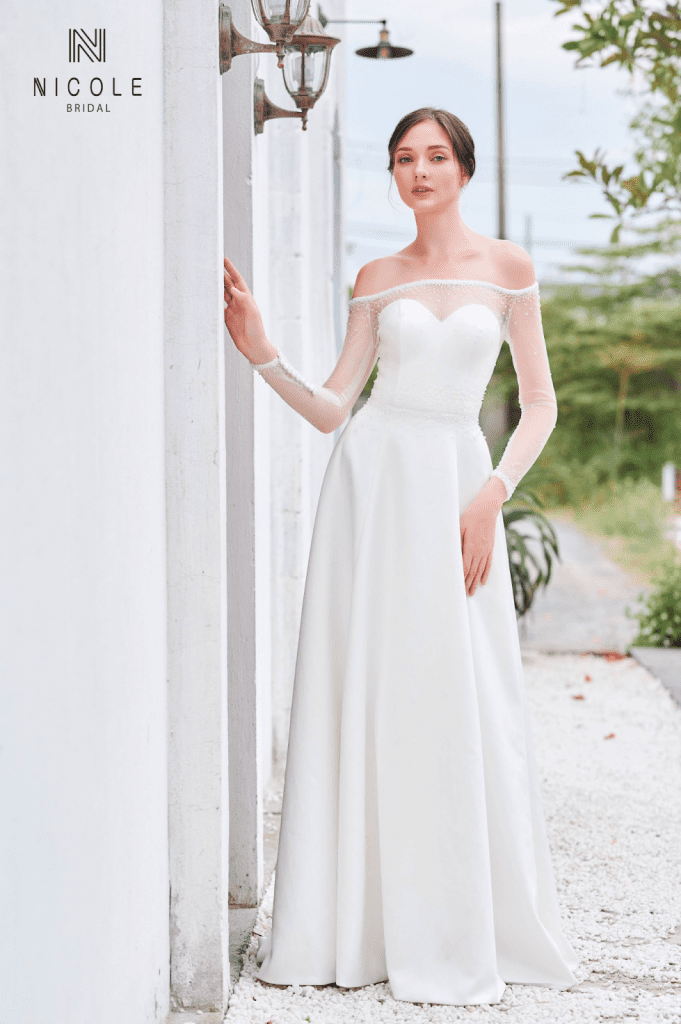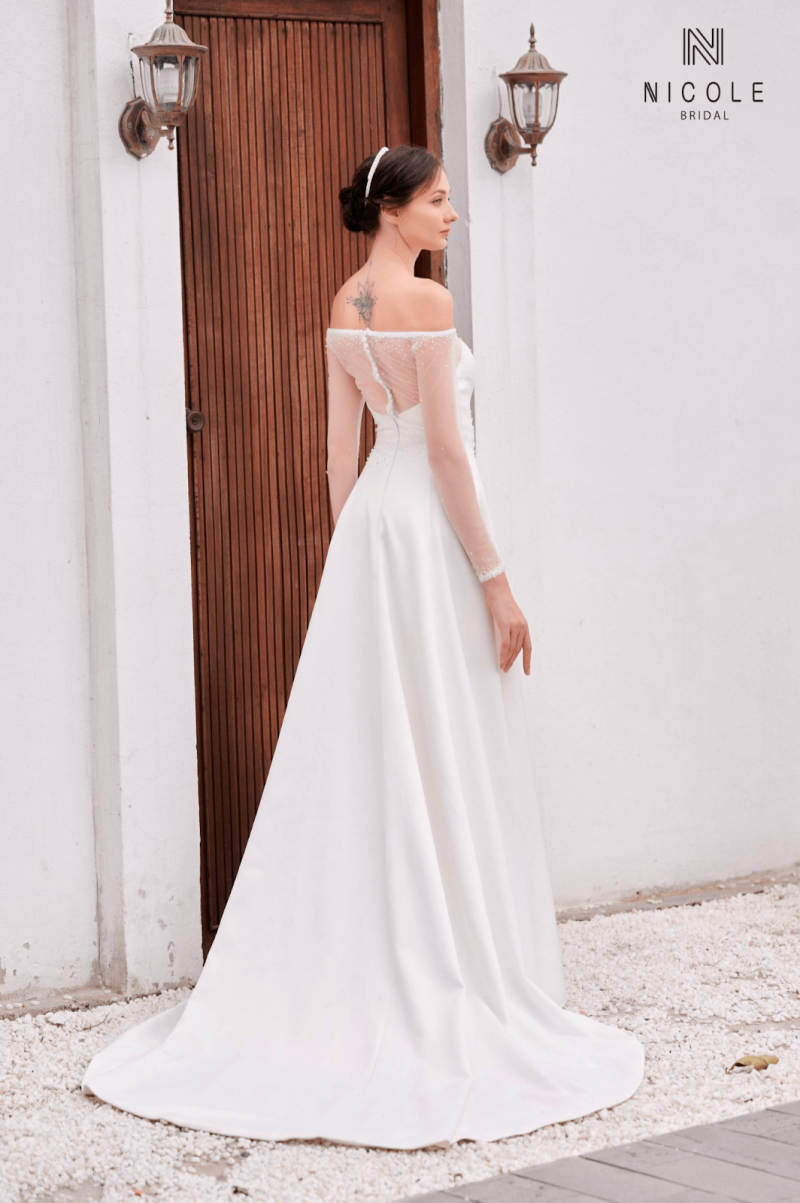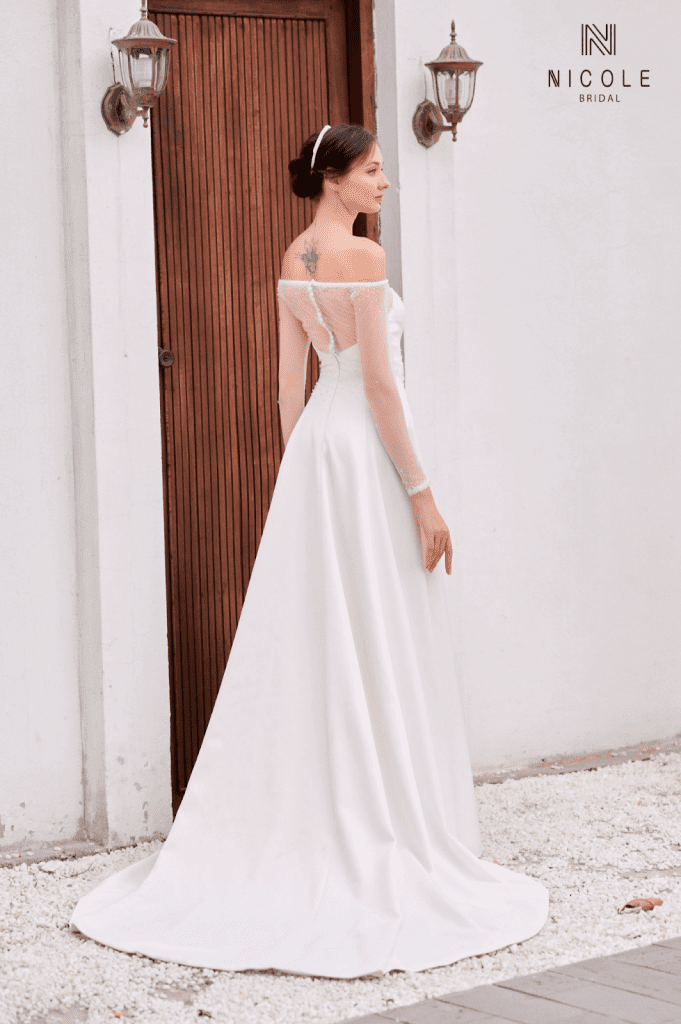 Princess Satin Wedding Dress
Natalie's satin wedding dress is classically discreet and elegant like a magnificent European princess. The wedding dress is a harmonious combination of lace and imported high-class satin material, with the highlight being a large bow on the back and a 1-meter-long skirt, making her more prominent in the luxurious wedding party. Natalia's design is suitable for many body shapes and brings a special graceful and delicate look to brides.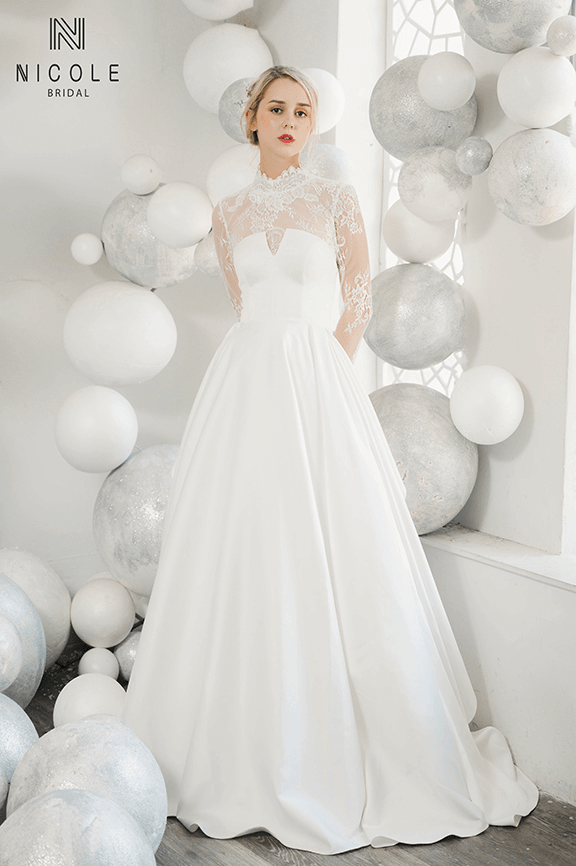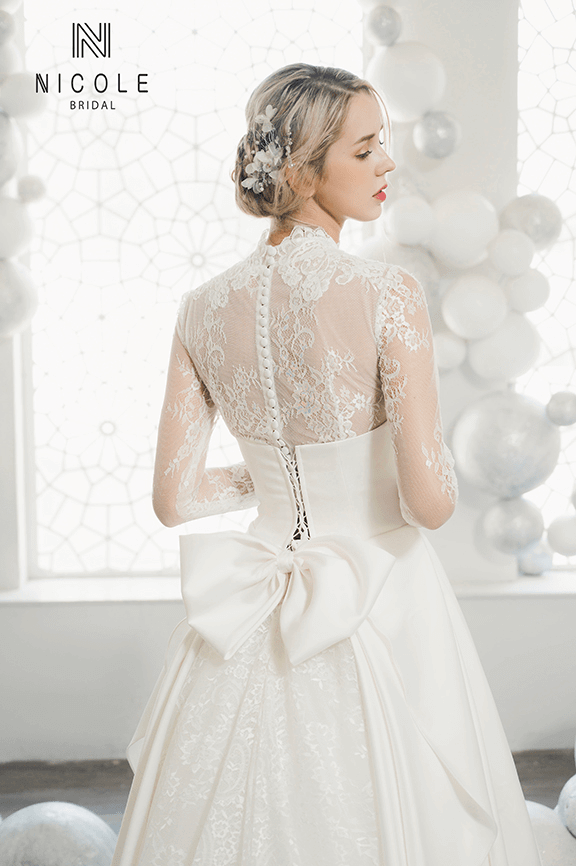 Odette's gorgeous princess wedding dress is designed with the upper body meticulously and novelly attached from many materials of crystal, sequins, etc., on a high-quality satin fabric. Every line of the Odette radiates elegance thanks to its impeccable sewing technique. Odette is really the shirt you should choose for a restaurant wedding and will help you shine down the aisle.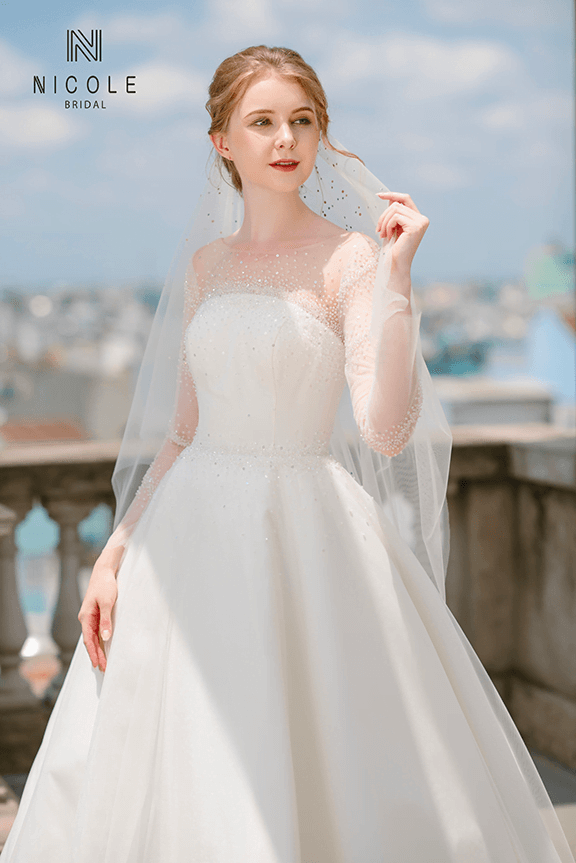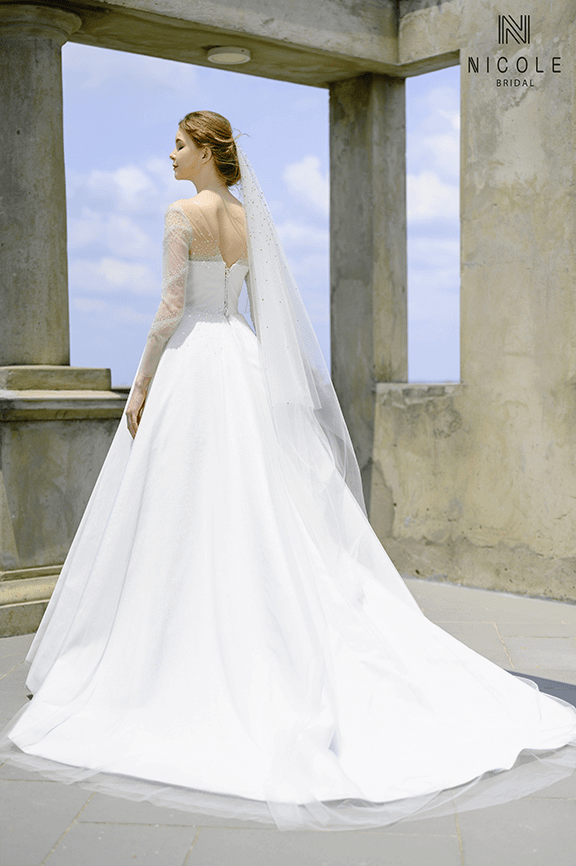 Snow White off-the-shoulder princess wedding dress is delicate and beautiful, suitable for any party space and every body shape of the bride. Minimalist design with the stylized feminine shoulder. Not too fancy, Snow White is enough to help her radiate the modern bride's aura.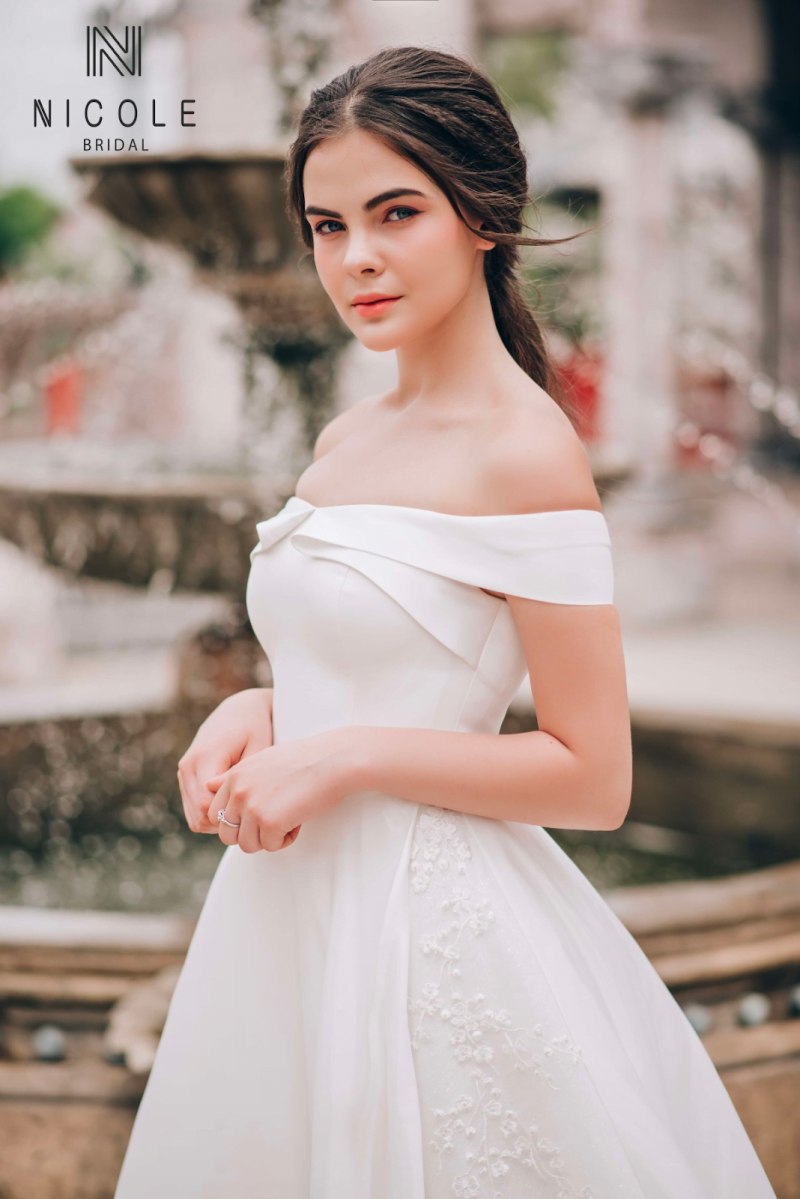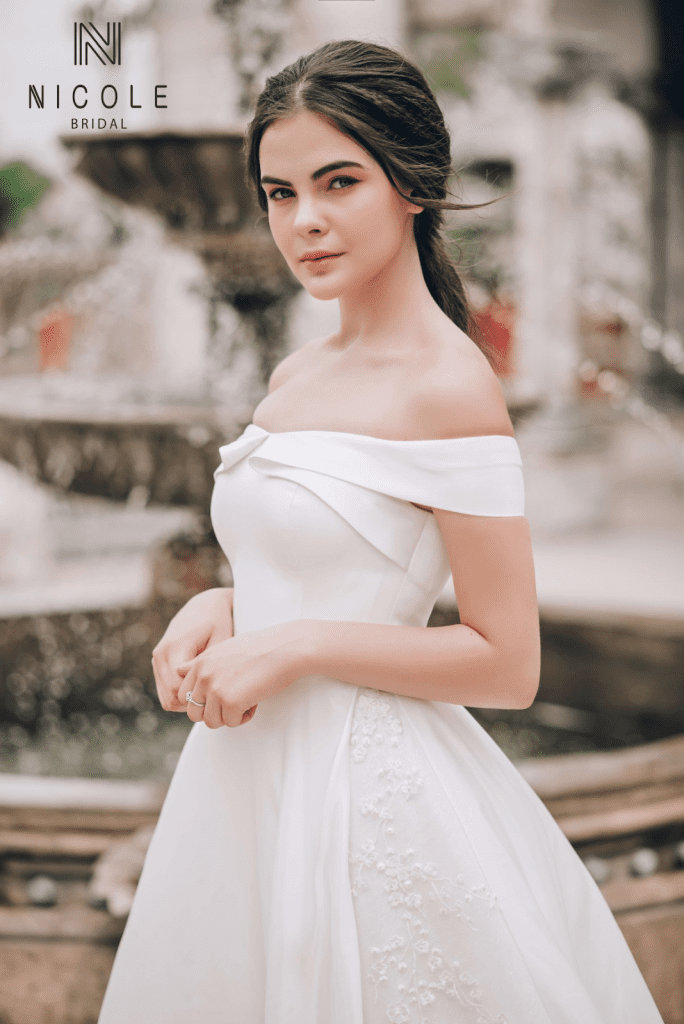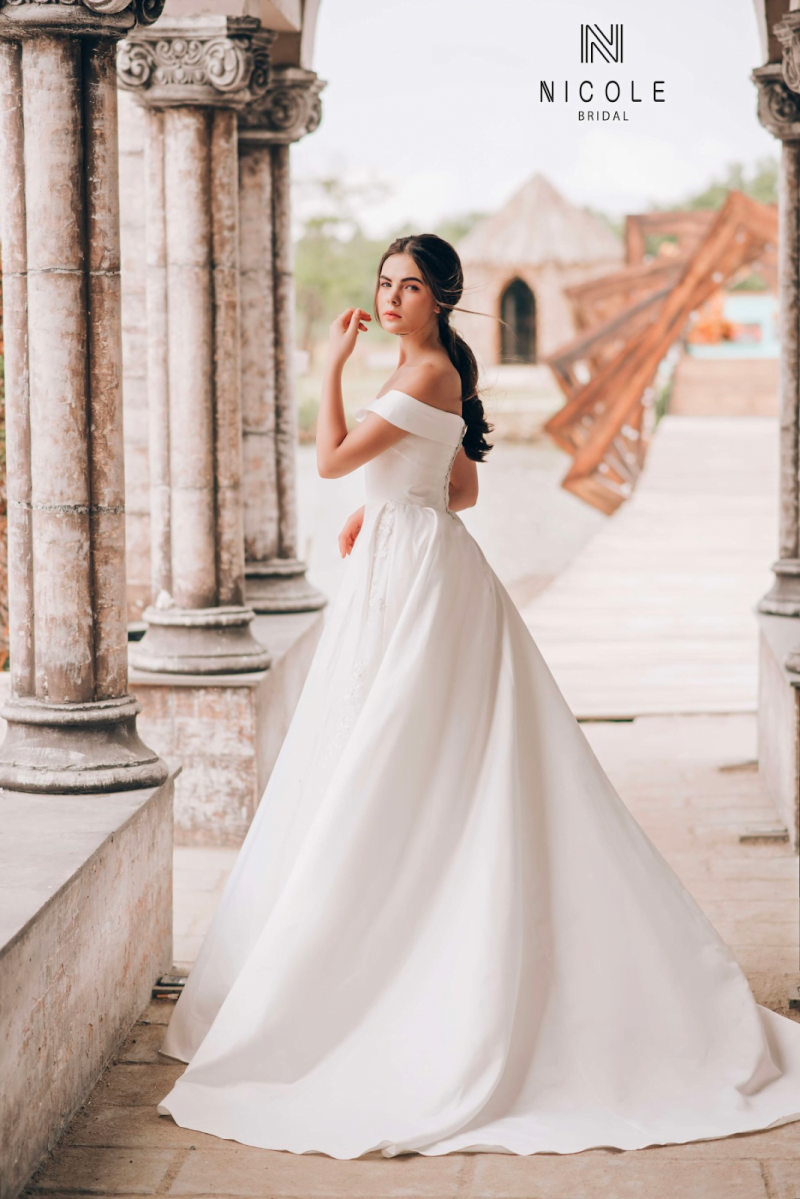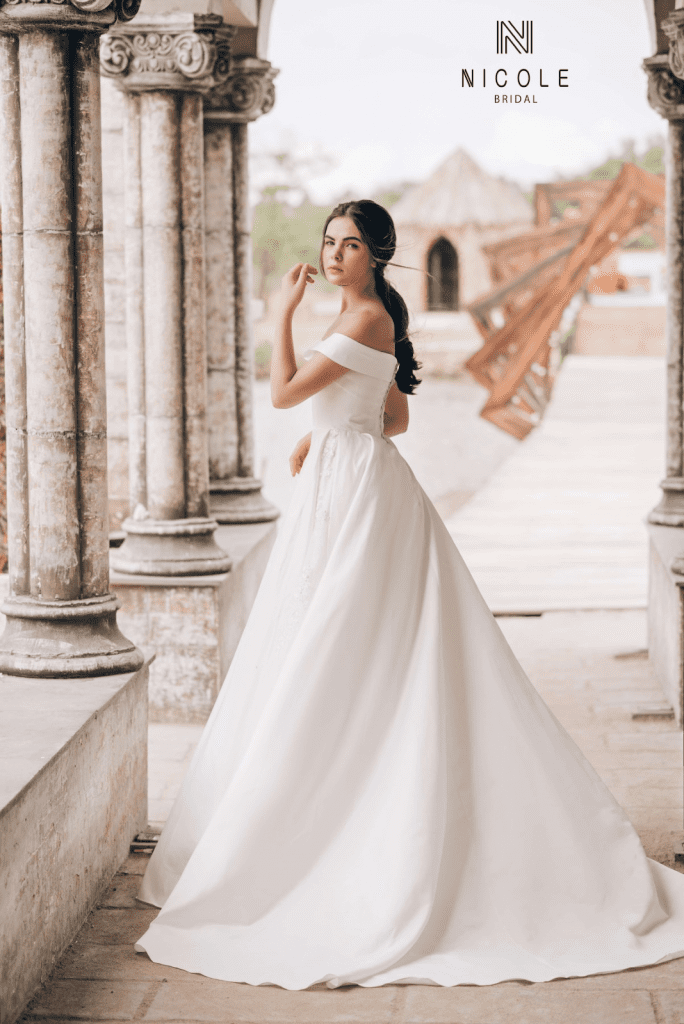 Satin mermaid wedding dress
Mona is one of the classic bold designs, suitable as a wedding dress to go to the table or intimate wedding parties, the space is not too big. With accents of patterns attached to the bodice and skirts, creating maximum luxury, bringing a modern European breath in every needle and stitch.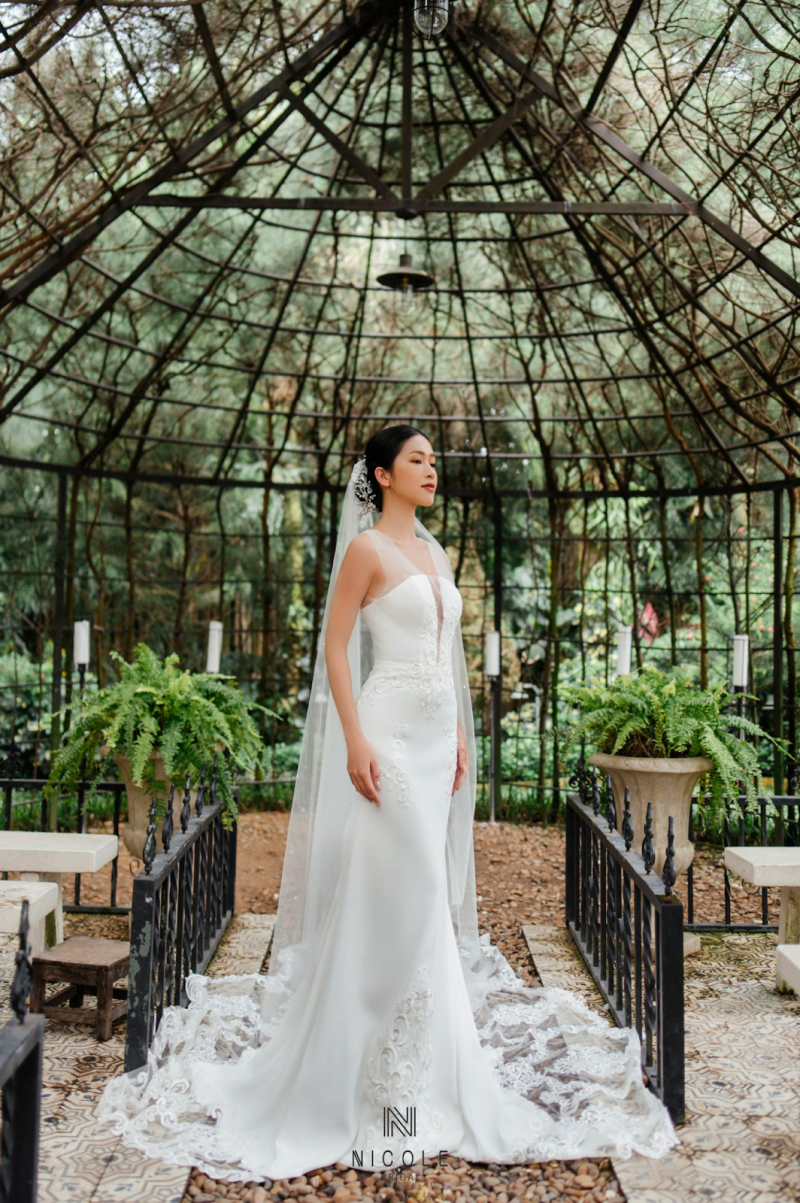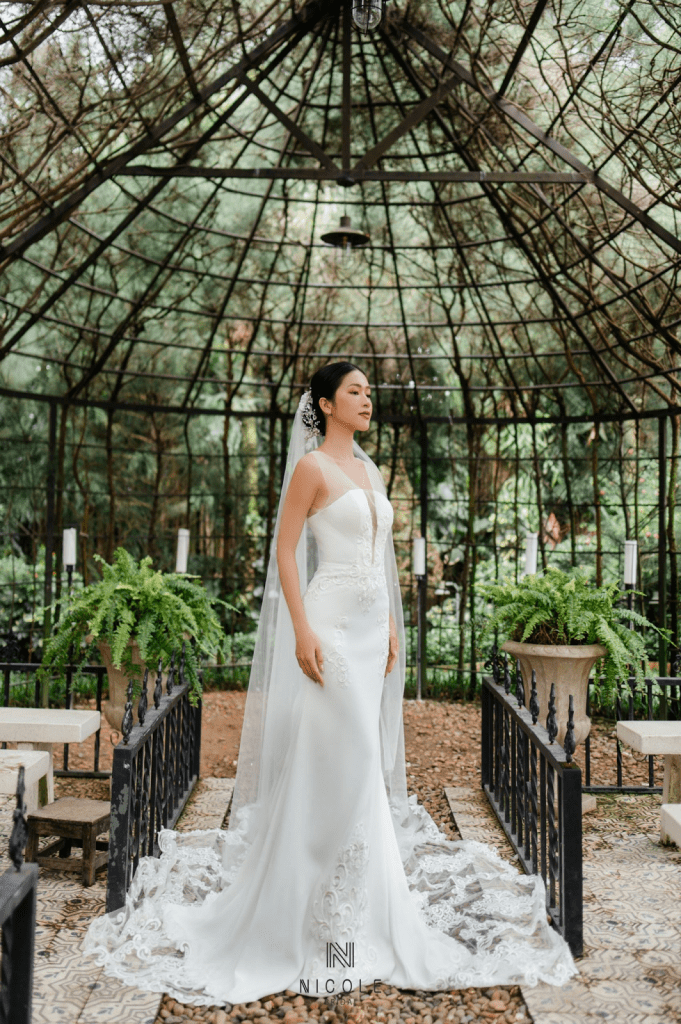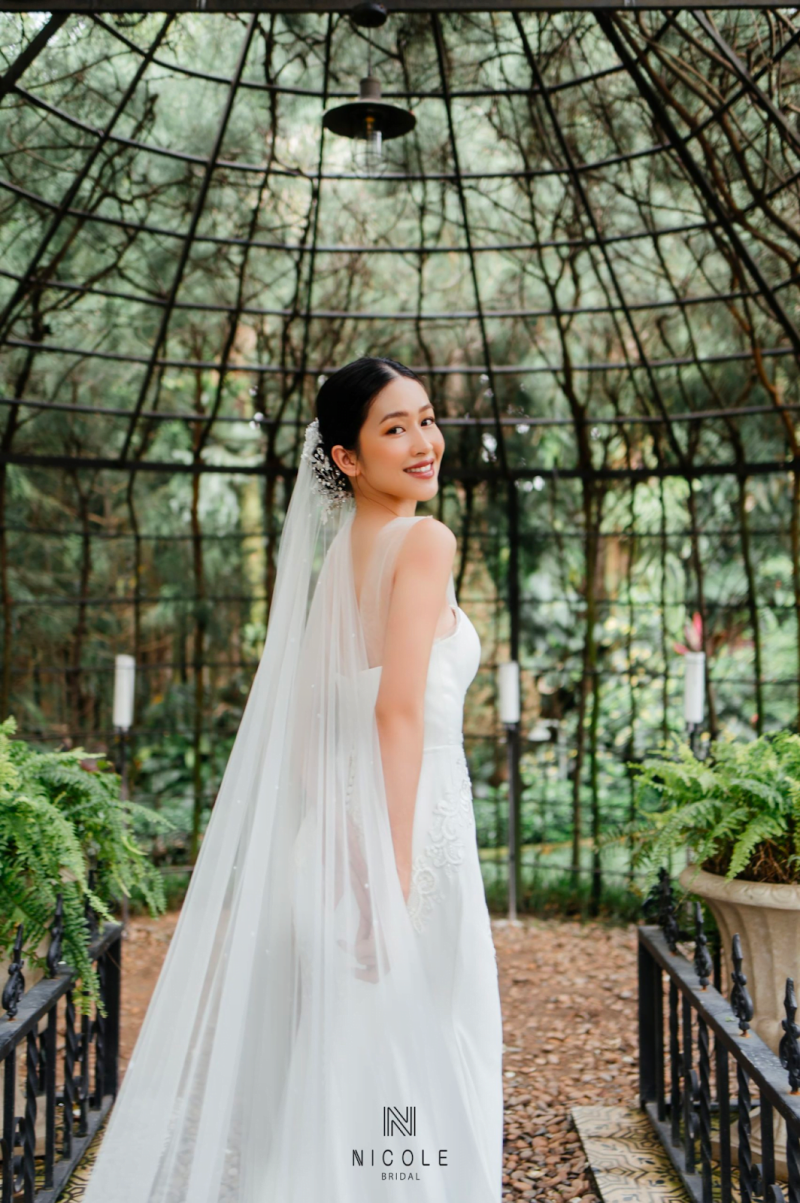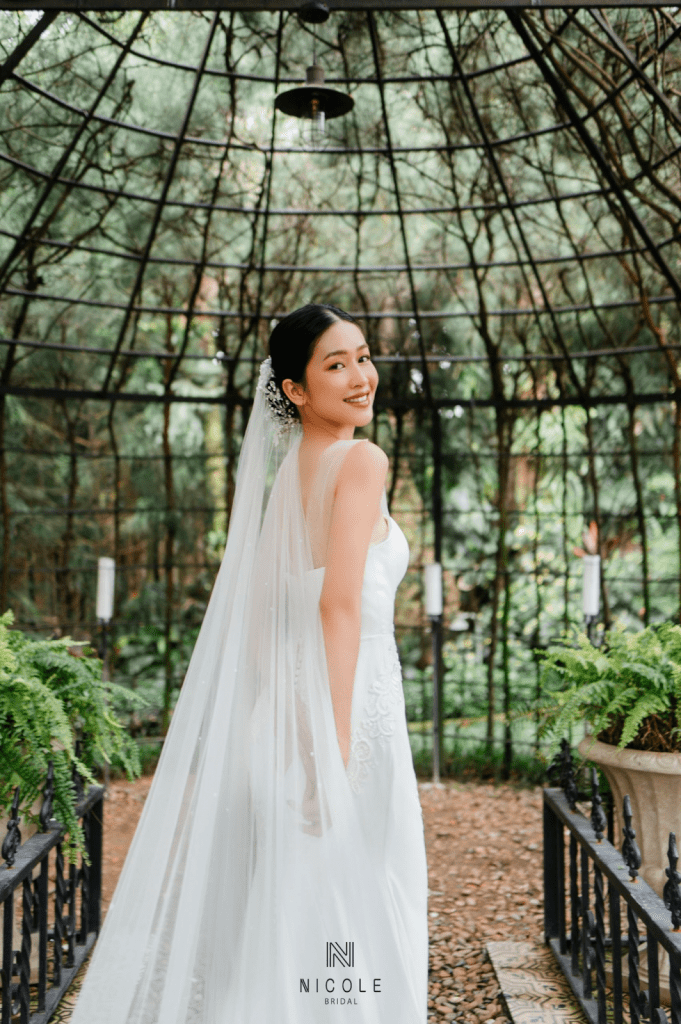 Whitney is the perfect combination of satin and mesh fabrics, embracing the bride's body contours while remaining comfortable thanks to the stretchy material. The neckline design with classic lace brings elegance and modernity to the wearer.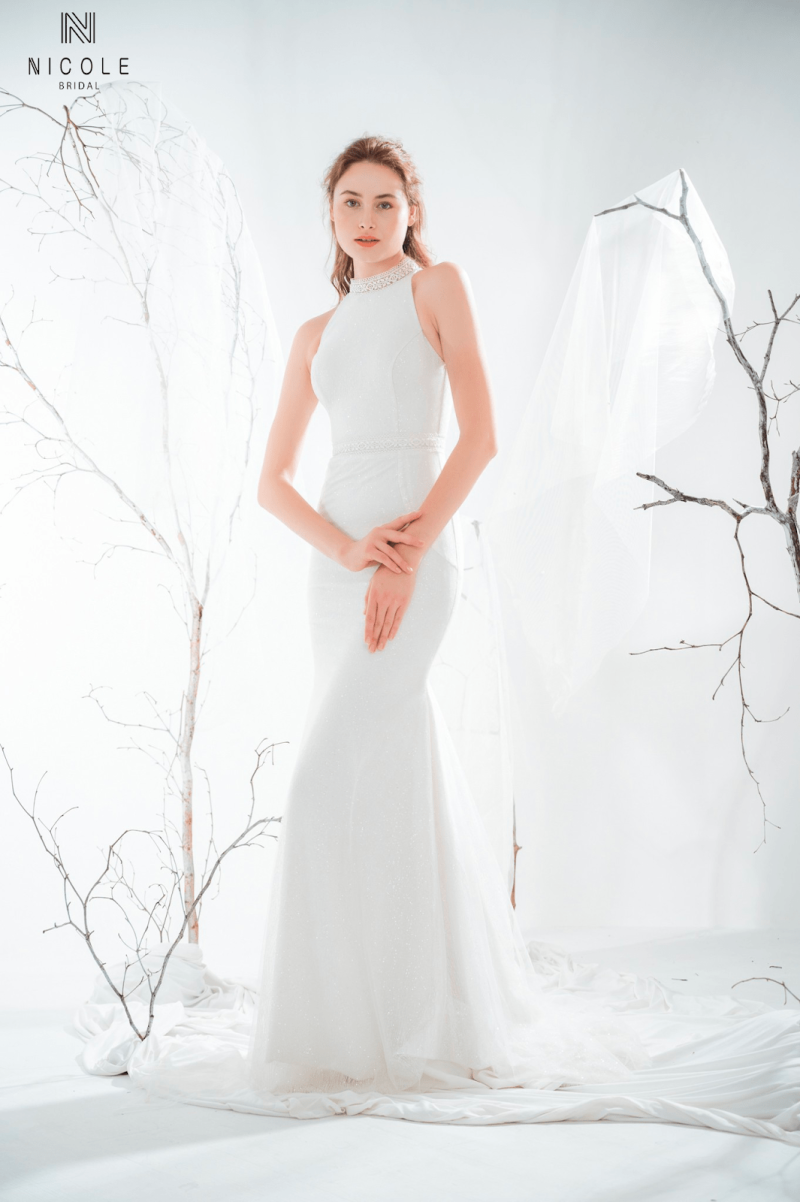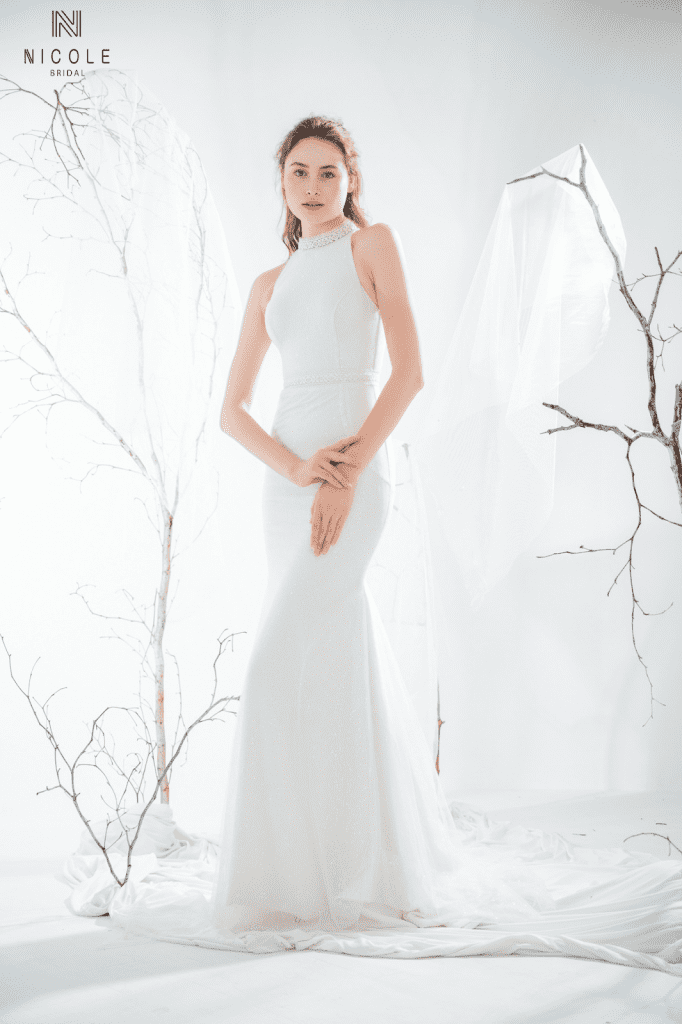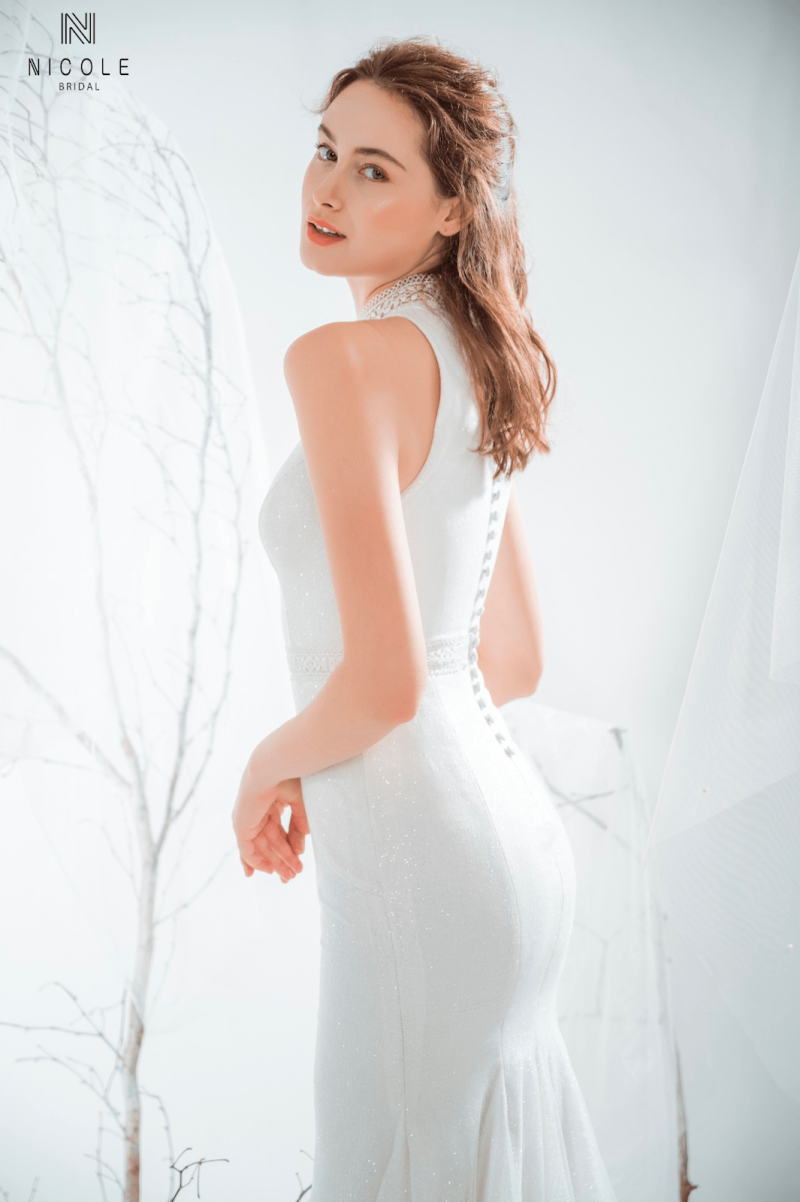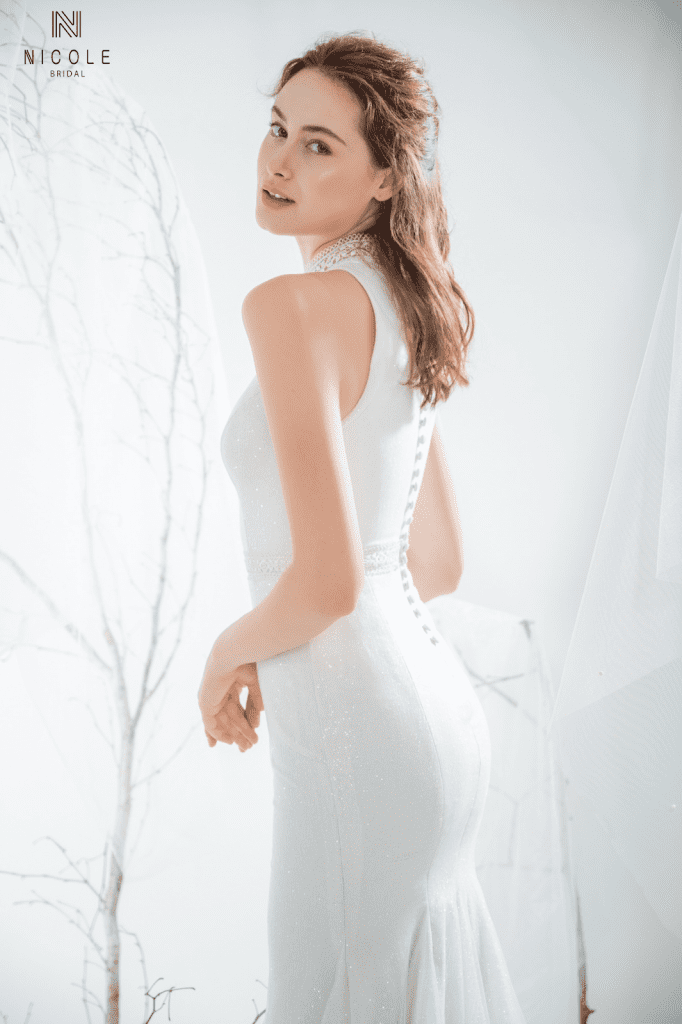 Based on high-quality imported satin material, Lisa's fishtail satin wedding dress design exudes elegance and charm thanks to its elegant design and harmonious lace details.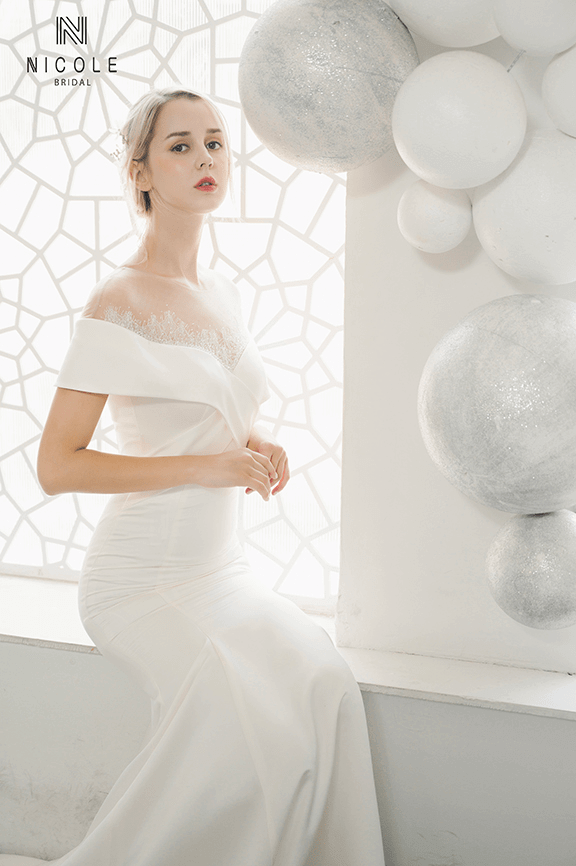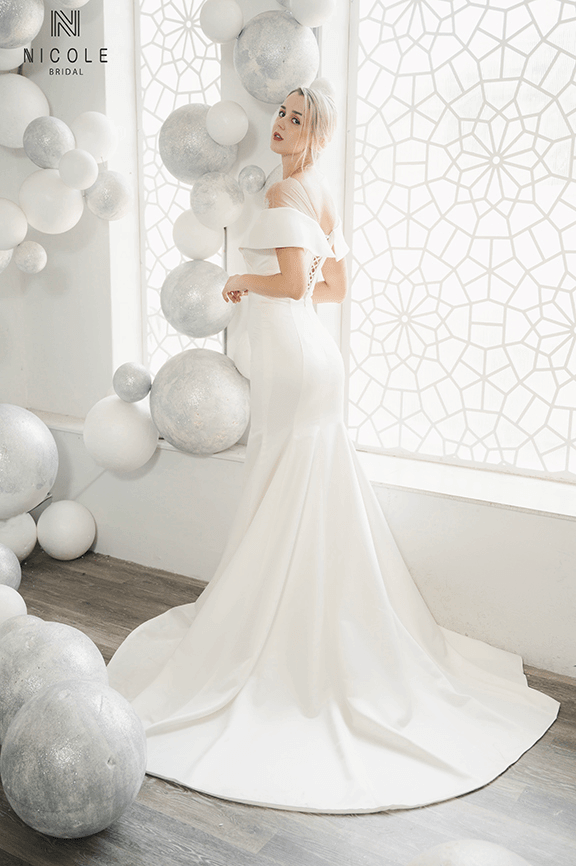 Irence is an impressive fishtail wedding dress design with softer lines, and comfortable stretchy material that hugs the body curves to help flatter the figure. The highlight is the design of a deep V-neck wedding dress with delicate floral laces to create a simple, natural but not monotonous design.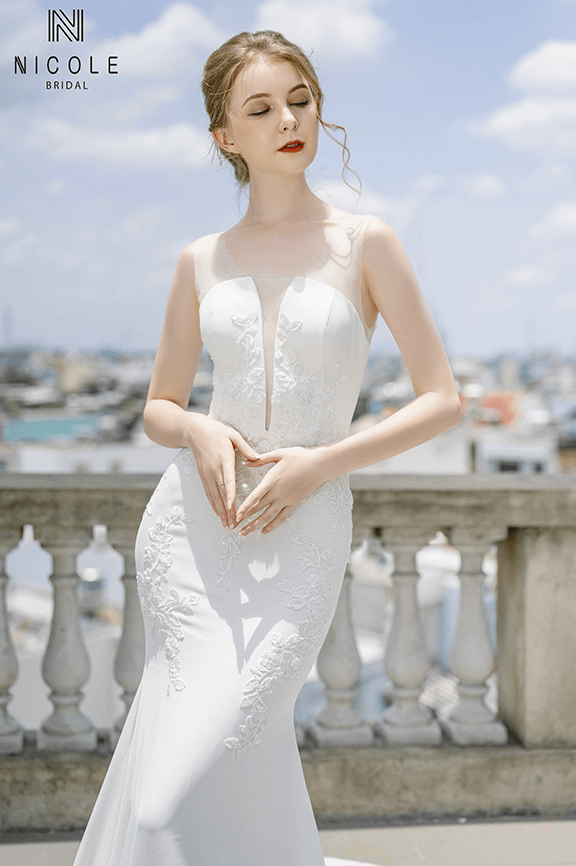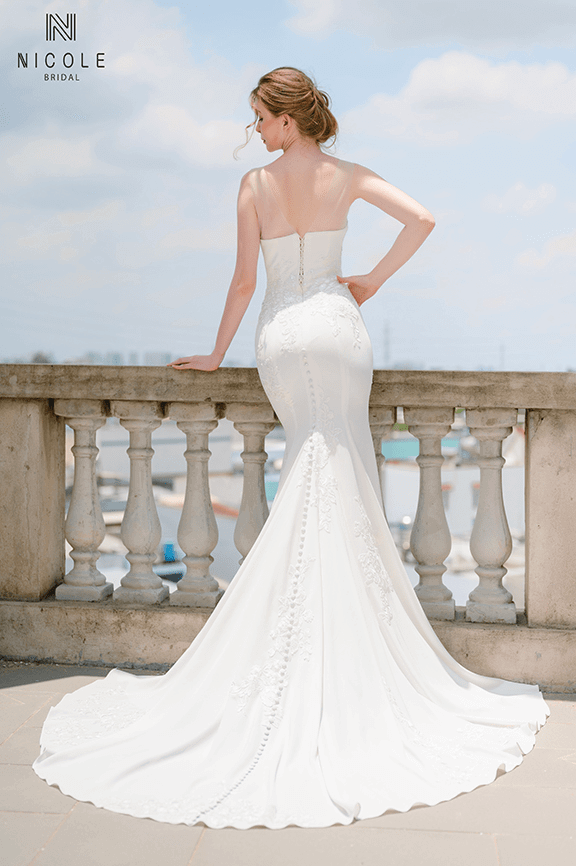 Satin wedding dress – A perfect choice for modern wedding parties
Today, in addition to the gorgeous princess wedding dress designs, with many glittering details, many brides prefer minimalist satin silk wedding dresses, suitable for all spaces of the wedding party.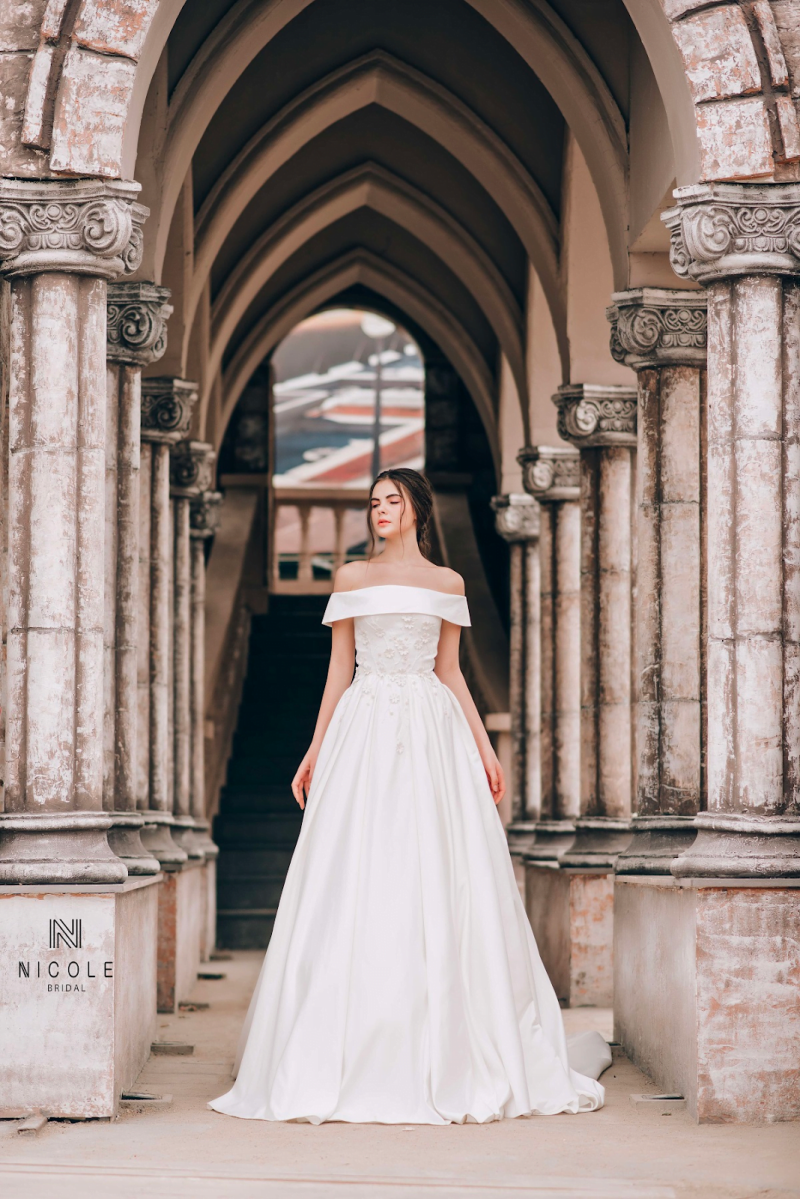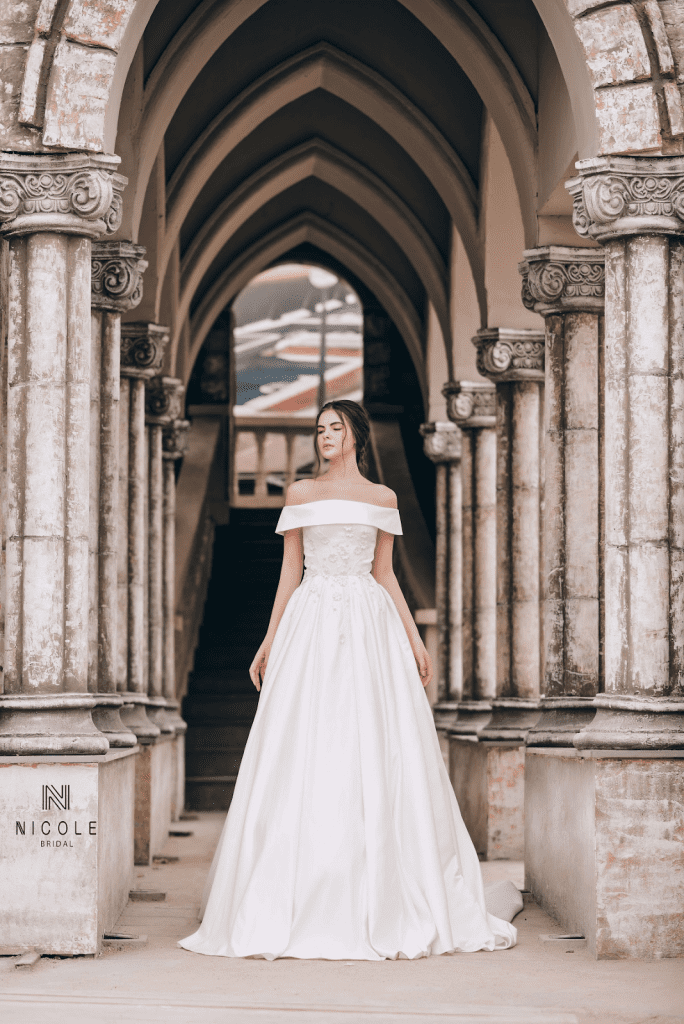 Satin fabric commonly used in the fashion industry for wedding dresses is a combination of silk, polyester and viscose fibers. This material has the characteristics of gloss, smooth surface, comfortable to wear, and suitable for wedding dresses with minimal spirit design of brides.
Because of the above characteristics, this fabric often has a simple design, straight seams, and moderation in large details, the spread is not too large but creates flexibility for the wearer when walking. Therefore, a silk satin wedding dress is classic, elegant, and luxurious for the wearer.
READ MORE:
Which brides are suitable for satin wedding dresses?
Beautiful satin wedding dress designs in recent years have captured the hearts of many girls. But to help the bride get the most beautiful wedding dress on the big day, you should refer to the satin wedding dress model whether it is suitable for your body shape.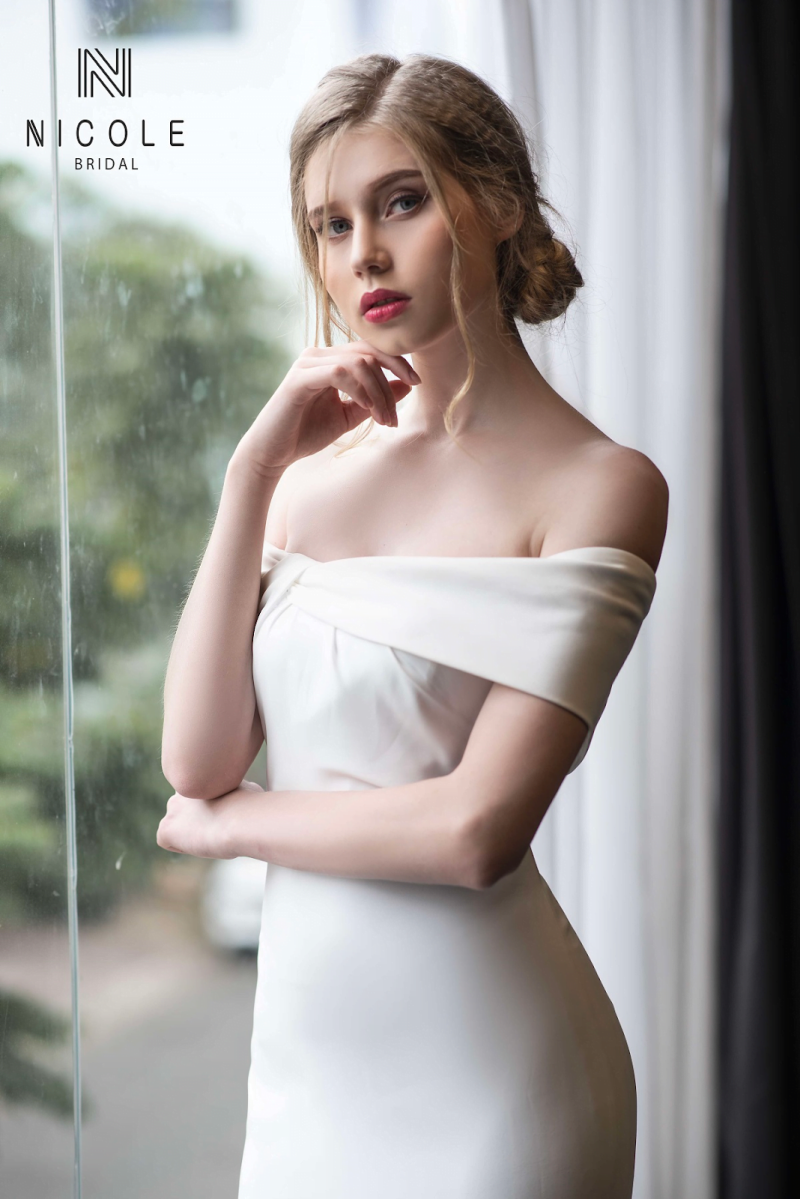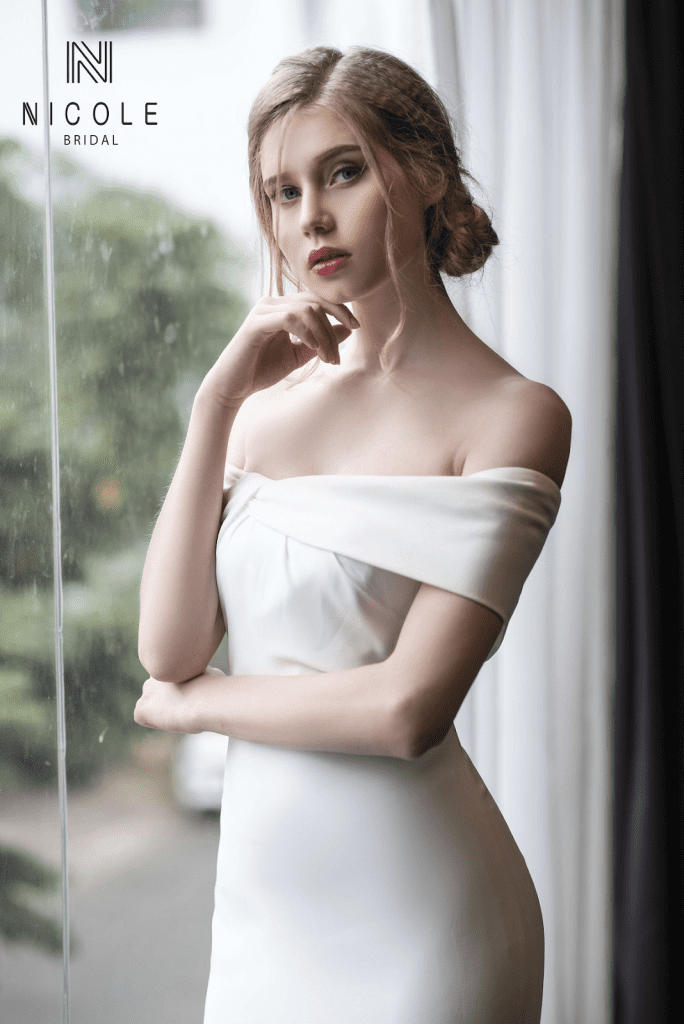 Satin fabric has the characteristics of soft, loose, and not large swelling, so it is often sewn according to the wearer's measurements to show off the delicate figure of the bride. Satin wedding dress is suitable for brides with a slim, tall figure,… In addition, this wedding dress model can be an option for some brides who have the advantage of having a beautiful 3-round figure.
On the contrary, brides of modest height or chubby should not wear satin silk wedding dresses. Because of her body-hugging nature, her body flaws can be exposed. If the bride still wants to wear a satin wedding dress design on the big day, please refer to professional wedding studios so that the experts can advise and find ways to help her cleverly cover her body flaws to be radiant. wedding day.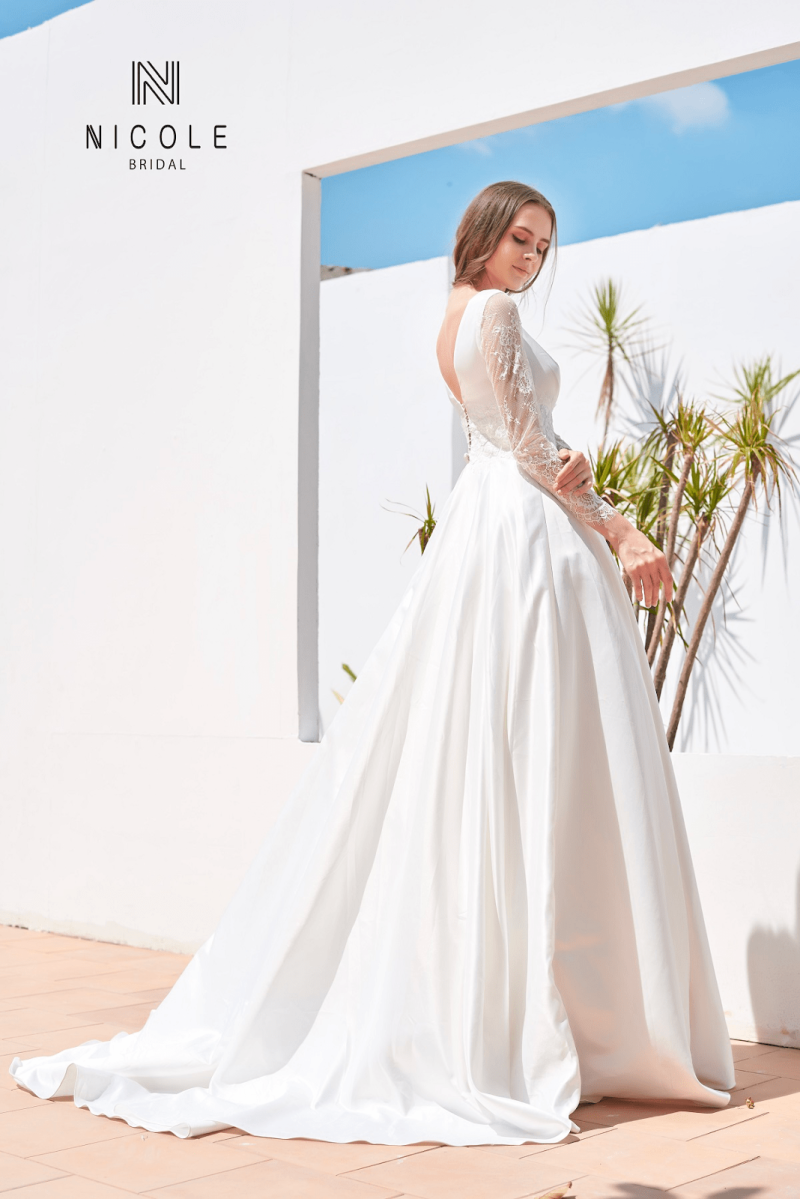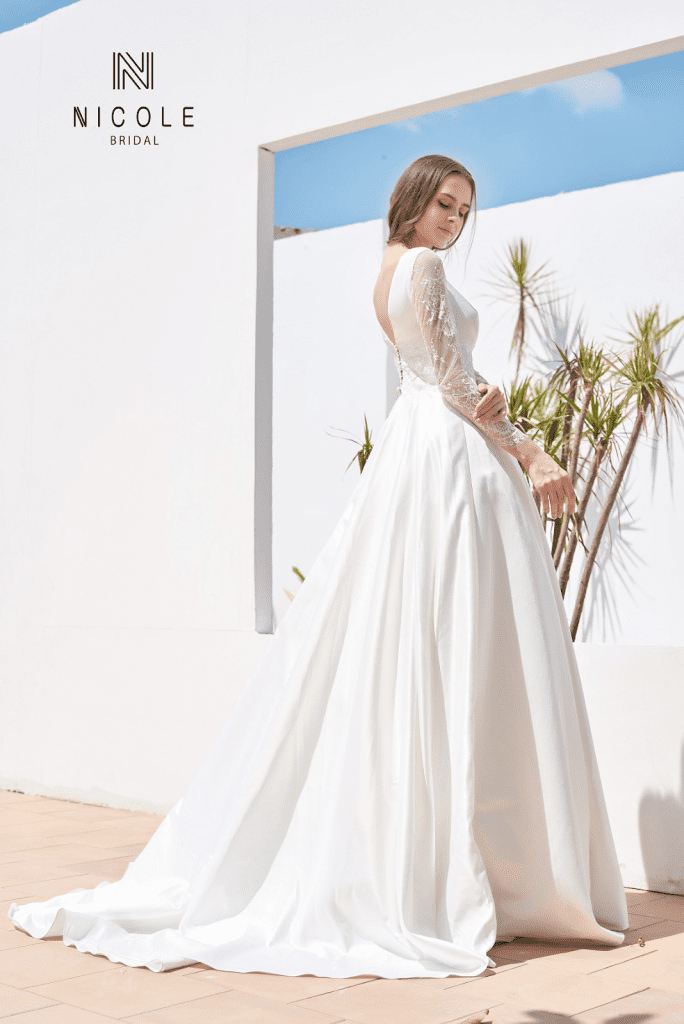 Above is information about the latest collection of satin wedding dresses that Nicole Bridal has compiled. Hopefully, the article can provide the necessary information as well as introduce her to our latest wedding dresses, so that the bride can soon find the wedding dress of her dreams. If you have any questions, don't be afraid, the bride should contact Nicole Bridal for our support.